If you're looking for a beach holiday destination, there's no place quite like Croatia. This beautiful country stretching along the Adriatic Sea has some of the most incredible beaches in the world. While some of them are close together and easy to visit in a single trip, others are more remote and might take a bit of planning to get there. So here's our list of Croatia's best beaches to help simplify your search.
JayWay organizes excursions to several of these beaches, and many of our Croatian city destinations are just a short drive away. Click on the links below to learn more, and don't hesitate to get in touch!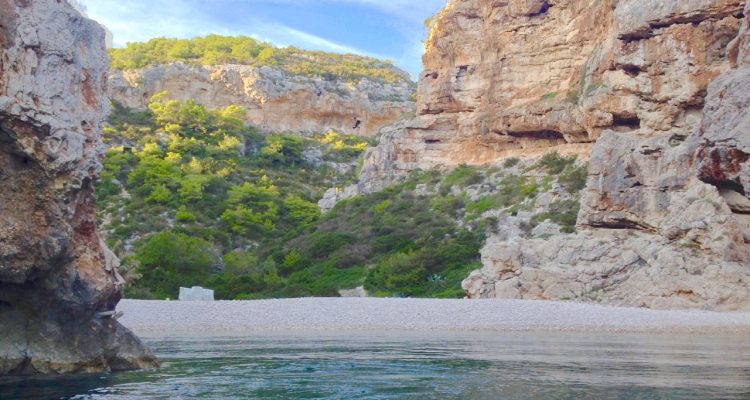 Jump to a section of this article
Stiniva Beach
Recently named "The Best Beach in Europe" by European Best Destinations, Stiniva beach really is incredible. Located on the wonderful island of Vis, the beach is hugged by a cove that creates a narrow opening out to the sea beyond. The protection of the cove means that the water is always placid here, and the numerous caves in the rock create beautiful lighting effects. Secluded doesn't even come close – access to this beach is easiest by boat, otherwise you've got to clamber down the hillside. Our Blue and Green Cave private tour includes a stop at Stiniva, if you want to arrive the easy way!
Palmizana Beach
Palmizana is another beach situated in a cove, though this one is much larger than Stiniva, making it a popular place for sailboats to anchor. Located on the Pakleni archipelago very close to Hvar Town, here you'll find a pebble beach along with two very good open-air restaurants, where you can enjoy delicious local cuisine between dips in the alluring blue water.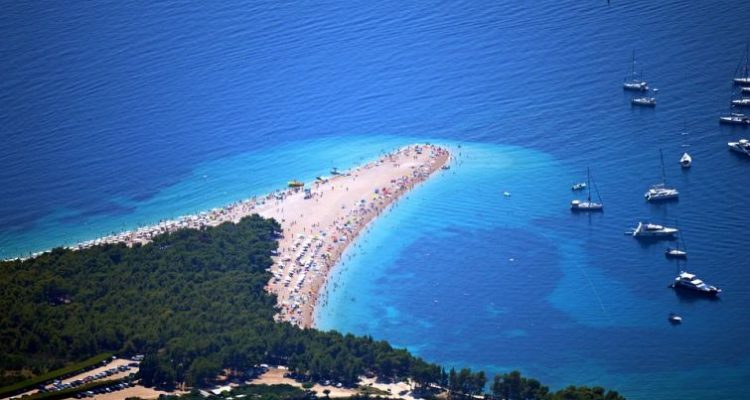 Zlatni Rat Beach
Definitely one of the most unique beaches in Croatia, Zlatni Rat, which means Golden Horn, is located just west of Bol on the island of Brac. A thin strip of sand extending nearly a quarter of a mile into the sea, it's ideal for sunbathing and swimming. Above all there's a feeling of peace and openness here, so you can enjoy a relaxing, meditative stay among the beauties of nature, or keep as active as you like.
Pakleni Islands
A short distance from Hvar, the whole of the Pakleni Islands are heavenly. This five-mile chain of islands boasts numerous beaches, many of which are comfortably remote, so you can enjoy a great day of swimming and sunbathing without the crowds. Thick pine forests abut the shore here, creating an atmsophere of natural beauty and the untouched outdoors.

Mulini Beach
Mulini Beach is located very close to Rovinj's old town, and features both a man-made waterside promenade and sunbathing area, as well as a smaller pebble beach. There's a definite feel of elegance here, as the bathing area, backed by lush Mediterranean planting, combines a pebble beach with a pavilion housing a beach bar, a space for open-air concerts, and decks for sun beds and parasols. It's right in front of the plush five star Monte Mulini and Lone hotels and hotel guests get their own stretch of private beach as well.
Prapratno Beach
Prapratno beach is located in a deep, sheltered bay with a calm, clear sea, overlooked by a fine pebble beach and backed by olive groves and rocky slopes. Facilities include bathrooms with hot showers, a communal kitchen, a restaurant, shop, and tennis, volleyball and basketball courts. It's a great choice for families with children, as there's plenty to keep everyone entertained. About an hour's drive from Dubrovnik, it makes for a pleasant stop if you're driving to Korcula or is ideal when combined with a visit to Ston, a few minutes away and renowned as Croatia's oyster capital.
Planning a trip to Croatia? We'd love to put together a Croatia travel package just for you. Get in touch to find out more!

Stephan Delbos is an internationally published writer and editor. Born in the US, he has lived, worked and traveled in Europe for a decade. He's fond of oysters and arid martinis.