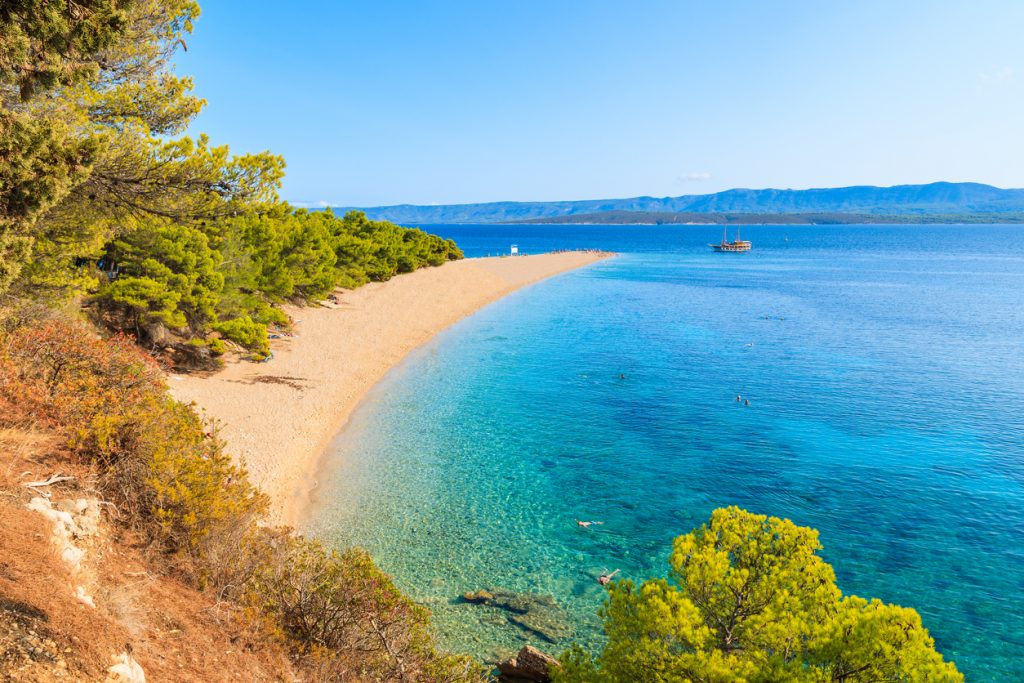 Croatia's our most popular destination for honeymoons and destination weddings, but such a romantic locale is naturally a great spot to get down on one knee and pop the question. We asked our local staff for their favorite romantic places, although you don't need to be on the verge of a proposal to enjoy them.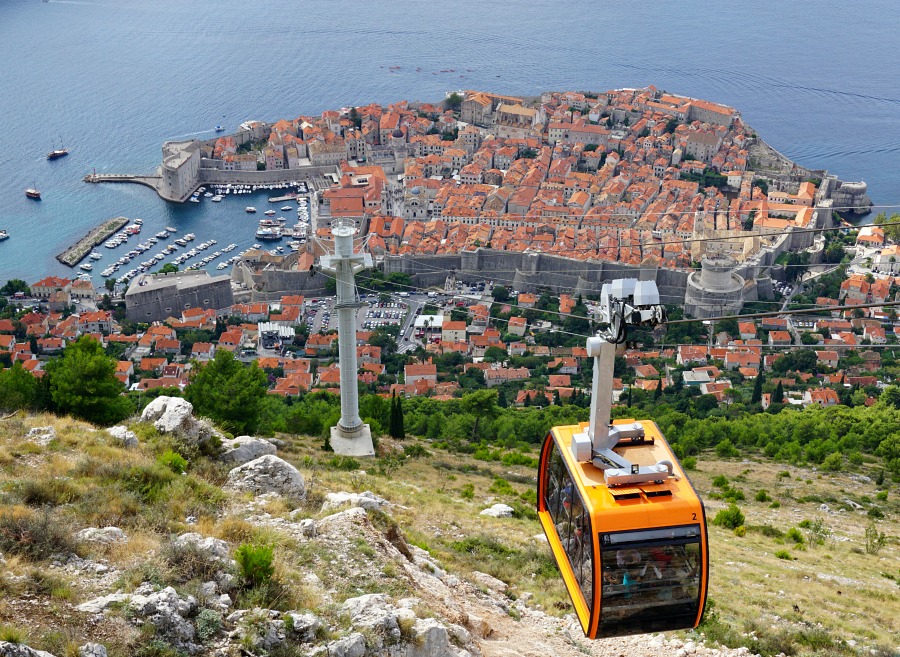 Jump to a section of this article
Dubrovnik
With its breathtaking views, deep history, and great food, Dubovnik is perhaps our most popular locale for a romantic getaway. Dubrovnik's highest point is naturally also home to one of its best views. Take a cable car to the peak of Mt. Srd, and take in a breathtaking view of the entirety of Dubrovnik, as well as the coastline and the archipelago to the north. From this eyrie the views of the sunsets are astounding. Especially from the first row of tables overlooking the city from the mountain's Panorama Restaurant, which we can reserve for you.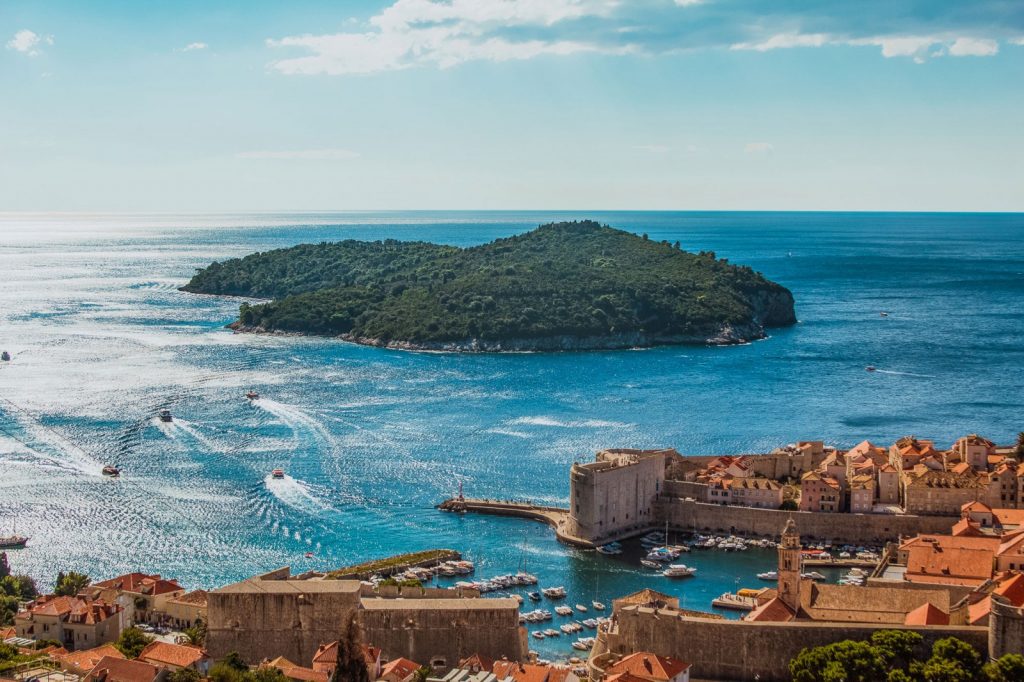 From Mt. Srd, you can clearly see our next recommendation, Lokrum Island. An oasis of tranquility, this nature reserve is a ten minute ferry ride from Dubrovnik's Old Town. Peacocks strut around the botanical gardens, and pine, cypress, and olive trees create hidden, private areas. If you're looking for a place to ask the question after a romantic stroll, we recommend the 11th century monastery ruins.
One of the best places to watch the sunset in Dubrovnik's center is from one of the benches beneath the Revelin Fortress, just northeast of the Old Town's walls. If you're staying somewhere less central, there are great places at either end of the city. At Dubrovnik's eastern edge lies Park Orsula. With its panoramic views and charming stone auditorium, this is one of the most popular local wedding spots. If you're looking for a relaxed day by the water, consider Copacabana Beach. Much less crowded than its Brazilian namesake, this stretch of sand at the city's northwest point has great views of the islands and islets to the north.
A Perfect Picnic Proposal
If you're looking for an ideal and easy picnic, once you've found your perfect romantic spot, we recommend a unique service that we offer. Ask us for the "Deluxe Dalmatian Picnic" and we'll get you an insulated, comfortable picnic backpack stocked with a delicious selection of local specialties, from savory to sweet. The wine and lemonade are chilled, local and carefully chosen. The plates and cutlery are eco-friendly. All you need to do is pick your destination from the suggestions provided and head out to experience true Dalmatia. You get a blanket to spread out yourselves as well. You'll receive the backpack at a designated pick up point, and can leave it at your accommodations when you return. One of our local staff recently used this New York Times-recommended service for her 10th anniversary, and loved it.
Fancy and Fine Dining
If getting dressed up for a fancy dinner or bar is more your thing, in addition to the Panorama Restaurant atop Mt. Srd, we have two more recommendations in mind. The Michelin-starred Restaurant 360 is worth every Kuna. Located in the Old Town, this place's exquisite terrace stretching along medieval walls and fortress of St John, provides a unique view of Dubrovnik's center and its port. Inspired by the flavors and ingredients of local traditions, but harnessing French techniques, these gourmet dishes are praised by discerning culinary guests from around the world. The 5-star Hotel Excelsior's Abakus Piano Bar is an ideal place to grab a table by the window and watch the sunset with a fancy cocktail, while enjoying one of the best views of Dubrovnik's Old Town.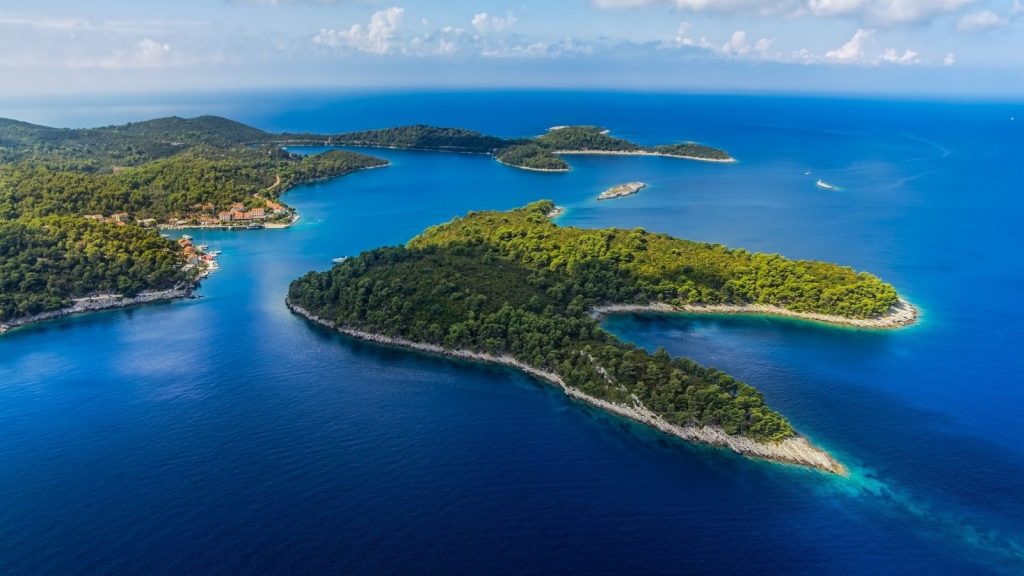 Mljet
For a tranquil place to propose, away from the crowds, visit Mljet. One of Croatia's more underrated islands, this richly forested beauty combines amazing beaches with a long history. We recommend heading to the national park, which features pine forests, salt lakes, and numerous trails, as well as ancient ruins. Head to Mljet's largest lake and visit the Monastery of Saint Mary, a 12th century beauty that has the island to itself. Deconsecrated during Napoleon's occupation, this lovely structure has been restored, and features a restaurant.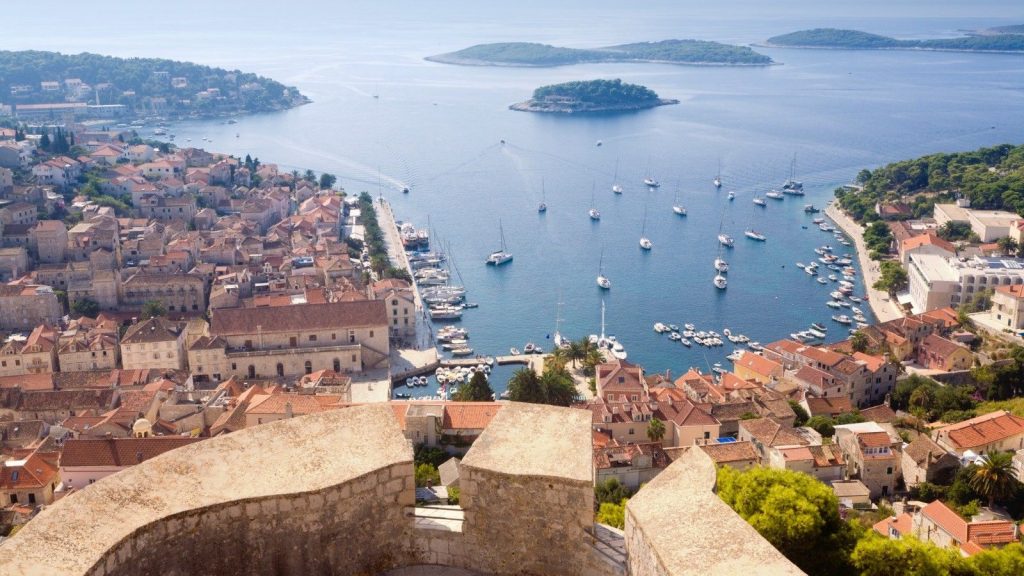 Hvar
One of the Adriatic's gems, Hvar features a beautiful coastal town, rugged scenery, and a seemingly endless patchwork of lavender fields and olive groves. One of the best views is from the town's highest point, an ancient fortress destroyed and rebuilt by countless armies. The current imposing fortress is a gift from Venice, which took notice of Hvar's central location, building a key naval base. Today the town is far more placid, and the fortress serves a far more romantic purpose.
From Hvar's fortress, the Pakleni Islands are impossible to miss. Pakleni translates to "hellish," but we think you'll find them heavenly. With more hidden coves and secluded beaches than people, there's no reason to ignore their siren call. You can take a swim there or just relax with a refreshing cocktail, with a beach to yourself. We offer several ways to visit this pleasant archipelago, from a sailing group tour, to a private speedboat tour, or a half-day sunset sailing group tour. Regular water taxis also ferry people from Hvar to landing stages on the archipelago.
If you're more active, and want to propose after a hike, head to Hvar's highest point, Sveti Nikola ("Saint Nicholas.") Those who scale this, Croatia's third highest mountain, are rewarded with a charming 15th century chapel, and of course, extraordinary views. There are a number of ways to reach this summit, some of which pass a restaurant towards the top, and our local staff can help you figure out the best one to take.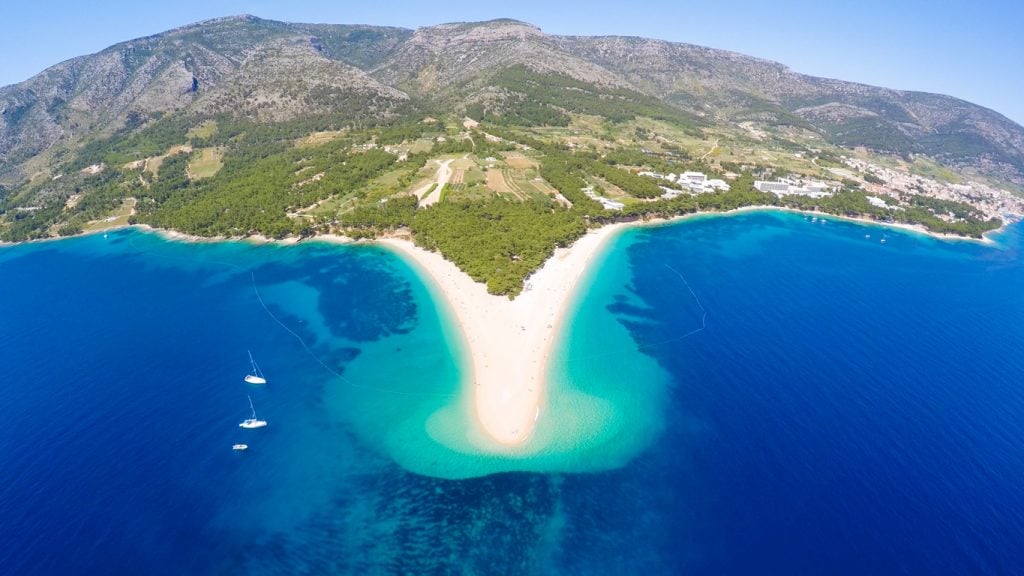 Brač
If you're looking for more than Hvar's Sveti Nikola can provide, then head to Brač and hike up Vidoka Gora, the highest mountain on an Adriatic island, and Croatia's second highest point. There are two approaches. The route from Bol (our favorite town on the island) is more scenic, but steeper as well. The payoff is worthwhile, with astounding views, There are two approaches. The route from Bol is more scenic, but steeper as well. The payoff is worthwhile, with an astounding vista, as well as a large cross, ancient fortress ruins, the remains of an old chapel, and best of all, a tavern. The view of the mainland and archipelago is thrilling, and this is also the best way to get a view of Bol's famous Zlatni Rat beach, the oft-photographed "Golden Horn."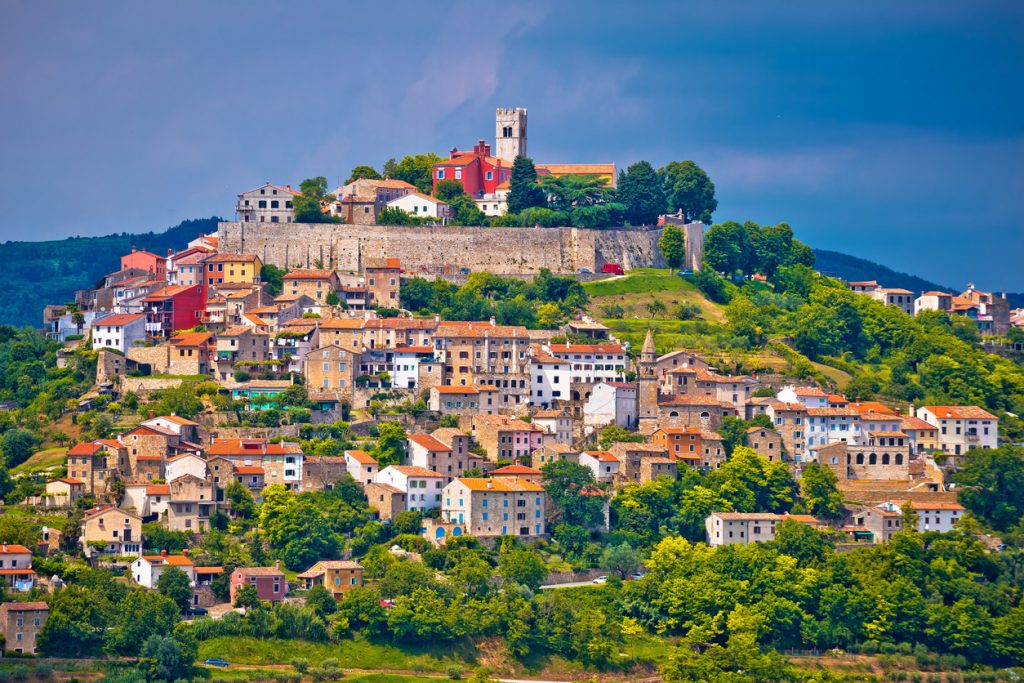 Istria
Some of Croatia's most scenic spots are the hilltowns in the Istrian Peninsula, the country's take on Tuscany. We have two favorites. Motovun is as scenic as they come, and appears on some 10 kuna banknotes. The birthplace of driving supremo Mario Andretti, racing down the steep streets with his twin brother in wooden cars helped him develop his love of speed. Looming high above peaceful vineyards, Motovun is sleepy if stately. Although Motovun hosts an international indie film festival in late summer, Groznjan outshadows its hilltop twin terms of culture. This "city of artists" sports about 20 art galleries, and annual festivals focusing on jazz and painting. Groznjan's Tuscan vibes extend to the locals, most of whom are ethnically Italian. Both towns are carefully preserved, down to their historic architecture, and are in areas known for their truffles, olive oil, and wine. Even if you're just looking for a quiet place with a memorable view, Motovun and Groznjan, easily accessible by rental car or transfer from the coastal town of Rovinj, will not disappoint.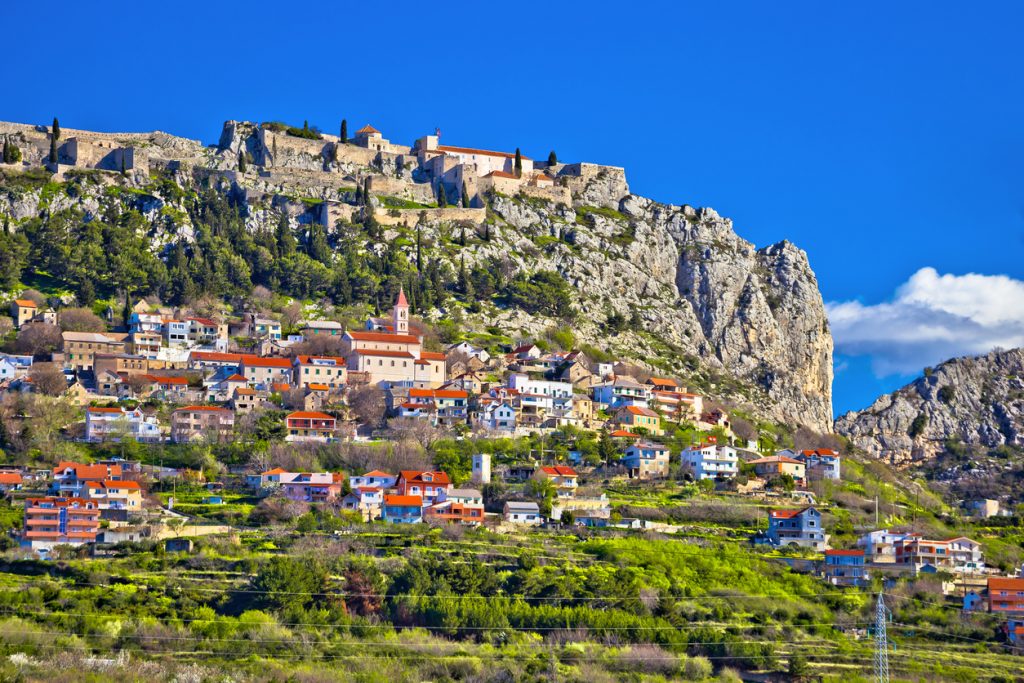 Split
If you're looking for a memorable view, head out of the city, to the nearby Klis Fortress. This castle will look familiar to any Game of Thrones fans, but its views of the coast, and Split far below, will appeal to anyone. With its views and strategic location, you'll understand why so many battles have been fought over this place. Packed with history, Klis hosts a historical reenactment at the end of July every year, as you can see from this blog post, and its video.
For a more convenient location, head to Dvor, a cafe and restaurant with a lovely terrace overlooking the water. With its idyllic garden and terrace views, this is a perfect choice for a special evening. A 20 minute walk from the center along the coast (or brief ride), Dvor is insulated from the rest of the city by a pine grove. Be sure to reserve in advance!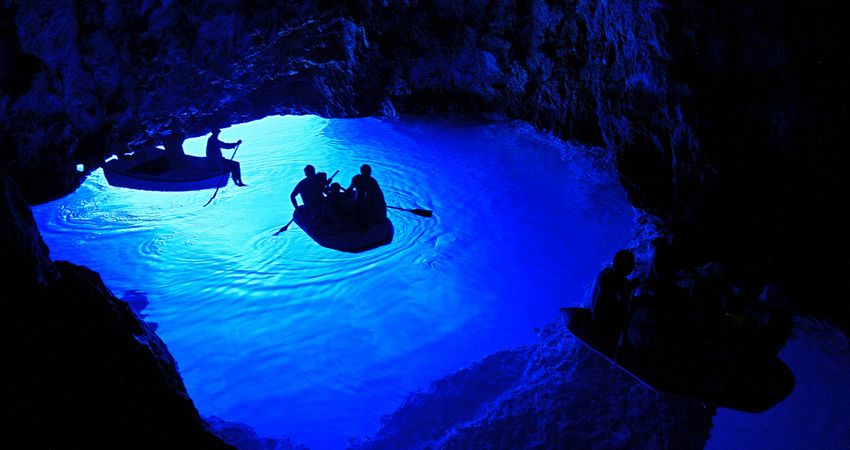 Vis
For a delightful, truly off-the-beaten-track locale, head to Vis, the most isolated populated island in the Adriatic. With its rugged coastline and surrounding islands, Vis is rich with natural beauty. Once heavily militarized and forbidden to outsiders, Vis is one of the Adriatic's best preserved spots, with its sparse population, laid-back atmosphere, and fresh seafood. Vis abounds in isolated beaches, but those feeling a bit more adventurous can hike up the island's highest point, Mt. Hum. The very peak is off-limits, thanks to a radar emplacement, but there are great lookouts nearby. From these you can take in views of the village of Komiza and Bisevo Island. Along the way are small chapels, and the caves where Tito and his partisans hid from Nazi occupiers as they planned the liberation of their homes (even during the Nazi occupation, Vis became home to a secret Allied airfield). After taking in views of Bisevo Island, we recommend visiting its famous Blue Cave (pictured above). With its iridescent blue glow, this can make for an ideal proposal spot if you time it right!
Wherever you pop the question in Croatia, it'll be memorable
Croatia's an easy place to make wonderful memories, whether you're visiting with family, or for an anniversary trip. If you're looking to propose, however, Croatia makes for an ideal location, chock full of great proposal spots and places to indulge in interests from medieval history to fine wines, from Dubrovnik at the southern tip, to the northwest's Istrian Peninsula. With our local staff and many years of experience, we'll be happy to show you around and make the arrangements. We'll just leave popping the question to you.

Born and raised in Wisconsin, Kevin lived in Estonia and Finland for several years, traveling widely through Central and Eastern Europe, before settling down in Berlin. Having studied the cultures, histories, and economics of the countries along the Baltic Sea for his Master's degree, Kevin has the knowledge and experience to help you plan the perfect trip anywhere in the region, and also works as JayWay's main writer and editor.