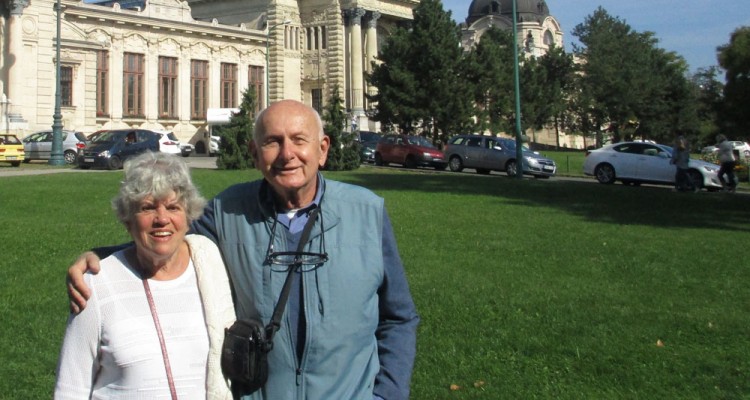 JayWay Travel guest Ellen Offner (pictured above with husband Arnie outside Budapest's Szechenyi baths) isn't only a seasoned world traveler, she's also a dynamic blogger covering Europe, Asia, Africa, Latin America and North America — just about every place there is to explore! I recently sat down with Ellen to get some inspiration from her travels in Central Europe. She has experienced the best of the region and has some excellent tips for first-time and returning visitors. You can find more on her travel blog.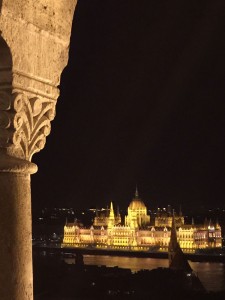 What's the best budget meal or local food experience in Central Europe?
The Naschmarkt in Vienna, a smaller version of Boston's Quincy Market, has an excellent budget restaurant, La Piazetta, which specializes in fresh seafood and pasta. It's a very cheery place with delicious food and attentive owners, three Turkish brothers, and staff.
What's the best cultural experience tourists can have in the region?
The Belvedere in Vienna is a beautiful complex with waterfalls and gardens between the Lower and Upper Belvedere. The Upper Belvedere has a large, impressive collection of paintings by Gustav Klimt, featured in the movie Woman in Gold starring Helen Mirren, and a whimsical statue by the contemporary American artist Jeff Koons in the main entrance.
What theaters would you recommend for opera lovers?
There are marvelous opera houses in Prague, Vienna, and Budapest. It is important to book online in advance to ensure good seats for the performances that interest you. There are three opera houses in Prague, the Prague State Opera, the Estates Theatre, and the National Theatre. The quality varies, but the dates of your visit will likely determine which of these theaters has productions while you are in Prague. The Vienna State Opera is housed in a beautiful building and offers world-class performances, and the Hungarian State Opera House on the exquisite Andrássy Street across from the inviting Callas Café and Restaurant offers a wonderful musical and aesthetic experience.
What's the best restaurant in the region for fine dining?
Aromi in Prague, which has a Bib Gourmand from Michelin, signifying excellent cuisine at moderate prices. It has recently moved to a spiffy new location, Náměstí Míru 6, easily accessible by public transportation in the charming Vinohrady neighborhood.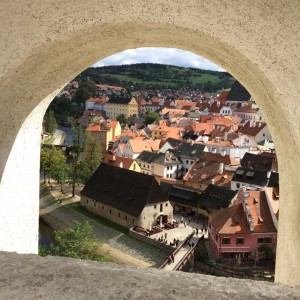 Any surprising discoveries on your trip?
Český Krumlov, a UNESCO World Heritage Site recommended by JayWay, was a wonderful surprise. This picture-postcard town is enchanting, with a lively atmosphere. Our driver recommended a terrific vegetarian restaurant, Laibon, on the bank of the river with a commanding view of Český Krumlov Castle and the surrounding colorful houses.
What's your favorite hotel in the region?
The Hotel Copernicus in Krakow, a former monastery that's now part of the prestigious Relais and Chateaux Group, is an exquisite hotel located on Kanonicza Street, Krakow's oldest street right below Wawel Royal Castle – the historic seat of Polish kings. The architectural beauty and creature comforts are outstanding. The Copernicus has a talented chef who offers 5-, 7-, and 12-course tasting menus. The 5-course option is delectable and filling, as well as reasonably priced owing in part to the value of the Polish zloty.
Could you name one place from your trip that not a lot of people go to, but should?
Xocolat, located in the Charming Ferstel Passage in Vienna, has a wide array of mouth-wateringly delicious chocolates and attentive staff who helped us select great nut-free chocolates for our grandchildren who are allergic to nuts.

Charlie is head of marketing at JayWay Travel. A long-term Prague resident, his interests are cooking, eating out, cycling, skiing and of course, travel.