Apart from the photographs captured during your holidays to Greece, souvenirs are also a wonderful way to display and cherish your travel memories. There are plenty of authentic products made in Greece which you can buy that make a fantastic gift for your friends and loved ones back home. If you are not sure what to buy – we hope that our guide to souvenir shopping in Greece will serve as a friendly travel companion.
Jump to a section of this article
Local crafts
In Greece you will come across plenty of tourist souvenir shops selling the cliche fridge magnets and anything that reminds you of Greece during the 1960s.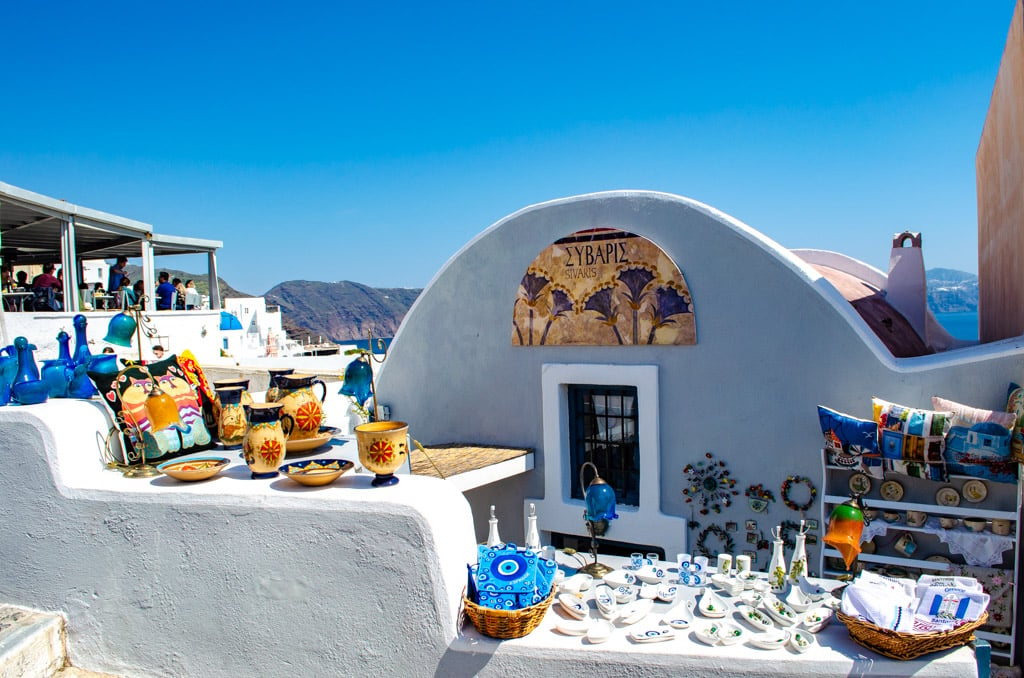 There are however many boutique shops which you can find both on the mainland and the islands. They sell distinctive local crafts produced by modern, talented artisans. Ideal for refreshing your home's interiors are hand-painted ceramics or marble or bronze sculptures depicting ancient gods as well as modern-day characters.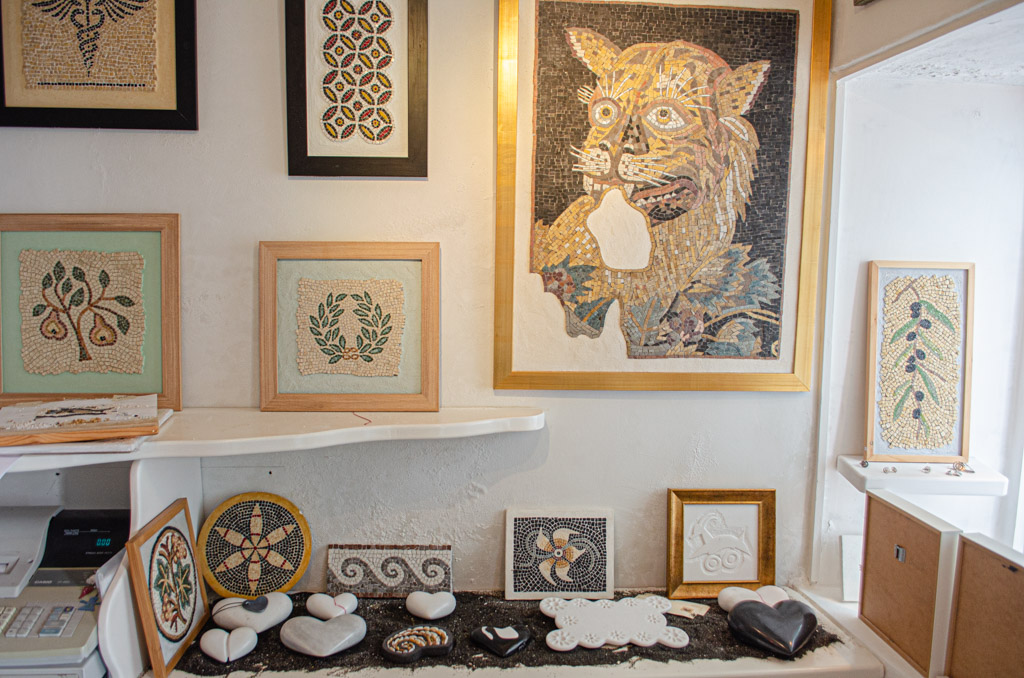 Tip: If you are looking to buy a stylish beach towel or beachwear, we recommend Sun of a Beach with many store locations in Greece and abroad. The idea of creating fun and luxurious towels was born on Mykonos in 2011. Today Sun of a Beach is one of the leading Greek brands with many loyal fans across the globe.
On Santorini check out the Mati Art Gallery. This immersive visual space in the heart of Fira is where artist Yorgos Kipris displays his artwork depicting fish in various forms and shapes, boats, and other creations.
Olive Oil
Extra virgin Greek olive oil is simply one of the best in the world. It is renowned for its exceptional quality, aromas and taste. On the island of Corfu we particularly recommend the fine Governor Olive Oil. The Dafnis family have been producing it for over 100 years.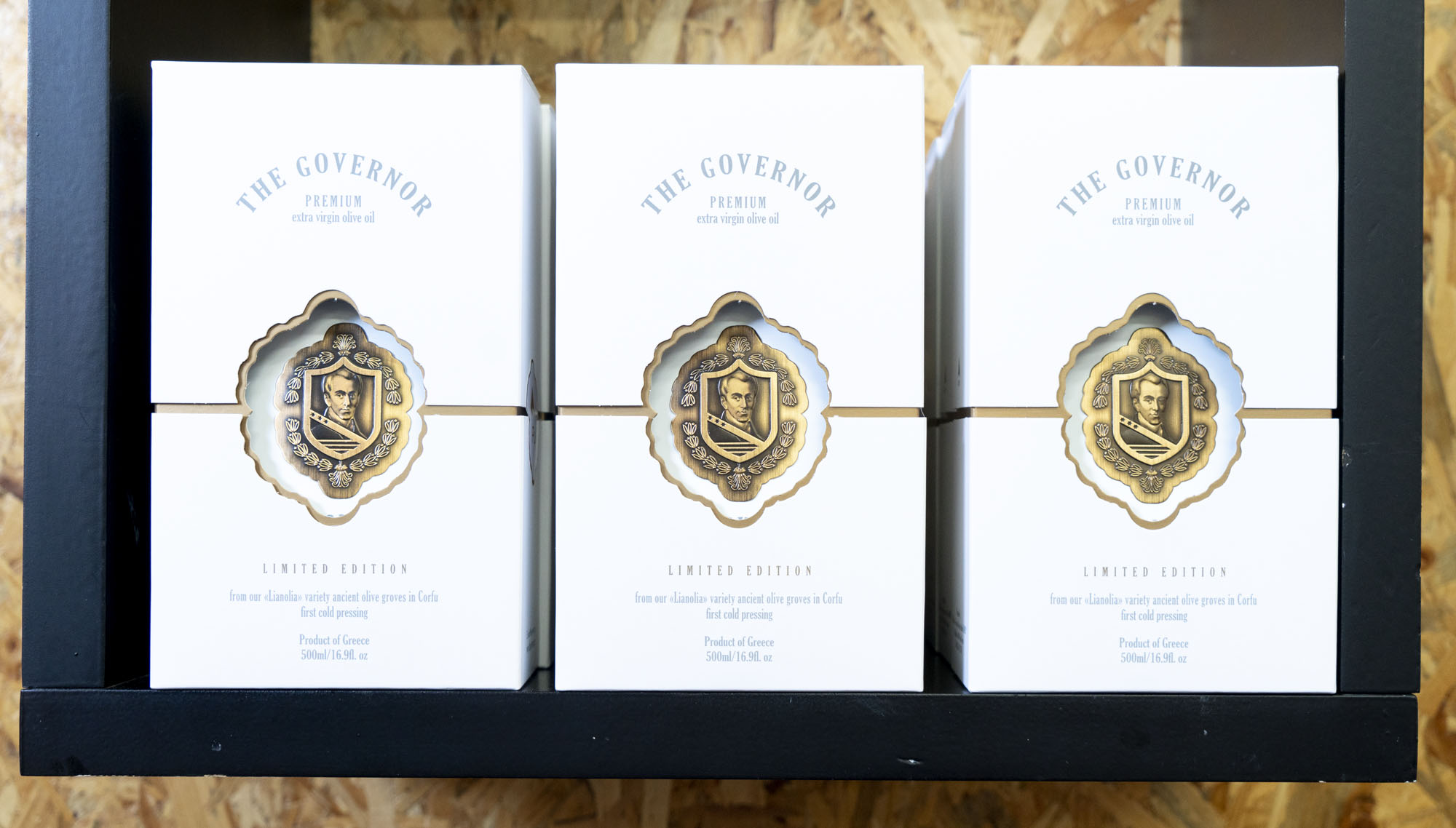 Olives
Olives are equally delicious even without pressing them. You can buy them either in jars or vacuum packed, which are easy to bring back home. Greece is home to several olive tree varieties each bearing their own fruit. Koroneiki is the most famous accounting for almost 60% of all olive oil production in Greece. It is most fitting for olive oil production and is mainly grown in the Peloponnese. Kalamon olives are a superior variety and most commonly served as table olives. They derive from the city of Kalamata in the Peloponnese. Kalamon are known for their large size, black color and have a smooth texture. They are usually preserved in wine vinegar or olive oil.
Chalkidiki olives are harvested on the Chalkidiki peninsula in the North of Greece. They are large in size, soft and of yellow-green color. They make for delicious hors d'oeuvre or appetizers as they are usually stuffed with almonds, bell peppers or sundried tomatoes. The Ergon brand offers a generous selection of olives available both in glass jars or in vacuum packaging.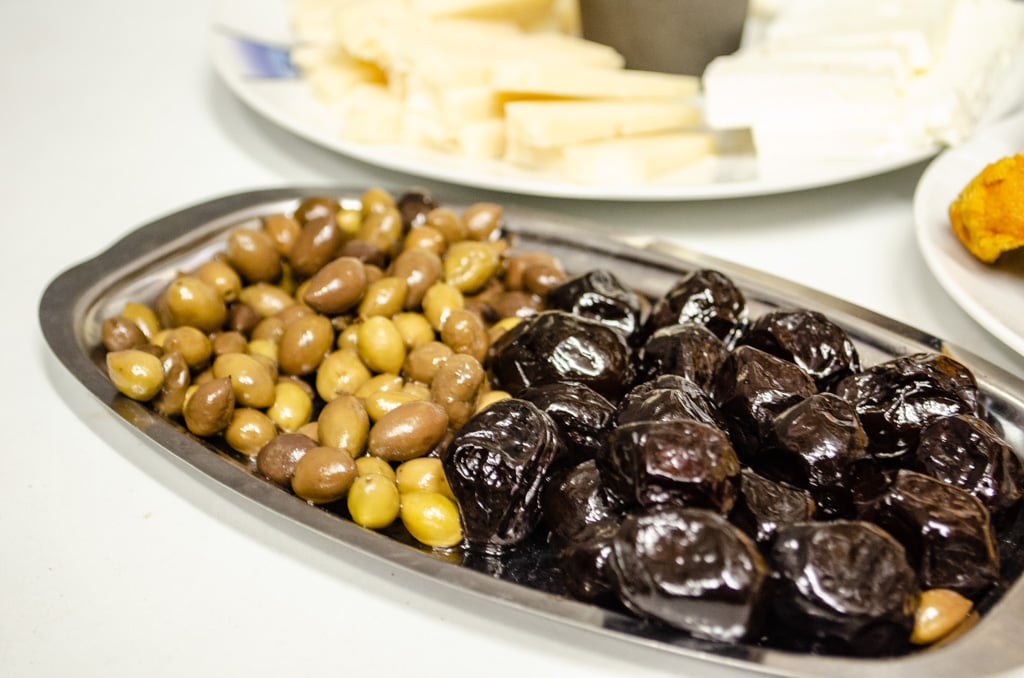 Amfissa olives come in two colors, black and green, with a whole color spectrum in between. They are characterized by an oval shape and a mild-fruity flavor. Tsakistes, or else known as cracked olives are primarily grown in the Attica region. These are green olives flavored with garlic and lemon wedges and are much loved on the island of Crete. Throuba olives are harvested on the island of Thassos, they are wrinkly olives, black in color and resemble a raisin. The variety is listed as a PDO (Protected Designation of Origin) product. They are best enjoyed when drizzled with olive oil and sprinkled with oregano. Another olive related delicacy that you might like to try is the olive paste. This divine Mediterranean appetizer goes well with fresh bread or Greek barley rusks. It is often offered as a welcome appetizer in Greek tavernas or during wine-tasting tours.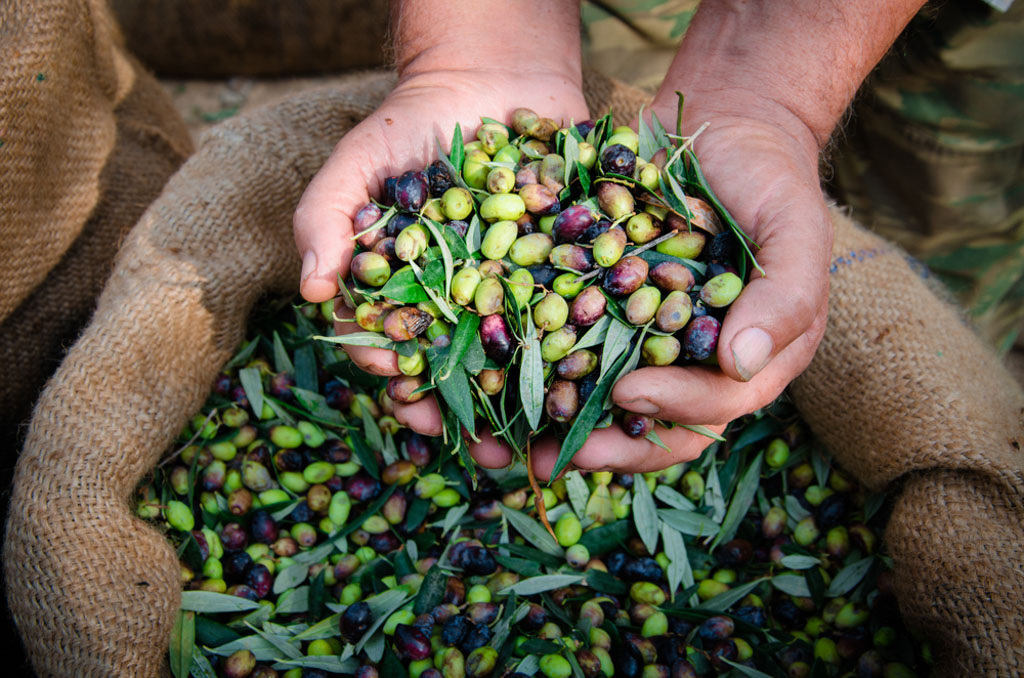 The Food section at the Athens International Airport offers a great selection of olive oil products, in case you are looking to pick up some last minute gifts. The products are sold in metal tins, glass jars as well as vacuum packaging. GAEA offers elegantly packaged products which can also be ordered online and delivered in the US.
Herbs: for cooking, or drinking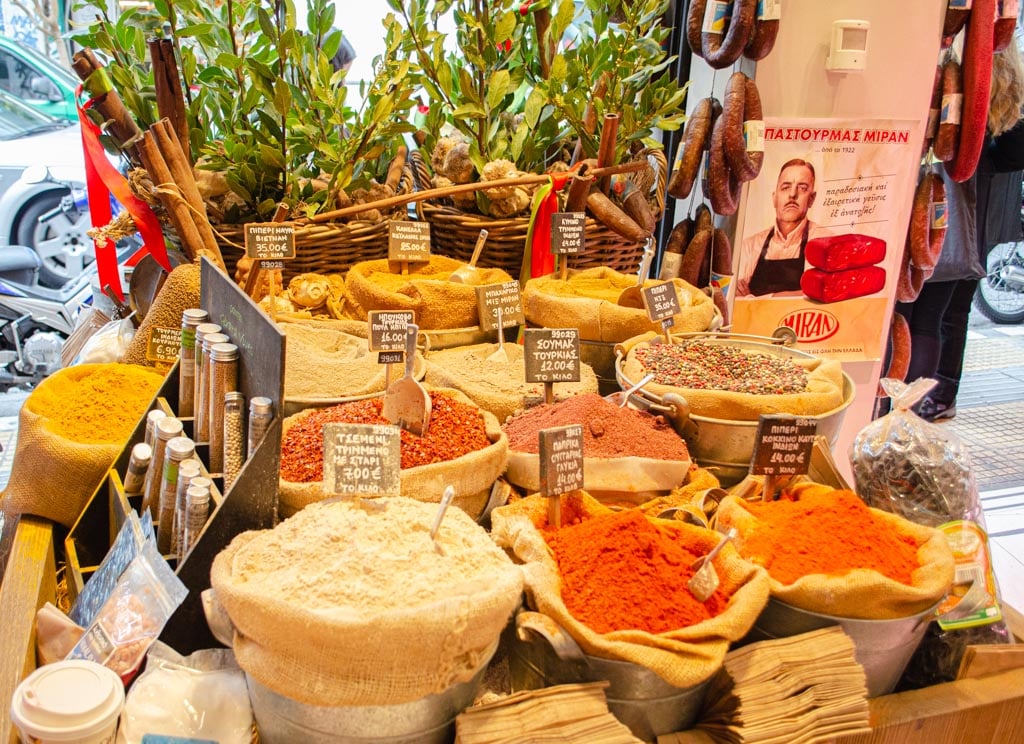 Herbs provide a lightweight way to take some Greek flavors home. Popular herbs in Greek cooking such as oregano, rosemary and laurels can be found everywhere. For those cold winter evenings we recommend that you pick up some special and flavorful Greek tea, known as tsai tou vounou. This is a herb that grows in the mountains and has tremendous health benefits.
The best of Greek delicatessen
If you are traveling to Mykonos, you might like to buy some local cured-ham known as louza. Naxos and Crete are famous for their cheeses. Round out your charcuterie board with some of Santorini's exceptional capers. This delicacy is also a perfect pairing for your salads.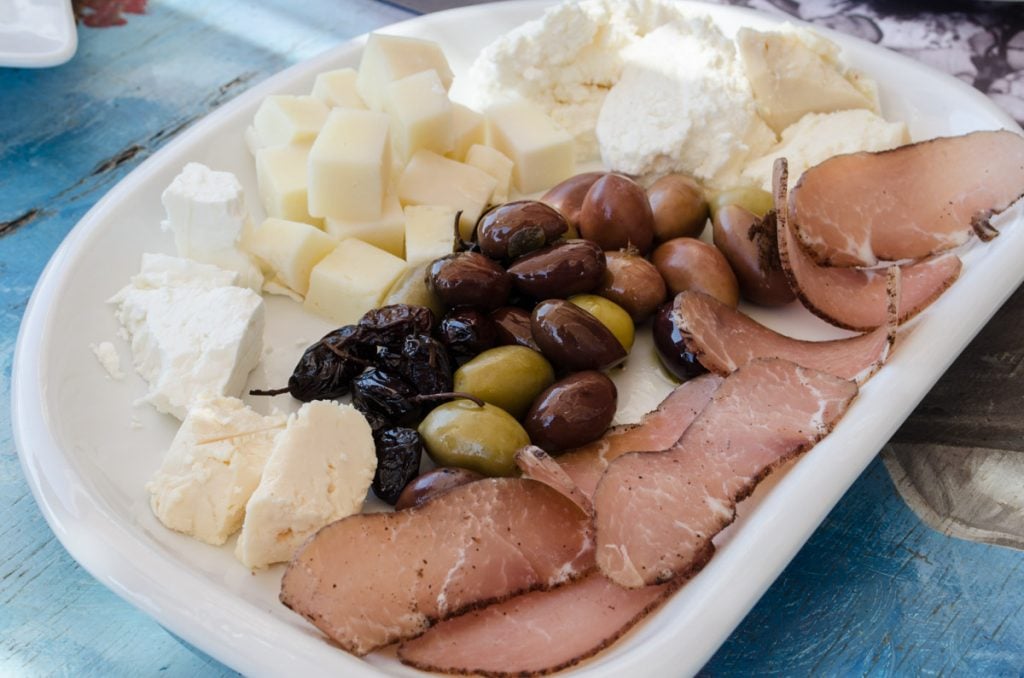 Corfu's Candied Kumquats
If your journey brings you to the island of Corfu, here you can buy candied kumquats which are also available as liquor, a characteristic drink of the island. The kumquat tree which is native to China was first brought to Corfu in 1846 by the English botanist Sydney Merlin.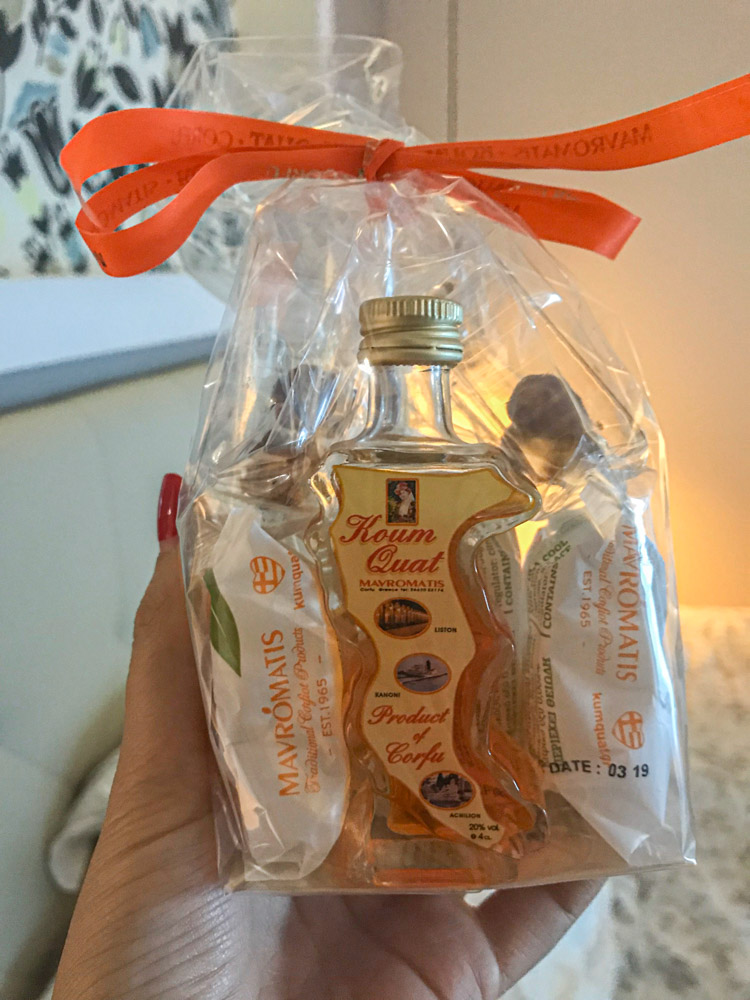 Anything with Cats …
The Greek cats are some of the most photographed animals which you will encounter on your trip to Greece. On many occasions you will be tempted to photograph these cats yourselves (even if you are not a cat person).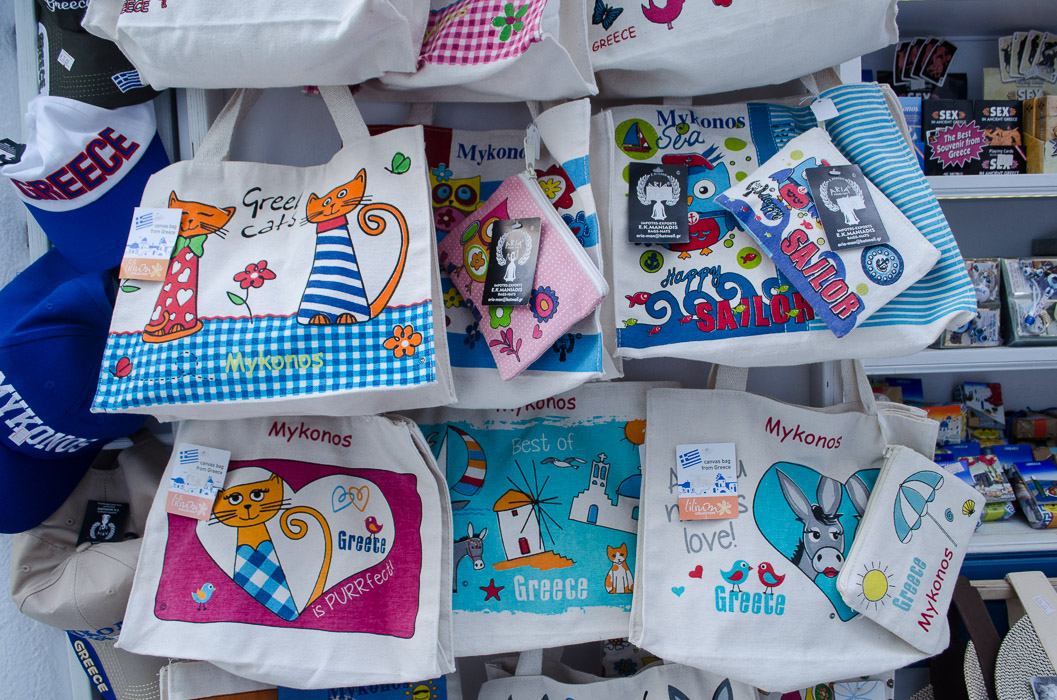 Literally, Greek cats are everywhere and these heartwarming creatures cannot be missing from the Greek souvenirs, of course. You will find a great variety of cat themed souvenirs, from bags, magnets, t-shirts and mugs. Netflix is even launching a documentary dedicated to the Greek cats of Syros, which you will be able to enjoy from the comfort of your homes soon.
Greek leather sandals
Leather goods are a popular souvenir to buy in Greece – and more specifically handmade leather sandals. The ancient Greeks wore them, and the modern day Greeks too are fond of one of Greece's top signature products.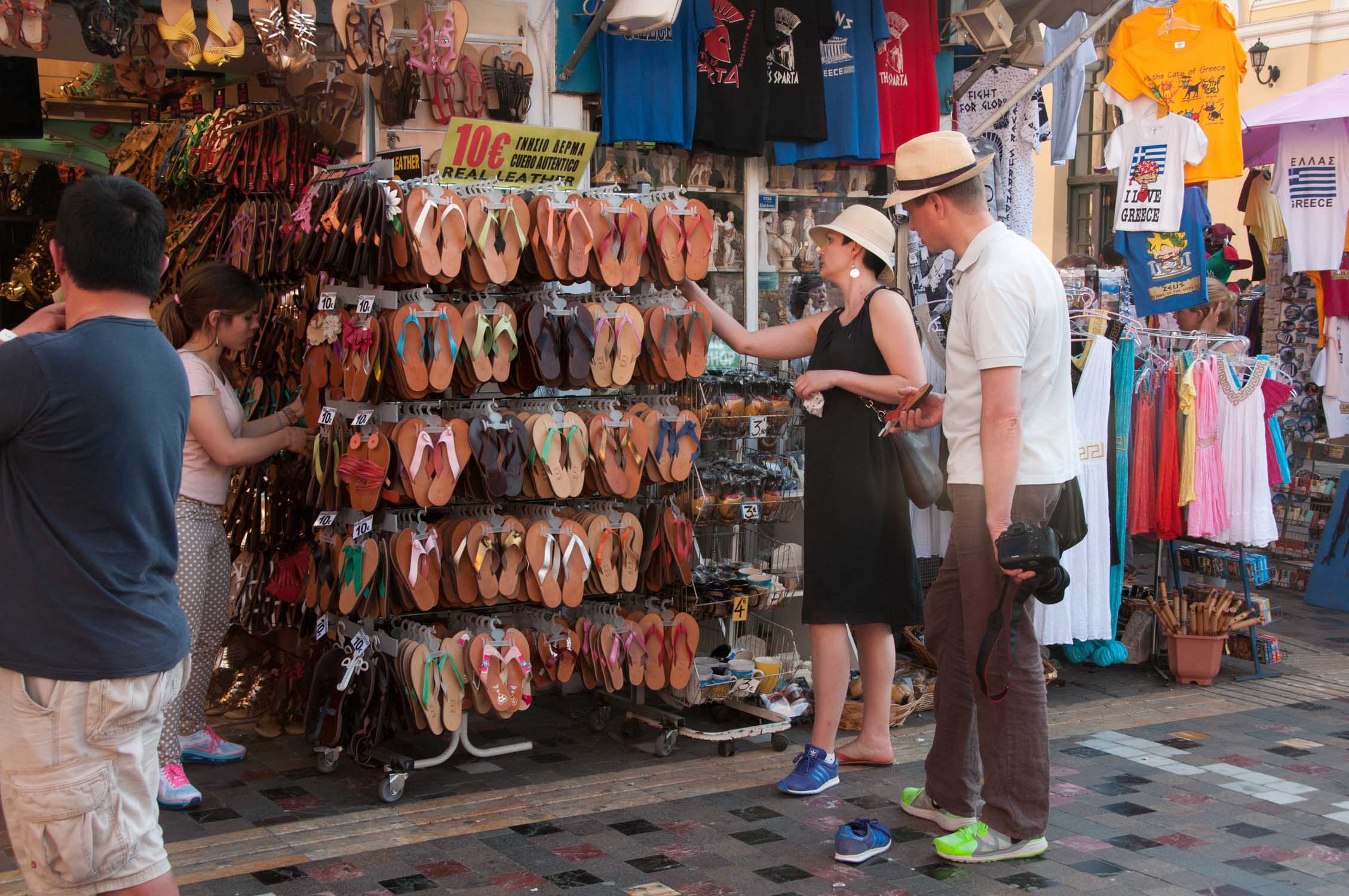 On islands like Mykonos as well as in the heart of Monastiraki in Athens, you will come across numerous traditional leather sandal makers. The sandals come in different colours, styles and can also be customized. A perfect accessory for your Greek god or goddess look.
Tip: For those who are looking for something unique, we recommend a visit to the Melissinos Art-The Poet Sandal maker. This historic footwear shop in Athens is run by a 3rd generation sandal maker. Since 1920 many international celebrities and members of the royal families have been loyal fans of their creations. From Sophia Loren to Beatles, and Jackie O' – just to name a few. If you are looking for something more stylish, the Ancient Greek sandals will be your perfect fit. These gorgeous Greek sandals have gained popularity all across the globe.
Olive Oil Cosmetics
With all those olives, you would expect that the Greeks would do more than just use them for food. Natural cosmetics for both hair and body care based on olive oil make a delightful gift. The antioxidant substances inside the olive oil help to maintain the skin refreshed and young.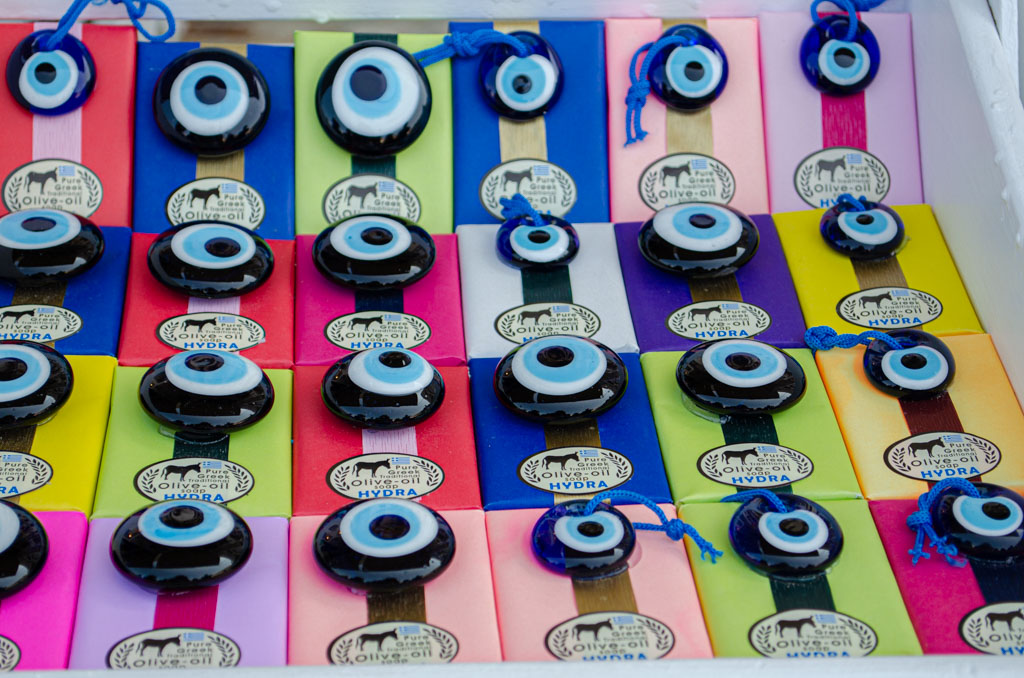 You will find a wide variety of products from soaps to creams and other cosmetic products available in local stores.
Honey and beeswax
The ancient Greeks used honey as a traditional sweetener. To this day honey remains one of Greece's most prized goods. Greek honey is rich in antioxidants, vitamins and minerals, making it one of the most nutritional, natural foods.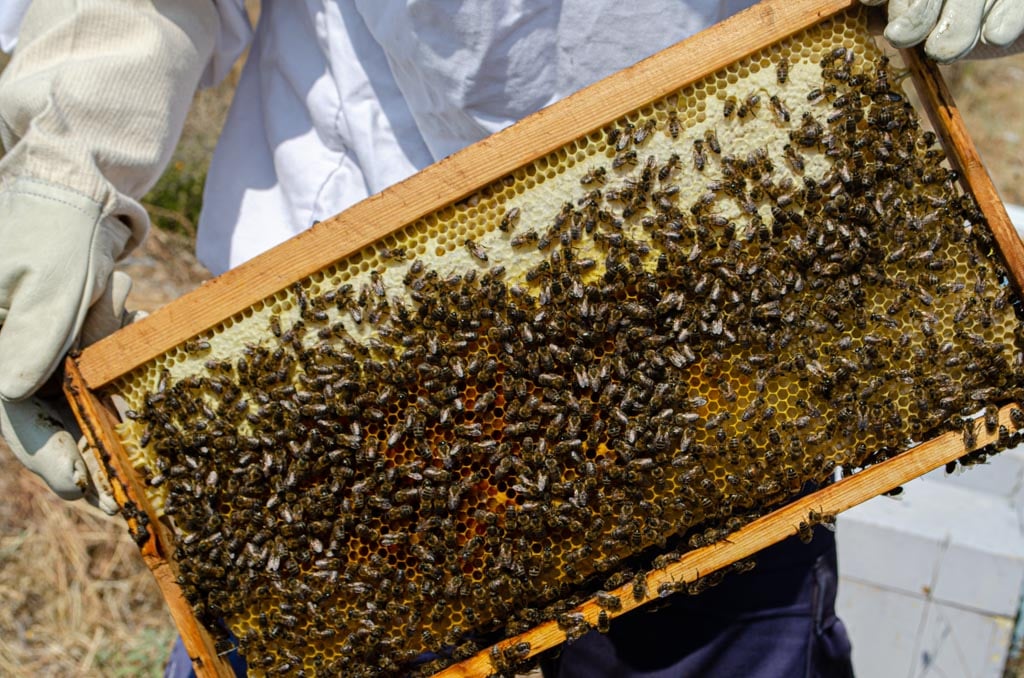 Certain regions in Greece such as the island of Crete, produce a thyme infused honey which is considered to be one of the best honeys worldwide. Greek beeswax does wonders and those who have used it have seen impressive results. This amazing ingredient is applied to dry skin, burns and wounds.
Greek komboloi (worry beads)
The famous Greek worry beads are unique handmade pieces that consist of a string of beads which you will often see in the hands of older Greek men. These are used as a popular pastime and a way to relax in the Greek culture.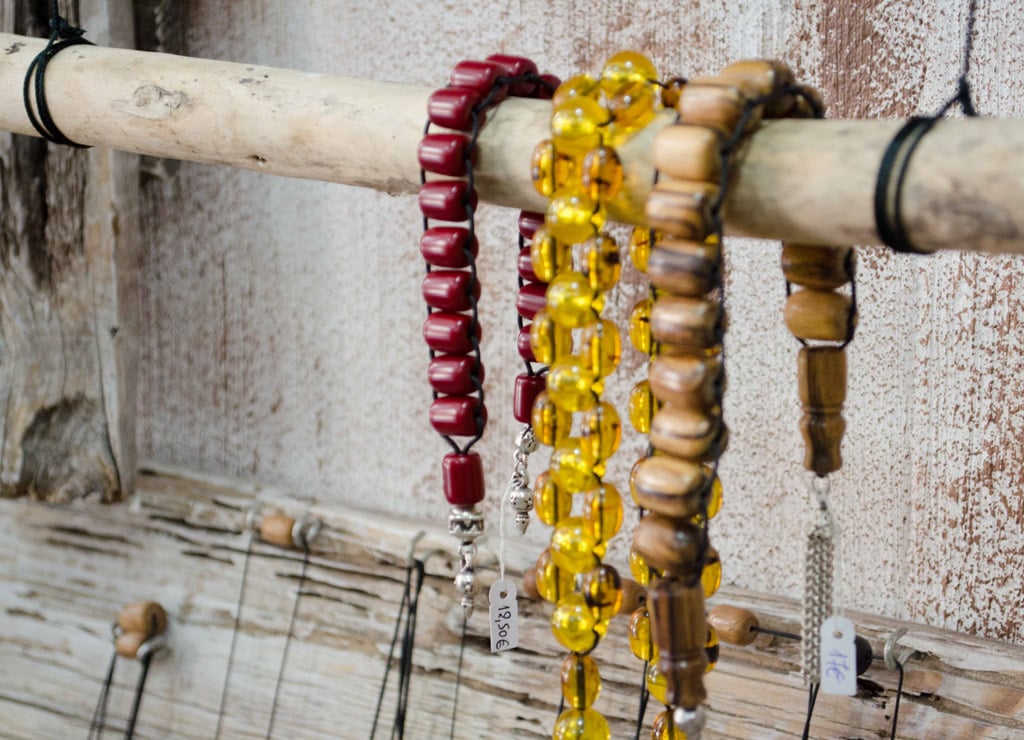 Today a typical komboloi is made out of 23 beads instead of the 33 beads (associated with religion in the past), always in odd numbers – their lengths can vary. The Greek komboloi comes in various designs and price ranges, depending on the materials used. For unique craftsmanship and design check out Kombologadiko with several store locations across the country, including Athens (9 Amerikis Street, Kolonaki) and Nafplio.
Jewelry
You'll find many jewelry stores in Greece, offering both classic Greek designs such as replicas of the meander, minoan bees and Phaistos Disc as well as modern creations in silver and gold (check out Ilias Lalaounis – one of the first jewelry makers who revived ancient Greek style jewelry).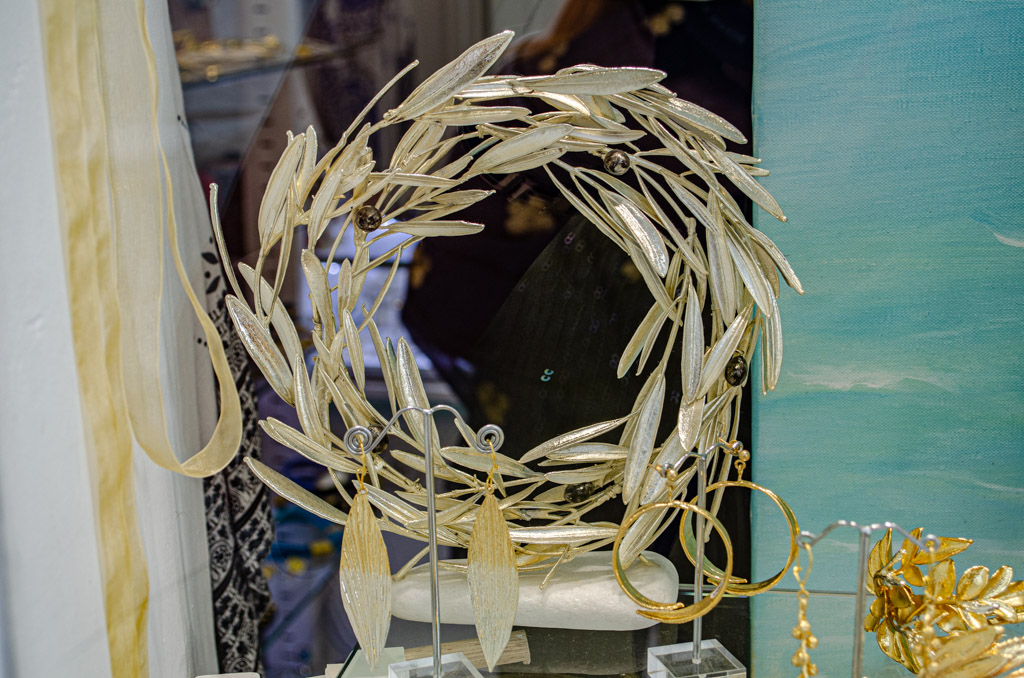 Greece is known for its rich jewelry heritage which dates back to antiquity – a source of inspiration for local Greek jewelry designers till this day. Over the years numerous up-and-coming jewelry designers have introduced a modernized integration of the past and present which is boldly presented in their collections. From pieces that exude simplicity to those embracing unconventional materials – you will be spoilt for choice. The region of Epirus was once home to a prosperous silversmithing society. In fact it is the birthplace of Sotirios Voulgaris, the founding father of the jewelry house Bulgari. Greek jewelry is a perfect gift for that someone special in your life.
Tip: A few of our favorite Greek jewelry designers are – Yannis Sergakis, one of the most prestigious jewelry brands in Greece. His flagship store is located in the area of Kolonaki, Athens. There are some branches, and stockists, in other popular destinations. You can also find his creations in various stores worldwide. Lito – a dreamy blend of futurism, art nouveau, modernism and surrealism. Lito Karakostanoglou designs jewelry that is playful and bespoke. Katerina Ioannidis – one of the most recognized contemporary jewelry makers in Greece. Katerina's designs are inspired by Greek folk art.
Evil Eye
The Greeks are superstitious and one of the well-known superstitions is the evil eye (to mati). The shape of eyes are worn as bracelets or necklaces and can be seen hanging on walls to ward off evil.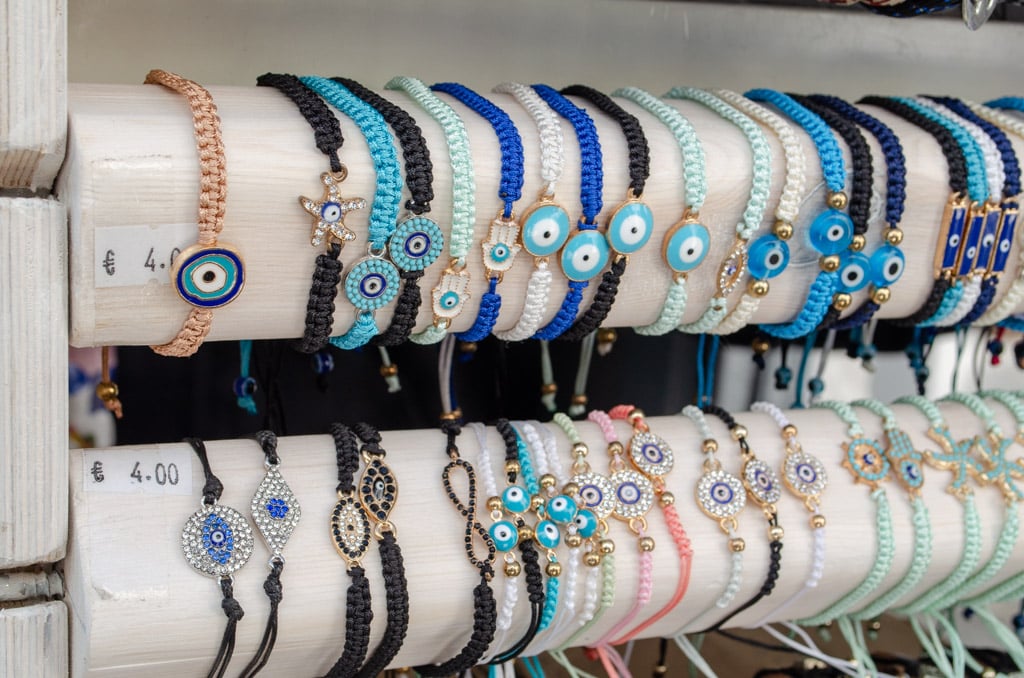 The evil eye is brought upon by anyone who is envious or jealous, and is said to bring bad luck. An evil eye is definitely one of the most popular souvenirs that you will come across in Greece. The evil eye has always been a source of inspiration for Greek jewelry designer Iliana Makri – over the years the artist has built a solid reputation on the international market.
Greek Bouzouki
The Greek bouzouki is one of the most beloved instruments in Greece. You can experience its sounds in the traditional repertoires of the Rebetiko folk tradition, included in the list of UNESCO's Intangible Cultural Heritage.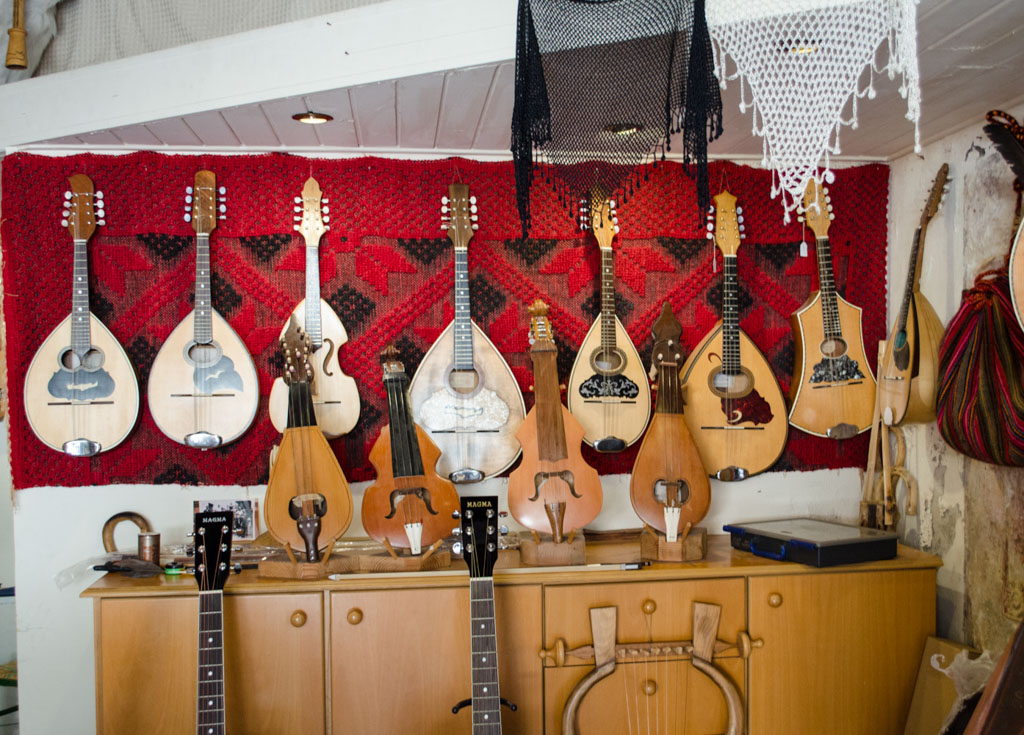 This traditional Greek instrument makes the perfect gift for a music lover. Nothing captures the Greek zest for life better than the sound of bouzouki. We invite you to experience it for yourselves in Greece.
The wise owl
In ancient Greek history the owl was always associated with wisdom and traditionally represents goddess Athena. It has been the defining symbol of the Acropolis and the city of Athens for centuries. When you visit the Acropolis Museum you will be greeted by an imposing statue of a white marble owl that watches over the entrance and welcomes its guests. An owl is a common souvenir that you will find in almost all the souvenir shops across Greece — it is a lovely gift for children.
Wine, Ouzo, Tsipouro and Mastic liquor
Greece has a long standing history of wine production which dates back to prehistoric times. In ancient times the wine trade played a crucial role in the economy. Greek wine was highly prized in Italy during the Roman Empire. In recent years Greek wines have established a solid reputation in the international wine market. Among the top sellers are wines from Santorini and Crete, as well as other wine producing regions of Greece such as the Peloponnese, Epirus and Thessaly.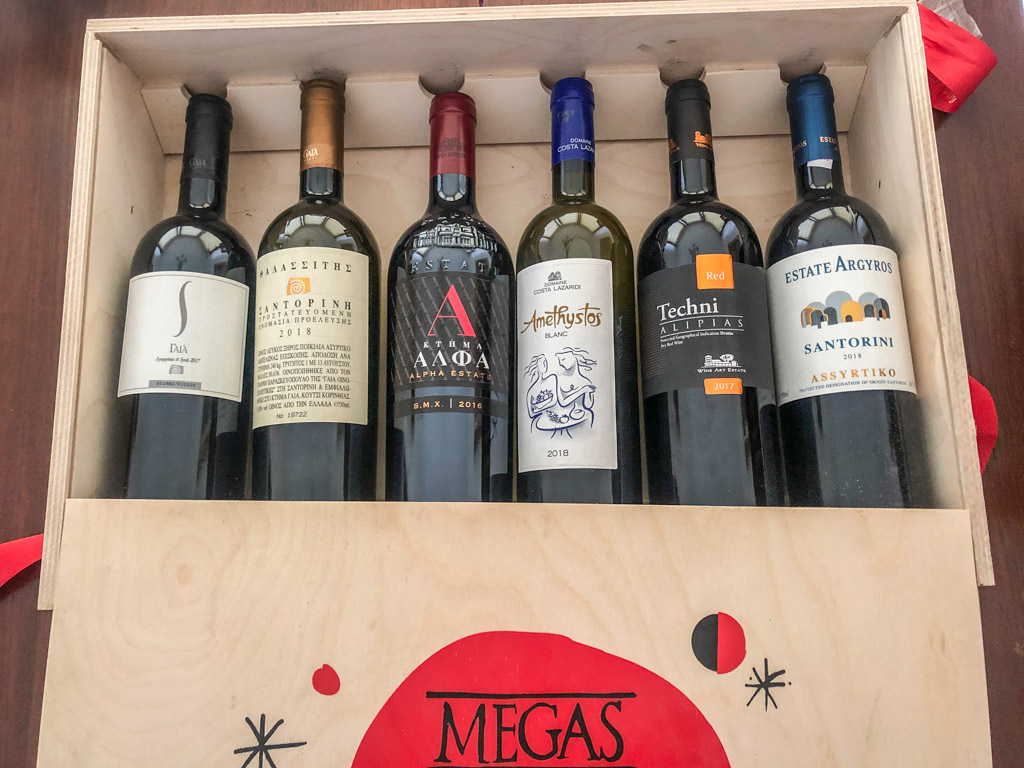 The star of Greek alcoholic beverages is ouzo, an anise-flavoured aperitif which is consumed across Greece. It has a distinctive licorice taste and is usually accompanied with seafood meze dishes. Every distillery in Greece applies its own secret recipe which is usually passed on from generation to generation. On some islands, drinking ouzo is a way of life. Nowhere more so than on the island of Lesvos for example, which is known to produce some of the most established ouzo brands like Matis, Plomari or Mini. In Nafplio you will find a family-owned distillery like Karonis. They have been producing their signature ouzo brand for the last 145 years.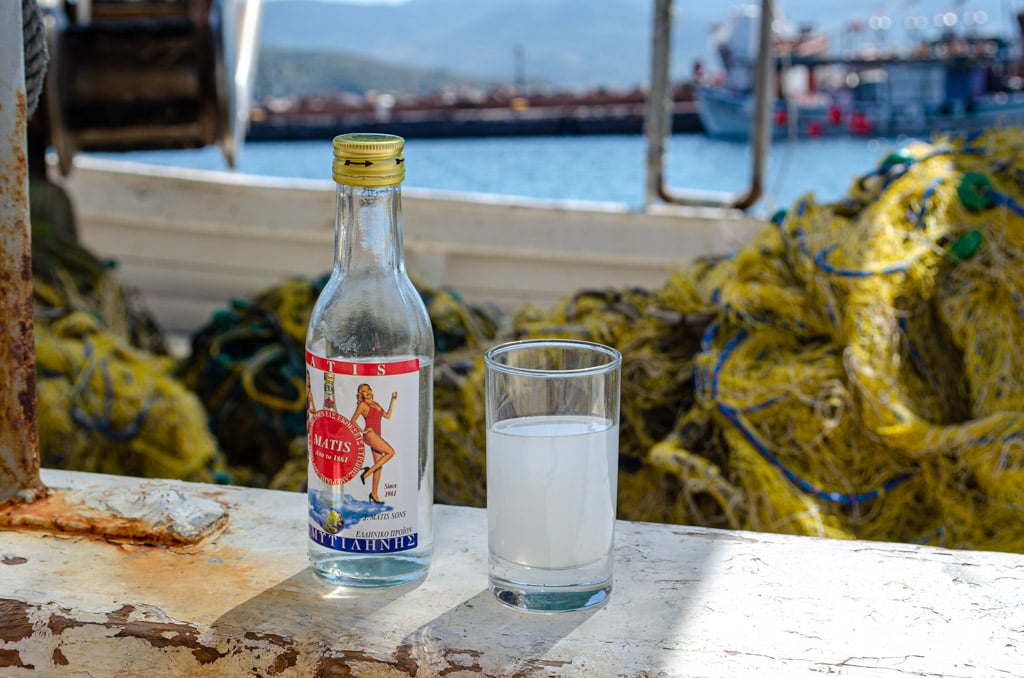 Tsipouro or raki (Cretan name), is made with grape distillation from grape marc and is popular across the country and more specifically in the regions of Thessaly, Epirus, Macedonia and the island of Crete. Tsipouro plays a vital role in the Greek lifestyle, and has been part of the Greek culture for many centuries.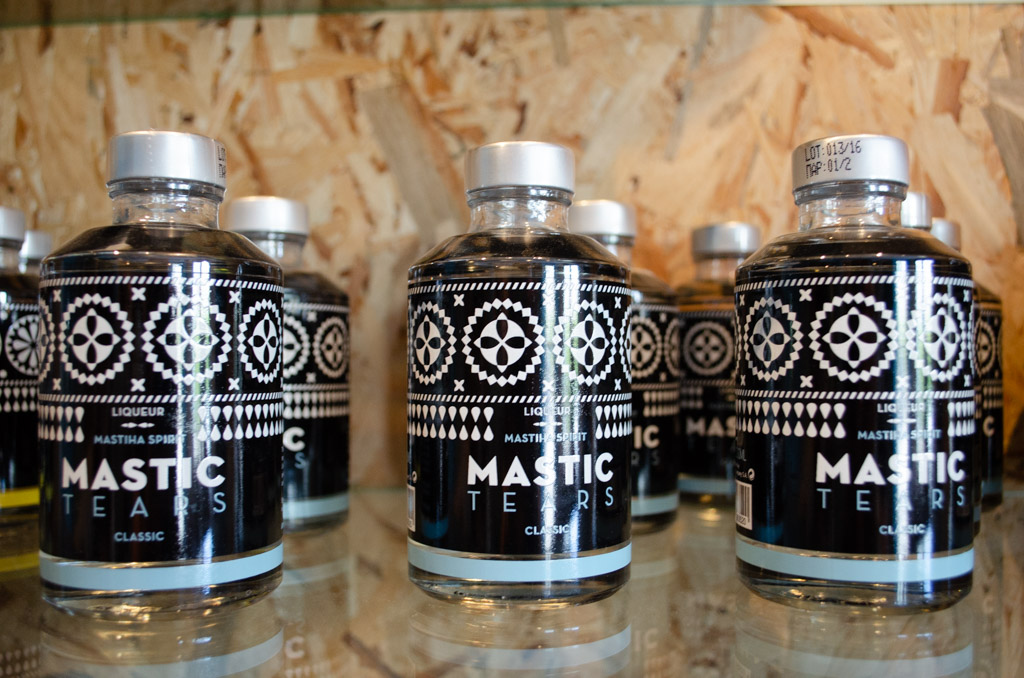 When traveling across Greece, your every dinner will end with either a shot of tsipouro or a sweet liquor known as mastic (mastiha). This divine and rare liquor is produced from the resin of the mastic tree (Pistacia lentiscus) which is only grown on the island of Chios. A drink you will not find anywhere else in the world.
We hope that you found this guide to shopping for souvenirs in Greece useful, what do you usually buy on your travels?

Elena was born in Russia and moved to Greece with her parents at the age of 8. She attended a private British School in Greece, although she does sound more American. Elena's advanced education and professional background in hospitality and tourism management and marketing made her the ideal person to help add Greece to the JayWay Travel map. Elena's a wanderluster at heart and has a true passion for Greece. She loves history and looks forward to welcoming our guests to her adopted country.