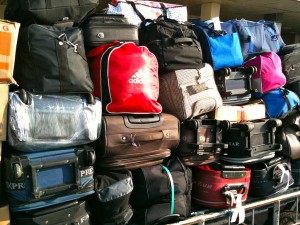 The JayWay guide to what to pack if you're traveling to Croatia, Slovenia, Montenegro, Serbia or Bosnia & Herzegovina.
If you're traveling with us to the Adriatic region you'll usually be staying in at least two different places so it's best to keep your luggage to a sensible amount to avoid over-packing. With that in mind, here are our suggestions of what to bring.
Jump to a section of this article
Electrical items
Power
Most electronic items should have auto-switching power supplies which can accept both US and EU voltage levels and adapt automatically. To check this, take a look at the power supply to see if it has 100-240v (or 110-220v) written on it. If it does then you're good to go, but you will still need an adapter, unless your devices were supplied with an EU plug. For unearthed devices a simple two-prong adapter should be enough. Earthed devices require a larger, earthed adapter. If you have 110v only appliance (personal care items often are) that you really want to bring, then you would need to have a step-down transformer, which are rather weighty (so you'll need to allow for this within your luggage allowance), and can be ordered from Amazon from $30-$50. If buying one of these make sure it can handle the current draw your appliance requires.
Connectivity
We try hard to only work with accommodation where wi-fi is provided so bring your smartphone and/or netbook/tablet to stay in touch with the folks back home.
What to bring/buy
Euro power adapters
Camera (and charger!)
Laptop/netbook/tablet
Smartphone (and charger!)
What to leave at home
Any devices that don't have power supplies capable of auto-switching. To use these you'd need to bring a transformer, which are expensive and heavy. Hair dryers for example are most likely to fall into this category. Almost all of our accommodations should have a hair dryer available for you.
Clothing
It starts getting warm in the Adriatic region from April onwards and doesn't get cold until early November. As a result you're unlikely to need heavy coats during this time. For spring and fall a combination of light and medium weight sweaters and a wind jacket will serve you well. In summer you'll only need warm clothing if you're heading high into the hills or plan on exploring caves and other underground places. The Croatian coast is very casual and the most dressing up you're likely to do is going to an upscale restaurant, where a shirt is sufficiently smart. Covered shoulders and jackets are required only in some museums, churches and places like that but not in restaurants. Some churches enforce an even stricter dress code, forbidding shorts and short skirts. If you plan to go to an opera (in Belgrade, Ljubljana, Sarajevo, Split or Zagreb for example) then you'll need smart clothes as people generally make a special effort for such events. Otherwise casual is the watchword. A hat is highly advisable in summer.
Footwear
Bring comfortable shoes, sandals and walking shoes if you plan to do any serious walking. Stone and rock surfaces in the old towns can be uneven and staircases are common. Smart shoes are only necessary if you're planning to go to a high-society event.
For the beach
As most of Croatia's beaches are pebbly or made of very small stones it is advisable to wear sandals. You can buy these locally very cheaply if you want. Also sold locally are neoprene swimming shoes – these will protect your feet in the water from any sharp stones along the shore. Snorkelling gear is a must-have if you want to see the marine life. You can buy cheap snorkelling equipment locally or splash out and get good quality items. Beach towels are not provided by any accommodation. Pack your own or buy locally (make it a souvenir and buy a Croatia flag or map beach towel!)
Toiletries
If you're staying in hotels, basic toiletries will be provided. For apartments this is not always provided so we recommend packing your own. There are drug stores and convenience stores in all our destinations (though in Plitvice Lakes this might take some finding) if you'd prefer to buy locally. Just remember to pack all toiletries that are in containers larger than 100ml/3 fl. oz. in your checked bags otherwise you'll lose them to the TSA or airport security screeners in Europe. If you're prone to insect bites then some insect repellent is advisable.
Planning a trip to the Adriatic? We'd love to put together an Adriatic travel package just for you. Get in touch to find out more!
image credit:
Shanghai Daddy
via Creative Commons on Flickr

Ana has managed the Adriatic destinations offered by JayWay Travel since 2007. Her passion for the region's culture and tradition is apparent in her participation as member of a nationally recognized acapella group.