At the mention of Prague – and the entire Czech Republic for that matter – you can't help but picture ice-cold mugs filled to the brim with frothy beer, but did you know that this landlocked country in Central Europe also has a long-standing wine-making culture that you can explore by wandering around a handful of fine vineyards in Prague?
Yes, there are vineyards in Prague, in the very heart of the Czech capital. In fact, the city used to literally be surrounded by endless stretches of vineyards back in the Middle Ages. This was largely because of King Charles IV. Charles, apart from giving Prague its iconic landmark, the beyond-words pretty Charles Bridge, also made sure that grapevines were planted on every south-facing slope in and around Prague. Later on, during the reign of Emperor Rudolf II, Prague was often referred to as the City of Wine.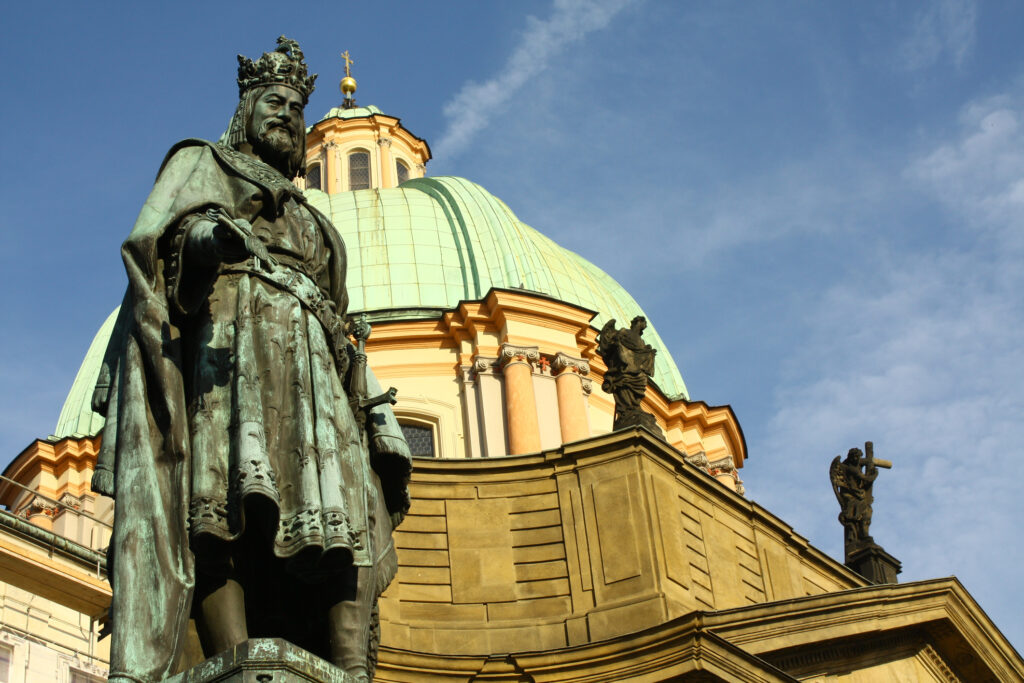 Nowadays, only a few of those vineyards in Prague have survived the city's urbanization, forming part of the growing trend to salvage traditions and crafts of the past. Yet, they're enough to give you an idea of what Prague must have looked like back in the day. They also provide valuable insight into the city's historic wine-growing traditions and a taste of Prague's exquisite wine. Not to mention that Prague's vineyards are among the city's most romantic spots, some offering breathtaking views of the European capital that never fails to steal visitors' hearts.
Scenic views and romantic vibes aside, the wine is a reason to visit some of Prague's vineyards in its own right. Although even locals themselves regard the Czech Republic as a beer country, Czech wine isn't to be overlooked. Moravian reds, whites and rosés might be the country's most renowned wines, but Prague's white wines are also worth sampling.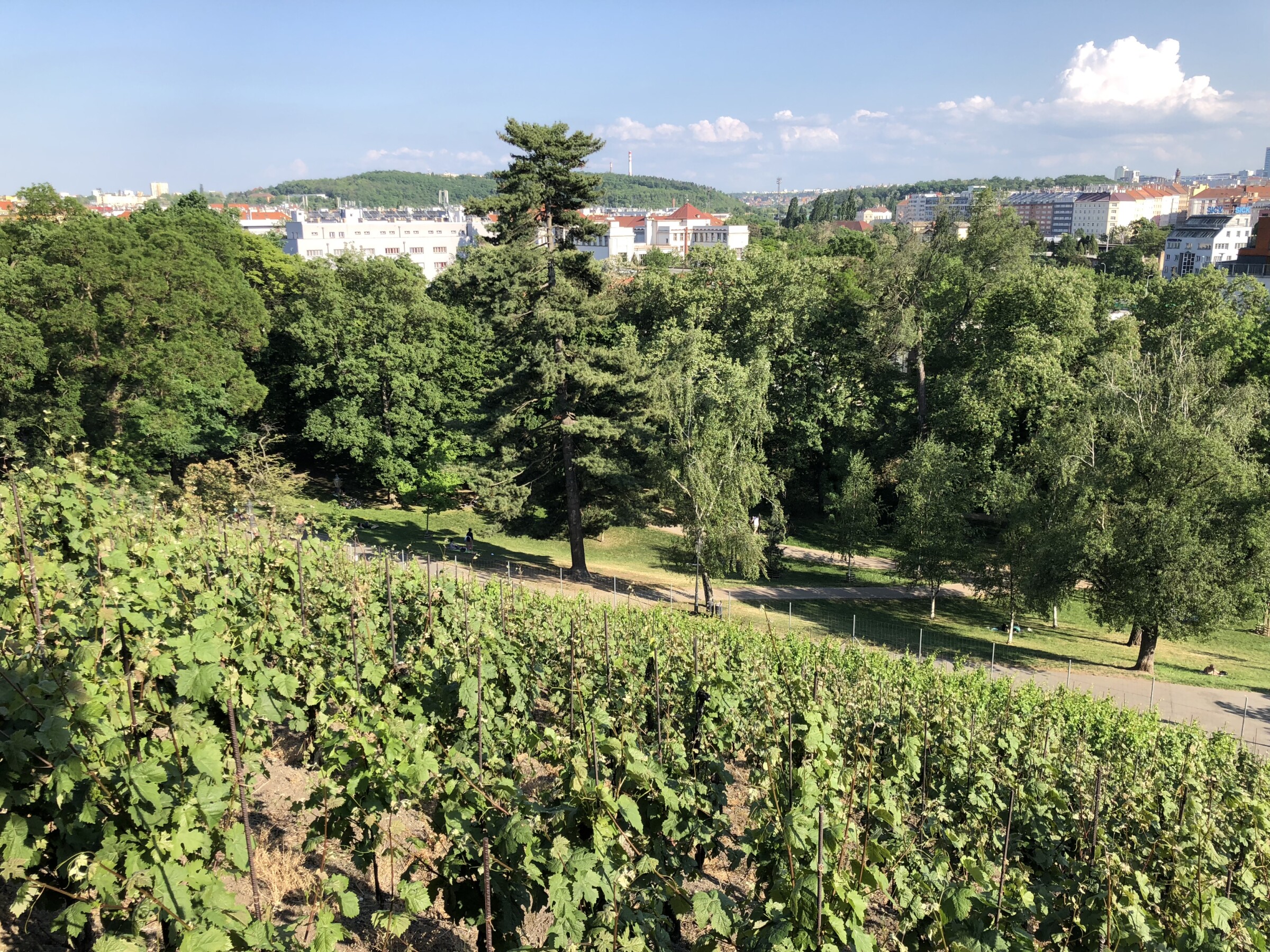 When visiting some of the best vineyards in Prague, you'll have the chance to taste the local wine. Even though their wine production is very small, vineyards in Prague render delicious wines that are worth sampling during your trip to the Czech capital.
So, without further ado, let's have a look at the best vineyards in Prague, one of the most romantic cities in Europe.
The Most Beautiful Vineyards in Prague
St. Wenceslas Vineyard (Prague Castle)
One of the most historic vineyards in Prague, St. Wenceslas Vineyard is situated a stone's throw from the city center, within the grounds of the city's most striking attraction: Prague Castle. Considered the oldest vineyard in all of the Bohemia region, it is said to have been cultivated by Prague's patron saint himself, the mighty and much-loved Saint Wenceslas. Hence the vineyard's name.
Nowadays, St. Wenceslas Vineyard is restored and still occupies the very same slope it has over the centuries, offering the best views of the Old Town of Prague. Near the vineyard and the medieval castle, Villa Richter restaurant is worth a visit not only because it's a fine example of classicist architecture, but also because it's where you'll be able to taste a limited edition of wine coming straight from the celebrated St. Wenceslas Vineyard.
Grébovka Vineyard & Viniční Altán
Grébovka Vineyard is yet another of the oldest and most famous vineyards in Prague, situated in Vinohrady (Czech for 'vineyards'), a charming residential area. This vineyard is only a small part of the extensive vines that were planted during the reign of Charles IV in the 14th century. Back then, the entire area that is now known as the Park of Havlickovy Sady was covered in lush vineyards.
Apart from the scenic spectacle of the vineyards themselves and the views of Prague its location offers, Grébovka Vineyard is also graced with gorgeous buildings that date back to the late 19th century when Moritz Gröbe, a German businessman, built his summer home there. The most impressive remnant of Gröbe's house is the stunning Viniční Altán, the Vineyard Gazebo, that dominates this dreamy hill of grapevines overlooking the wonderful Havlickovy Sady.
Home to a wine cellar and a wine bar and restaurant where you can try the wine made from traditionally grown varietals such as Pinot Noir and Pinot Gris – but also modern grape varieties that grow at the on-site vineyard, Vinicni Altan takes visitors on a fantastic journey into the past while offering breathtaking views of this unique European city, especially at sunset.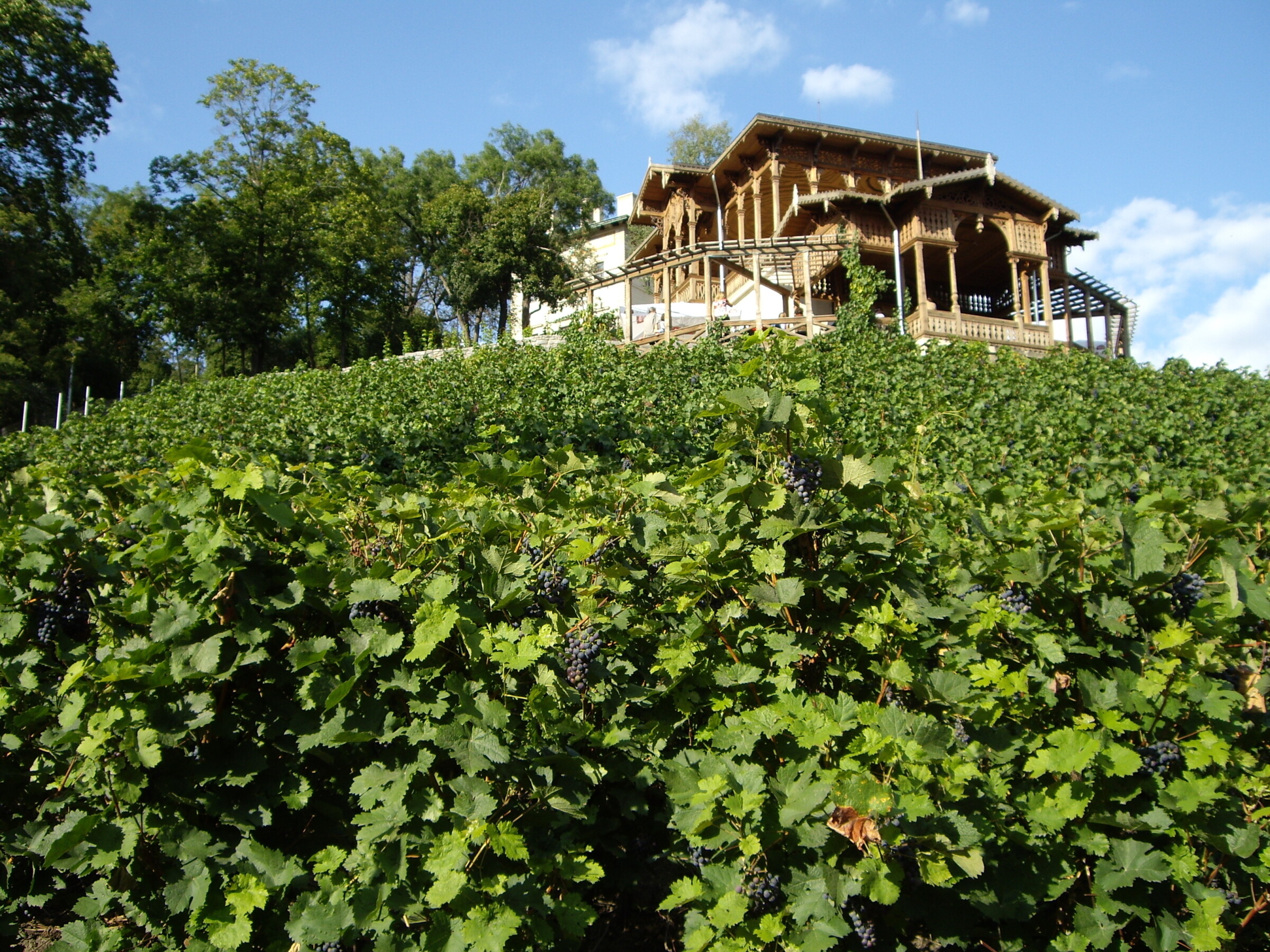 St. Claire's Vineyard (Prague Botanical Garden)
Since 1995, St. Claire's Vineyard forms part of Prague's Botanical Garden in Troja, offering you the opportunity to combine a stroll in nature with superb wine tasting of local wines while marveling at splendid city views. The presence of this large-production vineyard within the grounds of the city's Botanical Garden renders the latter one of the most special gardens of its kind worldwide.
Dating back to the reign of Wenceslas II, St. Claire's Vineyard was destroyed in the late 19th century when the grape phylloxera epidemic hit Europe's vineyards. However, this historical vineyard was restored between 1950 and 1953.
What sets St. Claire's Vineyard apart from the rest is that it's a great place to learn about all the different grape varieties that grow in the Czech Republic by taking a stroll along a scenic and educational wine trail. While there, you can also have a look at the beautiful St. Claire's Chapel and the Vineyard House, a baroque building that now houses a wine shop.
Don't leave St. Claire's Vineyard without trying – or buying – some of the local wine. Thanks to its excellent terroir and ideal geography, St. Claire's Vineyard produces some of the best wines in Prague, many of which have won several awards in international competitions.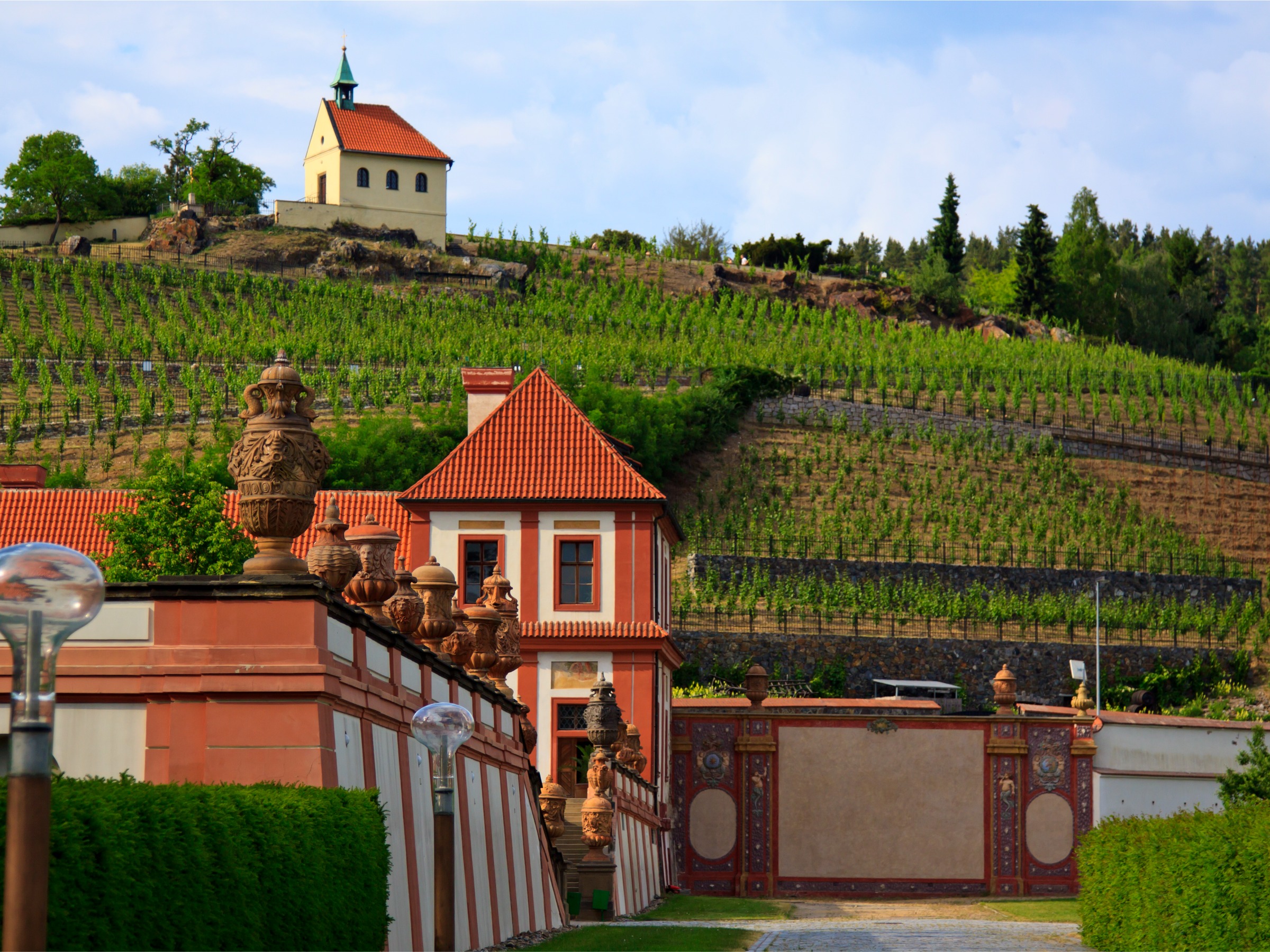 Salabka Vineyard
Situated in Troja, a quaint district on the outskirts of Prague known for the photogenic Troja Chateau and one of Prague's best wine regions (close to the Botanical Gardens), Salabka Vineyard is the perfect place to indulge in a high-end wine-tasting experience. Complete with a stylish fine-dining restaurant and a boutique vineyard with an on-site winery and distillery, Salabka Vineyard stands out.
Salabka Vineyard has been producing excellent wines since the 13th century. That said, the vineyard's modern history started in 1955. Nowadays, Salabka Vineyard produces 18,000 bottles of exquisite wine per year. While there, you can enjoy a vintage wine-tasting paired with the restaurant's seasonal menu that features mouthwatering local food.
Explore The Best Vineyards in Prague With Us
Now that you have a very good idea of Prague's rich wine-making history, we're pretty sure you won't stop at the city's beer culture next time you're there. Although sipping local beer at one of Prague's picturesque beer gardens is indeed one of the most quintessentially Czech things to do, the city's wine traditions are worth exploring too.
Even more so when the journey into Prague's wine history and culture involves wandering around dreamy vineyards that have been around for centuries on end, ceaselessly offering magnificent views of Prague at every turn. If that doesn't turn you into an avid Czech wine lover, we don't know what will.
If you're looking to have a great time in Prague, sprinkle your vacation in the Czech capital with a private tour of the most exciting wine-related activities in hidden vineyards in Prague, and check out Prague's best attractions, such as the Old Town Square, the Jewish Quarter, and the Lesser Town, in the company of knowledgeable local guides. Rest assured that our expert team in Prague will plan the best Prague and Czech Republic itinerary for you!
Born and raised in Athens, Maria's passionate about travel and storytelling, a combination that makes her ideal for her role as our content manager.