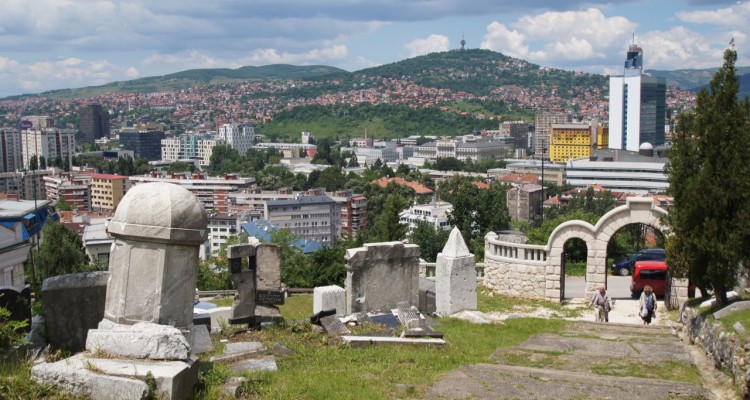 Many of the most dramatic historical events of the 20th century took place in Sarajevo. Perhaps ironically, the city's volatile, often violent past makes it a unique and intriguing destination for 21st century travellers.
Just far enough off the beaten track to be unique, yet modern enough to offer all the amenities you need for a luxurious holiday, Sarajevo is a city you just have to see for yourself. But once you get there, the multiple options for activities — and the sheer number of historic sights, which you'll find around every corner — can make it difficult to choose what to do first.
That's why we recommend all first-time visitors to Sarajevo take our >city tour, which includes the most important buildings and historic locations, and will really bring the city's past to life before your eyes. An enthusiastic local expert named Edin will be your guide on this 4.5-hour urban exploration. Previous guests have raved about Edin's knowledge, and his very friendly, welcoming personality.
You'll be picked up at your accommodation before setting off on foot. You'll definitely want to wear comfortable shoes, and don't forget your camera, as you'll be seeing some of Sarajevo's most unique sights. You'll start by learning about the city during the reign of the Ottoman empire, when Sarajevo was a place where different faiths and cultures came together.
Sarajevo was jolted into modern history in 1914, when a young anarchist named Gavrilo Princip assassinated Franz Ferdinand, the Archduke of the Austro-Hungarian Empire. It was the event that triggered World War I. You'll see the streets where the assassination took place and learn more about Princip's motivations and the assassination's aftermath.
Edin will then (literally) walk you through the events of the 1920s and 1930s leading up to World War II, when Yugoslavia was overrun by German and Italian forces. The city was bombed by the Allies in 1943 and 1944, and today you can still occasionally find polished bomb shells for sale at some of Sarajevo's more unique shops. Following World War II, the city entered its socialist period, one crowning achievement of which was the 1984 Winter Olympics. You'll learn about this time as well, and find out where you can still see some of the remains of the Olympic infrastructure.
The Siege of Sarajevo, which took place from 1992 to 1996, making it the longest siege in modern military history, is perhaps the city's most tragic event. Evidence of the fighting is still visible throughout Sarajevo, most famously in the iconic Sarajevo Roses, which mark places where mortars and bombs left casualties.
After seeing all this history in the city center, you'll hop into a van to head into the hills above the city. Here you'll find the territory of Republika Srpska, the headquarters where the Bosnian Serb Army held onto power during the siege, shelling citizens from this upper position in the hills. Finally, you'll stop at the Tunnel of Hope museum, where you can visit a section of the tunnel that kept Sarajevo connected to the outside world via the airport. It's a chilling reminder of the city's tragic past, but also joyful evidence of how quickly Sarajevo has recovered to become the blossoming destination it is today.
Planning a trip to Sarajevo? We'd love to put together a Sarajevo travel package just for you. Get in touch to find out more!

Stephan Delbos is an internationally published writer and editor. Born in the US, he has lived, worked and traveled in Europe for a decade. He's fond of oysters and arid martinis.