We're ringing in the New Year here at JayWay with the addition of some new destinations, with two new countries on our map and four cities in total. We've got a selection of accommodation options as well as some superb excursions and day trips in each city and we've worked out all the transfer options to join these new cities up with our existing line-up.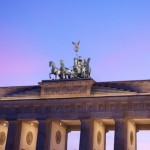 Jump to a section of this article
Berlin, Germany
JFK was a Berliner and you can be too, for a few days at least. This renewed, reunited, vibrant capital city is a can't miss stop on a tour of Central Europe. With plentiful flight connections Berlin is a great place to start or end your trip. A direct train or a private transfer gets you to Prague in four to five hours. There's plenty to see in Berlin too, from world-class museums, the rebuilt Bundestag building and a plethora of Berlin city tours and day trips. There's a thriving arts scene too, with galleries, outdoor installations and performances aplenty.
Munich, Germany
The beating heart of German industry, home to BMW and Siemens. Though Munich was largely rebuilt after the destruction of WWII there's still an old-world charm to the Bavarian capital. If your visit coincides with OktoberFest (book ahead! The dates are September 17th to October 3rd this year.) you're in for a once-in-a-lifetime party. Even when the world-famous beer festival isn't taking place there's no excuse not to sample one of the local brews. As a major aviation hub in Germany, Munich makes a lot of sense as a starting or finishing point for a tour of Central Europe.
Venice, Italy
The quintessential city-museum, Venice has been popular with JayWay guests visiting nearby Croatia for several years and was a shoo-in for this round of additions to our line-up. We had our all-hands meeting there in November and loved it. You can get lost in the maze of streets here, happen across picturesque squares, turn a corner and you're at the Grand Canal, crossing on a flat-bottomed traghetto. For first time visitors we've found the perfect way to get to know Venice with a walking tour designed to show you all the major sites along with the story of Venice's impressive history.
Salzburg, Austria
Our second destination in Austria (after Vienna), Salzburg is a baroque jewel surrounded by the Alps. Its Old Town was added to the UNESCO world heritage list in 1997. It's not far from new destination Munich, or an old favorite, Cesky Krumlov in south Bohemia (Czech Republic).
Go West!
This westward expansion of our destinations allows us to offer our renowned level of trip planning and in-destination care to some destinations that many of our guests have been asking for or have previously had to make arrangements in independently. If you're considering a tour of Central and Eastern Europe in 2012 we've covered even more bases for you, get in touch and we'll prepare a tailor-made itinerary for you.

A native of New York, Jay has lived, studied and worked in Europe, traveling extensively throughout the region. His broad experiences range from budget to first class allowing him to understand and appreciate travel needs of clients.