When someone asks for a quintessential Croatian dish, almost all Croatians will say – peka. However, peka is actually a way of cooking rather than a food. It involves cooking some sort of meat or seafood and vegetables slowly under an iron or clay lid that is shaped like a bell and covered with embers.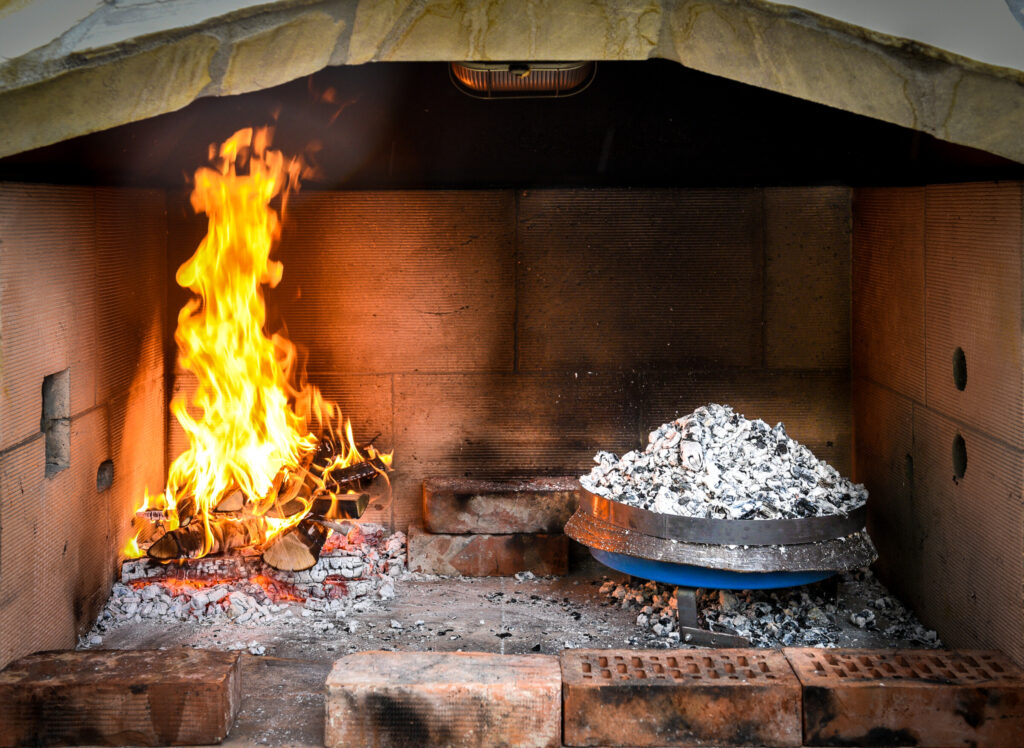 Jump to a section of this article
A method with deep roots
Looking at historical facts, this type of cooking dates from ancient times. The remains of clay lids from as far back as 500 BC were found in the region of Slavonia (the easternmost region of Croatia). With the growth of the mighty Ottoman Empire and their influence in this area, people began using the metal lid as we know it today. You will find this way of slow-roasting throughout the Balkans and Southeast Mediterranean. However, it's probably most popular in Croatia, specifically in Dalmatia. You might hear peka called by a few different names in other parts of Croatia, such as čripnja in Istria and pokrivač in Podravina (northwest Croatia).
A dish for special occasions
Peka is not a type of dish that is prepared often. It is a dish prepared on special occasions – think anniversaries, birthdays, christenings, wedding receptions, and festive lunches (Christmas or Easter). The most common version is with a lamb/veal combo, but octopus is also popular along the coast. It is very versatile – you can also use chicken, fish, or pork. It doesn't matter what you put inside – it will still be called peka. The additional ingredients are very simple – potato halves, some spices (salt, pepper, rosemary, onion, garlic), and fat or olive oil, depending on the type of meat or fish that is being prepared. There is no strict recipe that you have to follow for peka. Different vegetables can also be used, and sometimes a drop or two of white wine.
How to Peka
While the ingredients can vary, the cooking procedure is always the same and it is the most important thing for a good peka. For starters, it has to be prepared over an open fire. You need to make a hot crackling fire in the fireplace and let it burn down to hot coals. Some people will say that the type of wood is very important, a slow-burning wood, in general, is better as it keeps the optimal temperature for a longer time. While your fire is getting going, prepare the meat, potatoes, and veggies and place them in a round baking tray.
Once the fire is ready, place the pot in the fireplace, covered with the metal lid. There is a special ring that goes on the top of the lid to hold the hot coals. Depending on the meat inside, the cooking time is around 2.5 – 3 hours. About halfway through, the lid needs to be opened to turn the meat and veggies, and then the cover comes back on the top with more hot coals. The steam made during this process tenderizes the meat and gives a delicious flavor.
Where to Peka
Unfortunately for travelers, this isn't a dish you will find on the menu in most restaurants. Usually, only restaurants located outside of the cities in small villages are peka experts. Another issue with peka is the cooking time – pre-ordering is a must! Because of this, it's not super common to find. In Dubrovnik, however, we know a hidden terrace where our star chefs Marija and Zlatko will prepare peka for you. Just to be clear, when we say "stars" we don't mean Michelin stars, but rather JayWay stars! I don't know if anyone ever left their dinner with any space left in their stomach or any kind of disappointment. Cooking is their passion and this is something you can easily see, feel, and taste!
Eat and Meat With Locals, The Origin Story
Spouses Marija and Zlatko have always been foodies. They've owned a restaurant, an ice cream shop, a froyo place; and they were always stars of the local Christmas market, with the best prosciutto sandwiches and fritule, which is a type of sweet fried dough. And this is where the peka part of their story begins. One day, David Farley, a freelance journalist, popped into their food stand, tried some of their specialties, started chatting with them, and very soon they became friends. As he was keen on trying local food, Marija invited him over to their place and prepared peka for him.
Bite by bite, glass after glass an idea was born – why not organize something like this for other travelers? Why not offer them an exceptional food experience in Dubrovnik, with one of Croatia's most loved dishes? And this is how the Eat and Meet with Locals story began. You might even have read about Marija and Zlatko's legendary peka in National Geographic!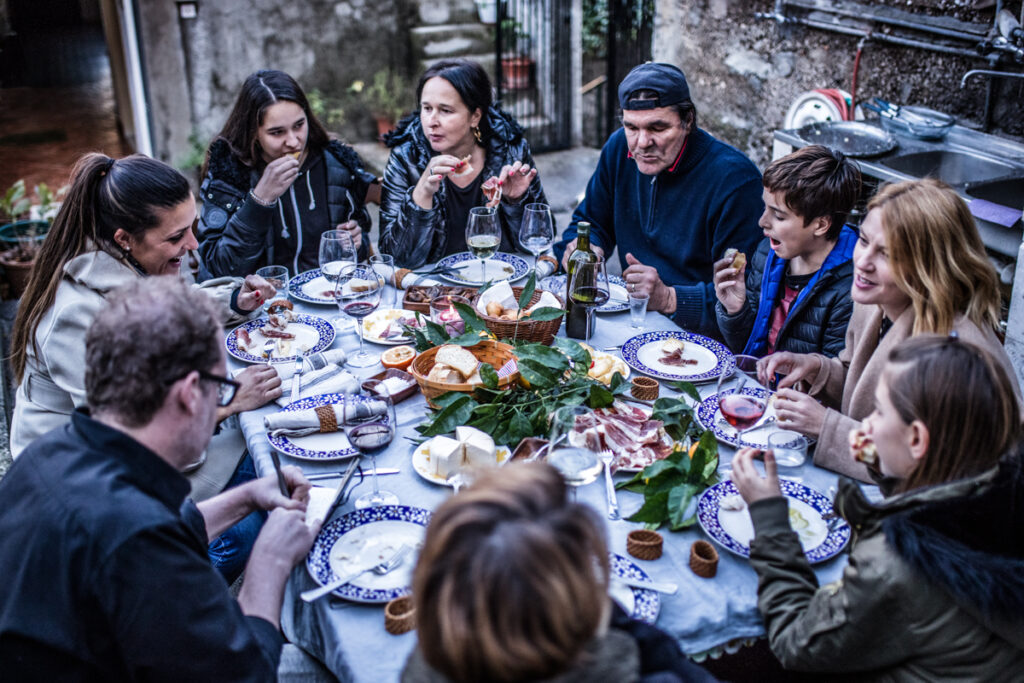 As soon as you step onto their gorgeous terrace, you will feel a laid back vibe and positivity. Croatian music playing on the radio, the smell of delicious food… Marija will welcome you with a huge smile on her face and before you know it, you'll have a glass of wine in one hand and all sorts of home-made liqueurs and small bites in the other. Some welcome treats Marija has been known to serve are walnut or sour cherry liqueur, dried figs, candied almonds, candied orange peels…
The Most Appetizing Appetizers
Hungry yet? Good, because next come the appetizers. These are usually local cold cuts, but there are no rules here – you can always find something different or unique depending on the season. One thing is certain, Marija knows everybody in and around town, so everything she serves on her table is home-grown and comes from local producers. The wine too usually comes from small producers from the Pelješac peninsula nearby, so you are in for an authentic treat! But be careful, Zlatko will make sure that your glass is always full, so you might lose track of how many glasses you've had.
Peka, the Main Event
Afterward, comes the highlight of the evening – peka. They usually serve a meat version, but sometimes they prepare octopus as well. We've tried them both and you can't go wrong with either. Maybe come back another night and try a different one! The night isn't over after peka – did we mention that Marija makes excellent desserts? Paradižot, dubrovačka rožata, different types of strudel – she is an expert in all of them and it doesn't matter how full you are, there is always room for dessert in Croatia. As someone once said, desserts don't go to the stomach, they go to the heart!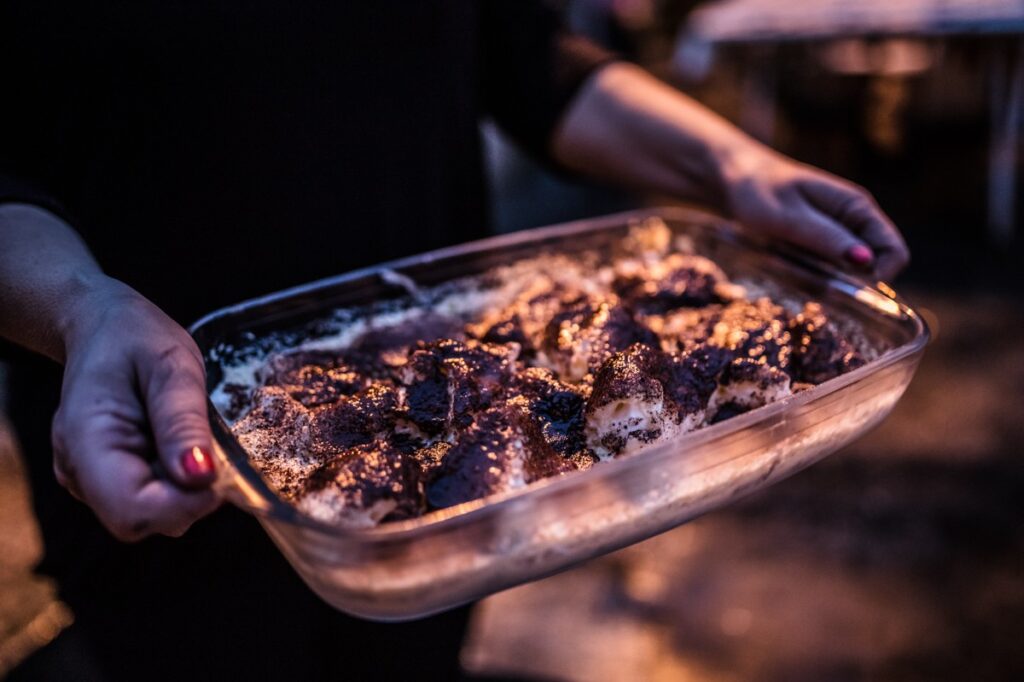 In addition to the most amazing food, Marija and Zlatko for sure will win your heart with simplicity and genuineness. This is a friendly and unpretentious place where you come in casual clothes and comfy shoes, where special attire is not needed, where you can really relax, soak in the positive atmosphere, enjoy the hospitality of locals and the company of their guests.
If this all sounds like something you need in your life, and on your next trip to Croatia, then let us know and we'll be sure to include it in your tailor-made Croatia itinerary! If you're still not convinced, here's a video of a typical evening with Marjia and Zlatko
Where else can you find peka?
You won't get quite the same intimate experience, or all the trimmings, or make friends for life, but if you can't make it to Marija and Zlatko's for what would undoubtedly be the best meal you'll ever have in Croatia, we've picked out a few places around the country where you can find a peka on the menu – as long as you book ahead!
Tavern Didov San, Zagreb
Agroturizam Valrosa, Rovinj
Tavern Trs, Trogir
Tavern Varoš, Split
Restaurant Ranč, Bol, Brač Island
Restaurant Agava, Hvar, Hvar Island
Tavern Maslina, Korčula, Korčula Island
Restaurant Roki's, Plisko Polje, Vis Island
Tavern Dubrava, Dubrovnik
Top question: Can I make Peka at home?
We get asked this one a lot. Sadly though peka looks easy, it's not the simplest thing to replicate at home. But with the right setup – a fireplace, the right equipment (a dish for the meat/seafood and veg) and a peka dome, and some skill acquired from lots of observation, and a lot of practice, you too could wow your friends with a peka. Maybe a peka dome should be on your souvenir shopping list on your next trip to Croatia?

Ivana came to JayWay with plenty of experience in tourism, alongside a degree in Tourism and Marketing. Although she worked with several big British tour operators over the years, Ivana found that working with big group tours wasn't for her, since she preferred to get to know the people she was working for, and devote time to them, so JayWay was a perfect fit. Ivana naturally loves to travel, and is a big foodie, but she especially loves to read a good book, and enjoy excellent Croatian wine.