Ah, prosciutto. We've all seen the images of the not-so-appetizing-looking pork legs hanging upside down, waiting to be thinly sliced and transformed into a delectable snack. For natives to the Mediterranean regions that claim this cured pork delicacy as their own, talking about it brings back instant memories and lots of emotions. The complex, salty flavor mixes perfectly with so many different types of foods (we see you, melon). Making the best prosciutto has been a mission of prosciutto producers throughout the centuries, trying to prove their talents.
For me, some of my best childhood memories are directly related to prosciutto. I still remember the rush of excitement when my grandfather would take out a freshly cured prosciutto from the attic of our rural house. He would first scrape off the dust and mold from its crust. Then he would take out his sharpest knife to remove the first thick slice, which was usually washed from the outside and kept for cooking with dried beans. The refined, smoky aroma would waft through the air and I couldn't wait for the second slice that he would cut, just for me. My sweet old grandfather always made sure to give me as much as I wanted, and only then would he start slicing for himself. After we tested it out, we would take the prosciutto home and my family would finish the whole thing in just a few weeks. The best school sandwiches were made from our homemade prosciutto. And we never threw away the bones! Those were used to season cooked green cabbage or dried beans.
You might think this memory takes place in a dreamy Italian village in Tuscany. But actually, this memory comes to you from Croatia, where prosciutto is known as pršut. Production of high-quality prosciutto in Croatia has a long tradition. Pršut is one of our most prized delicacies. Although prosciutto has been produced all over Croatia, these days, four specific regions have managed to protect prosciutto with special certifications of geographic origin and excellence. These regions are Istria, Krk Island, Drniš, and Dalmatia. Although each slightly different, they all have two things in common: high-quality meat and specially controlled, traditional production techniques. There are specific quality labels set by EU standards that easily differentiate the protected Croatian prosciutto from others. They usually have a sign with a small yellow & blue circle.
Jump to a section of this article
Artisanal not Industrial
Whereas famous Italian prosciuttos such as those from Parma and San Daniele are produced on a large scale, and sold all round the world, producing Croatian pršut is an altogether more artisanal undertaking. Croatian pršut has more in common with a Spanish jamon Iberico than most popular Italian prosciutto. Like jamon Iberico, Croatian pršut is usually sliced by hand, not with a mechanical meat slicer.
In addition to high-quality meat and traditional production techniques, there are some particularities that differentiate the pršut from each region, and they all deserve some special attention.
Istrian Pršut
Aside from the protected geographical origin, only prosciutto from northern Croatia's Istria region is awarded with a mark of authenticity too. This means that the fresh ham comes from locally raised animals. Strictly controlled dietary conditions for the pigs and traditional knowledge passed down through generations, together with the many natural resources of the Istrian peninsula, are the main factors that make up this high-quality prosciutto. Istrian prosciutto is exclusively air-dried and is spiced by rubbing sea salt, black pepper, fresh garlic, laurel, and rosemary into the meat, which is free from skin and subcutaneous fat. Since it is skinned before drying, Istrian prosciutto comes with a noble mold, giving it a very specific taste. It takes about a year to get to its required quality. A stylized violin symbolically represents prosciutto on a tray ready to be cut, and this symbol easily distinguishes Istrian prosciutto from the competition.
One of the largest producers of Istrian prosciutto is the family Buršić. Their estate Kod Milana and production facilities are located in the small town of Vodnjan, near Pula. The estate includes a prosciutto tasting room and a restaurant, where you can try their pršut and other cured meat, and also enjoy other traditional Istrian dishes.
Krk Island Pršut
Traditionally produced prosciutto from Krk Island was the first Croatian product to be protected by the European Union. Long-running family traditions, together with the persistence of a local enthusiast, managed to position the prosciutto from Krk Island among the top quality prosciutto not only in Croatia but also in the Mediterranean region. Differing from the Istrian variety, Krk's prosciutto is dried with the skin on. The main flavor factors are the influence of the cold northern wind called "bura" and sea salt. The mild Mediterranean climate is another important component, as it takes about one year for Krk's prosciutto to dry and to mature. The result is reflected in a tender and flawless prosciutto flavor, free of additives.
Probably the best place to try authentic prosciutto from here is at the House of Krk's Prosciutto Žužić, located a bit inland, in Vrh village. You can also take a guided tour of their eco-certified facilities.
Drniš Area Pršut
Adriatic sea salt is the key ingredient to maintaining the quality of the prosciutto from the Drniš area. Drniš is a small town in inland Dalmatia, close to Šibenik. Here, very strict salting procedures have been honed to perfection! In fact, salt is the only seasoning allowed for this variety of prosciutto. This leads to its delicate and delicious flavor. The process of salting the meat takes place over a few phases, with exact quantities of salt being measured and sprinkled over the meat over the course of many days. With all this talk of salt you might think a glass of water is needed after trying this variety of prosciutto, but the Drniš prosciutto production ends with a final rinsing stage, giving it a much less salty, and even slightly sweet taste. The smoking process is another important component for this prosciutto. Smoking facilities must be positioned on elevated territory, in order to take advantage of the proper wind current. The woods that are used in the smoking process are usually beech branches, small bushes, and regional medicinal herbs, which give a specific aroma to the prosciutto. The last and the longest stage is the ripening phase, resulting with a specific grey mold on the prosciutto crust, which complement its specific flavors. The reputation of prosciutto from the Drniš area is widely known. It was even served during the coronation of Queen Elizabeth!
Every year in late August, locals organize the International Prosciutto Festival in Drniš. This is a two-day gastronomic event where you can try different types of prosciutto from around the world, including the one from the Drniš area. Besides there, you can find prosciutto from Drniš in local taverns, restaurants in 4* and 5* hotels around Croatia, and in a small deli Bura i sol in Zagreb.
Dalmatian Pršut
Dalmatia is a historical-geographical area, and today we consider four Croatian maritime counties to be part of the Dalmatian territory – starting from Zadar county in the north and ending with Dubrovnik county in the south. In order to get high-quality Dalmatian prosciutto, most of the attention goes into selecting the perfect pig. This means finding one with just the right proportion of fat and meat. To make prosciutto properly in Dalmatia, the temperature shouldn't be higher than 10° C (50°F) and the impact of the "bura" wind is crucial. Because of these specific climatic requirements, making prosciutto in Dalmatia takes place during the winter. Apart from the regular drying and smoking processes, locals in Dalmatia also pay special attention to protecting their prosciutto from insects by covering it with a mixture of flour, fat, pepper, ground hot pepper, and wood ash. The overall drying period shouldn't be less than 12 months, and the best quality prosciutto is at least two years old.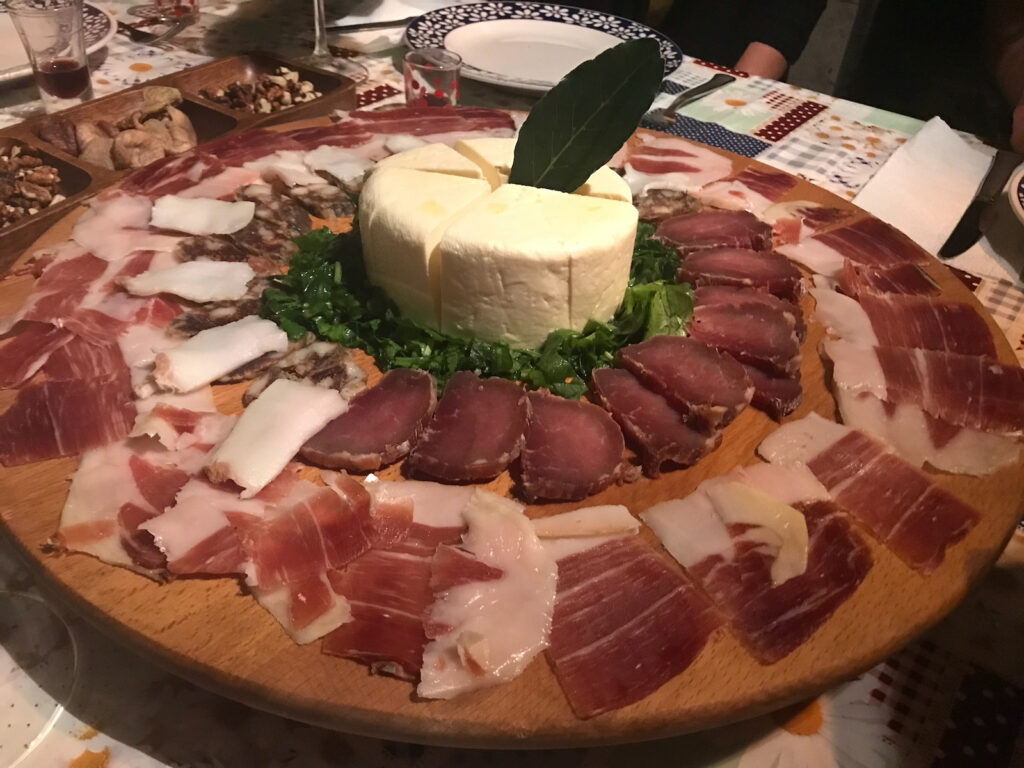 Many restaurants and taverns throughout the region offer Dalmatian prosciutto as an appetizer, and you can find it in delis around Croatia. Our bestselling foodie experience in Croatia, a Peka Dinner with Locals, starts with a platter of cold cuts and cheese featuring fine hand-sliced Dalmatian pršut. Bring an appetite1
Enjoy Croatian Pršut only in Croatia!
Getting hold of these delicacies in the United States is very difficult, and as a meat product, you're not allowed to take it in to the US, so we would recommend enjoying as much as you can when in Croatia!
Of course, no matter if made in Istria, Krk, Drniš, or the Dalmatia region, Croatian prosciutto is best served with a slice of a good quality homemade cheese, tomatoes, olive oil and olives, some bread, and a glass of local white wine.

Josipa comes to us with a strong background in the tourism business in Dubrovnik. With us, she returned to one of her favorite roles, direct contact with guests, after several years in sales roles with one of Dubrovnik's larger high-end hotels. Although Josipa was not born in Dubrovnik, she finished her studies and started her family life here and she feels Dubrovnik to be her hometown. She knows the best places in the city and the surrounding countryside, which she loves visiting with her family. If you're starting your trip in Dubrovnik, Josipa will greet you upon arrival and will be your local contact, via the cellphone we provide, throughout your trip.