This instalment of our guide to the best beaches in Croatia brings us to Trogir. This city-museum and UNESCO World Heritage Site is just 30 minutes from Split.
Trogir is a city-museum in every sense of the word. For more than 2,300 years, it has been a unique setting in Croatia. Lovers of culture, history, art and architecture will all find something astounding. The heart of Trogir is an island surrounded by city walls with influences from the Romans, Greeks and Venetians. It will be one of the highlights of your Croatian holiday. The wider surroundings of Trogir include islands and islets, lush green vegetation and beautiful pebble beaches. From snorkelling to sailing, swimming or just relaxing on the beach, Trogir is great. You can enjoy your holidays laying low or being adventurous.
Five minutes from Split airport, Trogir is the ideal location to start or end your vacation in Croatia. It sits amid national parks, wine regions and gorgeous coastal towns. But it is also near the hub of Split, an industrial port. Here you'll find ferries to neighboring islands and also bus transport. All in all, Trogir is a charming and authentic place. It is a Croatian destination for an ideal vacation. Especially if you love beaches.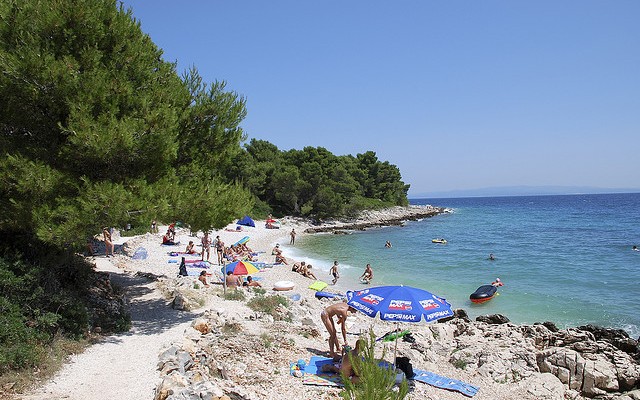 Okrug Beach (Okrug Gornji)
The Okrug Beach is the most popular beach on the Trogir riviera. It's just a couple of miles from the center of Trogir. Okrug is easy reached by the road which runs down the west cost of the island of Ciovo. This 2 kilometer-long gravel beach is also called "Copacabana" because of its popularity. The vast number of beach bars and restaurants along the shore keeps this place buzzing into the night. They also provide daytime refreshment.
If you're looking for something more active, there is a water-sports center. To get there you can either walk or take a water taxi from Trogir. These run every 30 minutes, starting from mid-June, and cost 15 kune each way (around $3) per person.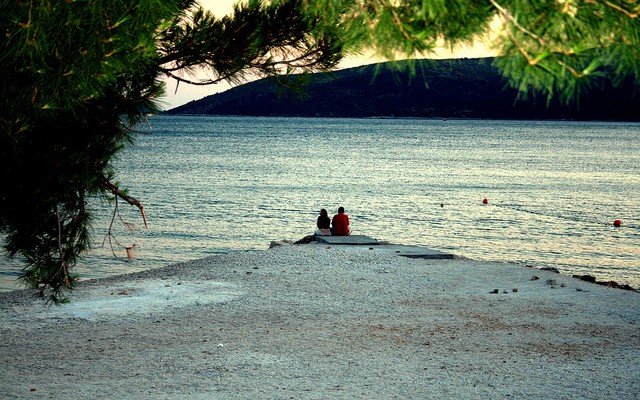 Medena Beach (Seget)
Medena Beach is a beautiful pebble beach. It extends 3 km along the coast from the village of Seget Donji to the Hotel Medena. This long beach gives vacationers the option of relaxing in quiet pine forests. There are endless possibilities for active holidays here. There are tennis courts, mini golf, a jogging track, soccer pitches, volleyball and basketball courts. Or try water sports like jet ski, inner tubes, water skiing, wind surfing and sailing. It's also ideal for children, with a variety of amusements in the playgrounds along the beach. Medena is less than a mile from Trogir. But if you prefer to arrive by boat, there are water taxis to take you there.
Image credits: Okrug Beach by Premus, Medena Beach by Cristina. Used under a Creative Commons license
We'd love to help you plan the perfect holiday in Croatia. Our team of local experts can create a Croatia tour package tailored to your interests. Just get in touch!

Ana has managed the Adriatic destinations offered by JayWay Travel since 2007. Her passion for the region's culture and tradition is apparent in her participation as member of a nationally recognized acapella group.