The Czech Beer Festival got underway last week and runs till the 2nd of June 2012. This year, after a few years 'in the wilderness' of Prague 9/Letnany it's back at it's original location in the Vystaviste exhibition grounds (you'll have to make your way round the side of the main exhibition hall to get to it).
There's one main tent, with a small amount of outdoor seating, and a second tent (act off to the side. The main tent has drawn criticism for its smaller choice of beers and the fact that you can only order them in 1 litre steins. Local commentators wouldn't be surprised if that changes however, especially if the second hall proves more popular, which seemed to be the case on Saturday (though that may have been due to the ice hockey world championships on the projector screen). In the second hall the choice of beers is wider with various microbreweries putting in an appearance. The second hall doesn't have table service – you have to go to the counter. There's live music in the main tent every evening from 6pm.
Tolars and sense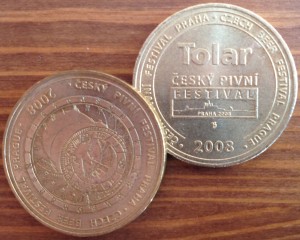 The festival has it's own currency, Tolars, which cost 45Kc (about $2.25) and all beers are 1 Tolar per half-litre (so the steins in the big tent will set you back 2 Tolars). You can change Tolars at booths located by the entrance to each tent. If you're into beer at all and want to try something different to the usual Pilsner Urquell, Staropramen, Budvar then the beer fest is hard to beat for convenience but there are other year-round venues in the city such as Pivovarsky Klub (Brewery Club) and the Prague Beer Museum which serve a selection of beers from the smaller breweries, should your visit not coincide with this year's beer festival.
Planning a trip to Prague? We'd love to put together a Prague travel package just for you. Get in touch to find out more!

Charlie is head of marketing at JayWay Travel. A long-term Prague resident, his interests are cooking, eating out, cycling, skiing and of course, travel.