The best way to describe Croatia's gastronomy is summarized in one single word: heritage!
This small country stretched between the Mediterranean, Central Europe, and Balkan territory drew attention over the long course of history as a territory of very important trading and military routes. The traces left behind are not only visible in architectural heritage and distinct cultural identity but also in what we eat and how we eat.
Time spent around the table is essential in Croatian homes. That is the most important time for family and friends. Time for celebrations of significant events, and time to make memories. Croatians love to open their homes to all people of good will and they won't hesitate to put the best there is on the table.
Although some dishes can be tried in all regions of Croatia, each large region is specific in its way. With our overview of the foods of Croatia, we will help you understand better the gastronomic map of Croatia. And if you'd prefer to consume this information in video format, jump down to the end of the article.
Spanning from the North East to Central Croatia, a large region of Continental (inland) Croatia cherishes a gastronomic tradition rich in hearty meat dishes cooked or roasted in fat, various fish and meat stews, and soups often complemented with piquant and spicy flavorings, and endless variations of pickled and all other kinds of vegetables. The main reason behind this "meat orientated" cuisine is the more harsh climate conditions compared to Coastal Croatia and of course, the rural lifestyle manifested with hard work in the fields. The land of continental Croatia is very rich in beautiful landscape and fertile fields, but is yet to be discovered by tourists. Authentic gastronomy is an important source of inspiration here and we assure you Continental Croatia is an under-appreciated slice of heaven for all true foodies.
Slavonija and Baranja
Over the centuries strong Ottoman and Austro-Hungarian influences, together with the unique characteristics of the Slavonija and Baranja regions, have resulted in an extremely rich and authentic gastronomy.
The most typical appetizers in North-Eastern Croatia are "Kulen" and "Kulenova Seka", homemade dry-cured meat products. It has been a while now that Kulen is recognized as a world-renowned dish with Croatia's origin. Pig farming next to agriculture has long been the main economy of the region, so no wonder locals mastered their skills of drying the meat to perfection. Even if you only get to visit other parts of Croatia you should find your way to try the first class Kulen as you'll find it on many menus.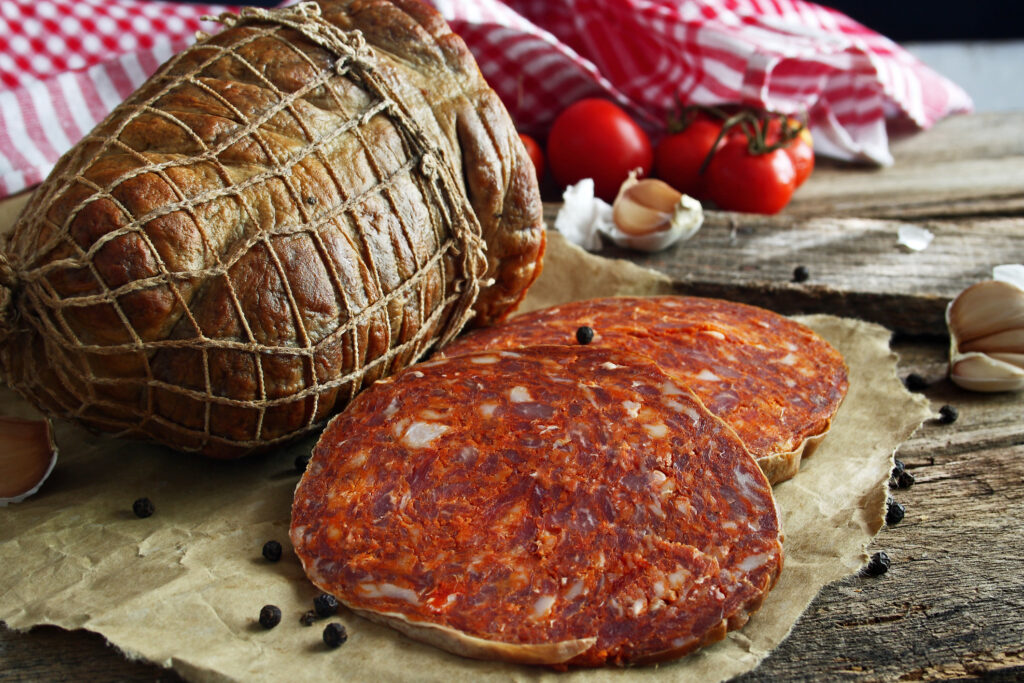 Another gastronomic symbol of Slavonija and Baranja is "Čvarak", a kind of pork crackling made with fat thermally extracted from the lard. Unlike Kulen and Kulenova Seka, Čvarci (the plural form) should be reserved only for those with a good constitution. This not-so-healthy product is extremely popular in the Slavonia and Baranja regions and since it was successfully awarded protected geographical origin status a few years ago, its price significantly increased.
Alongside a varying scale of less or more piquant dry sausages, dried ham, homemade cracklings made of local breeds or pig, on each Slavonian table you can expect some very spicy stews prepared either with venison or freshwater fish. "Fiš-Paprikaš" and "Čobanac", slowly cooked in a large metal pot on the open fire are pictured on all postcards of the region. Both stews are very spicy and you will feel their tastes long after.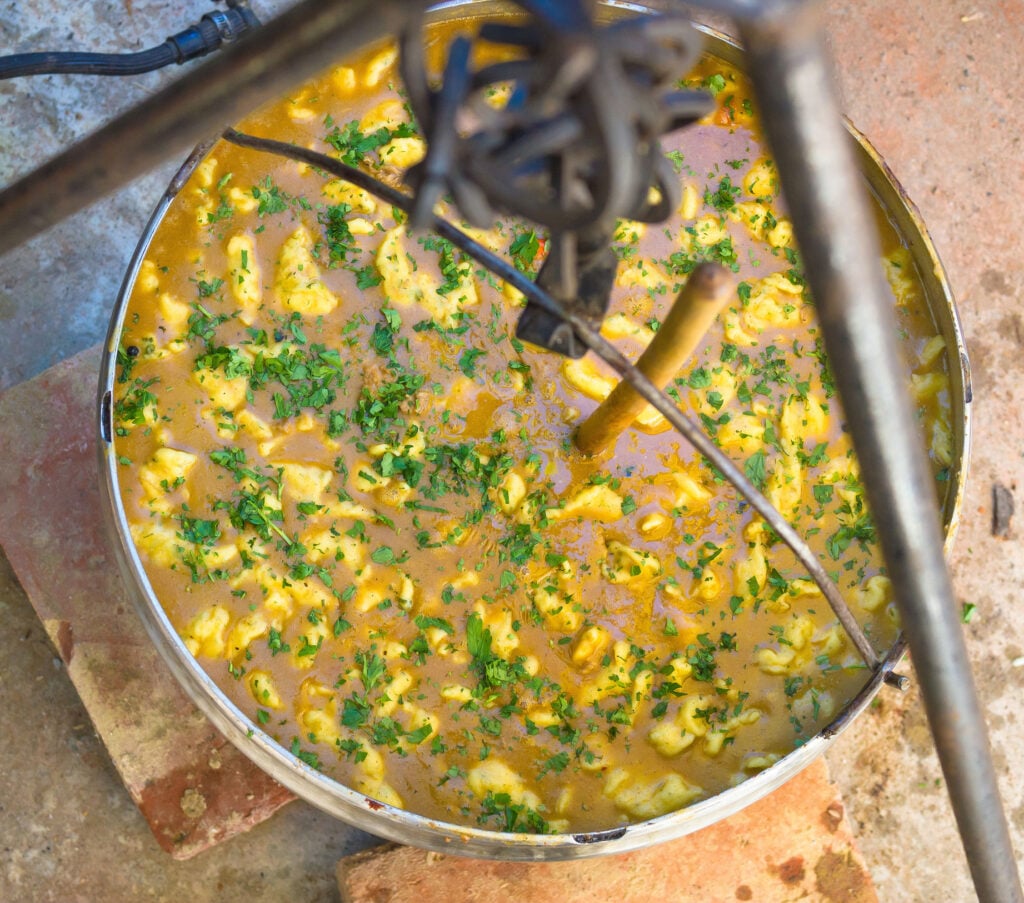 A typical meal in Slavonia and Baranja is not complete without homemade sweets, made from recipes that have traditionally been passed on from one generation to another. The most traditional sweets are usually made of homemade dough, predominantly filled with walnuts or poppy seeds as well as homemade jams. Together with Breskvice – peach jam-filled peach-shaped cookies, the most popular are Makovnjača (poppy seed) and Orehnjača (nut) strudels.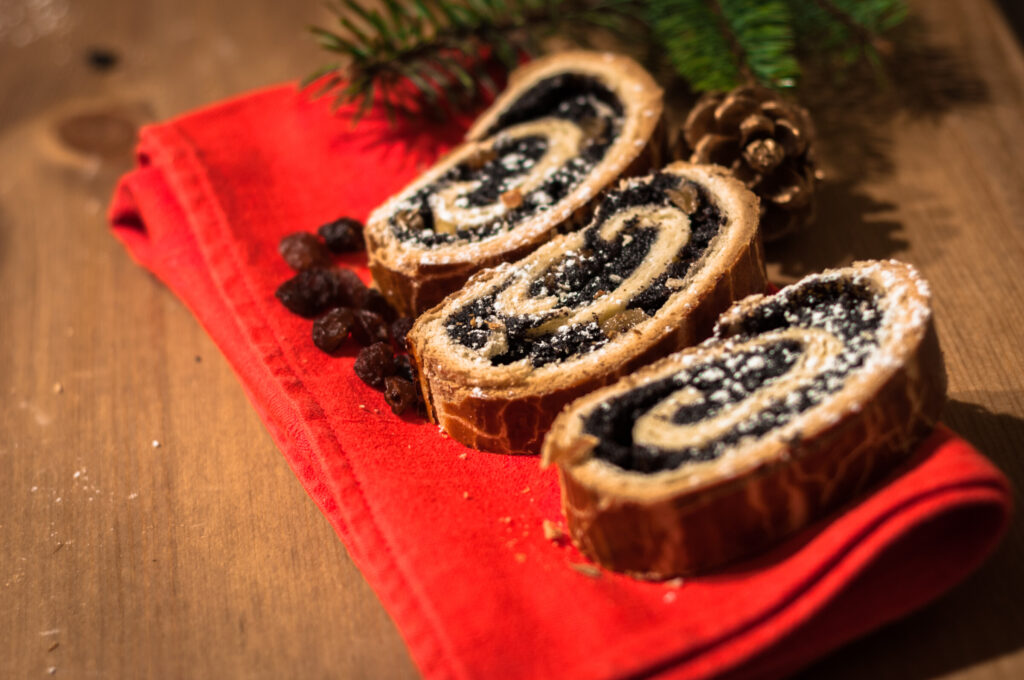 Central Croatia
In Central Croatia, the food based on poultry, milk, and cheese is more dominant. Nowadays the roasted turkey is one of the symbols of the Central Croatia menu. Roasted turkey is typically served with Mlinci, the thin dried flatbread poured into boiled salted water and afterward dipped into turkey fat. The best importance of Mlinci in local gastronomy is clear from the fact that it has been protected by the EU as an authentic local product.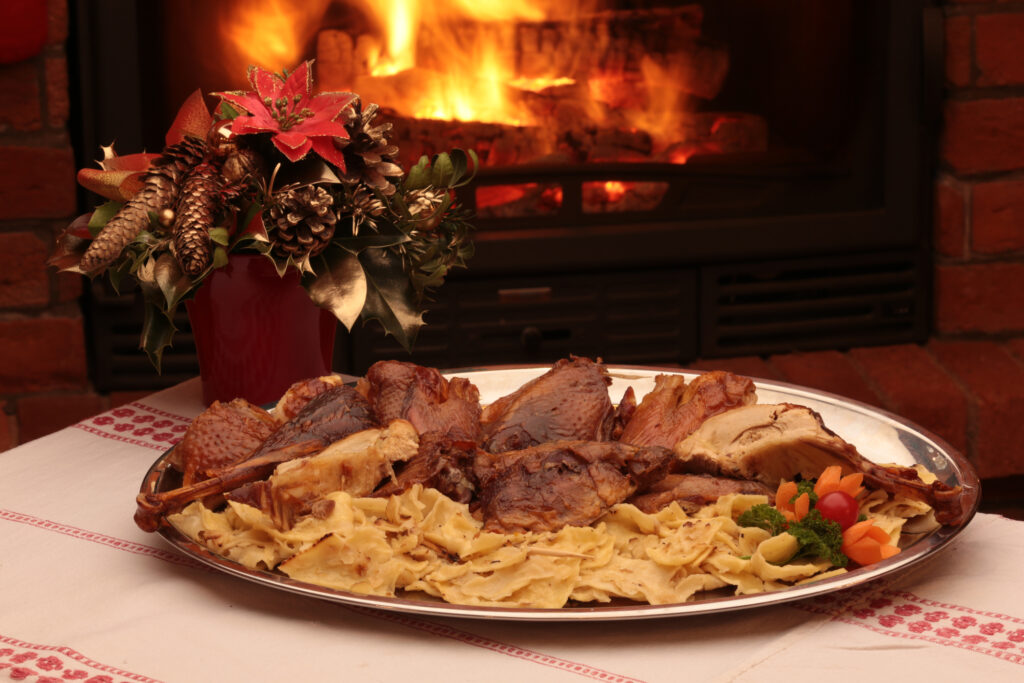 But before you tuck into the roasted turkey, as a starter you can expect the richness of homemade soups cooked with lots of root vegetables and poultry giblets or simply soups made of seasonal vegetables often enriched with homemade milk cream. All sorts of products based from milk are consumed on a daily basis in Central Croatia. The most popular meal made of fresh cheese is "Samoborska Štrukla". It can be done in both savory and sweet versions and it is a must-try specialty in Samobor as well as in the capital of Zagreb.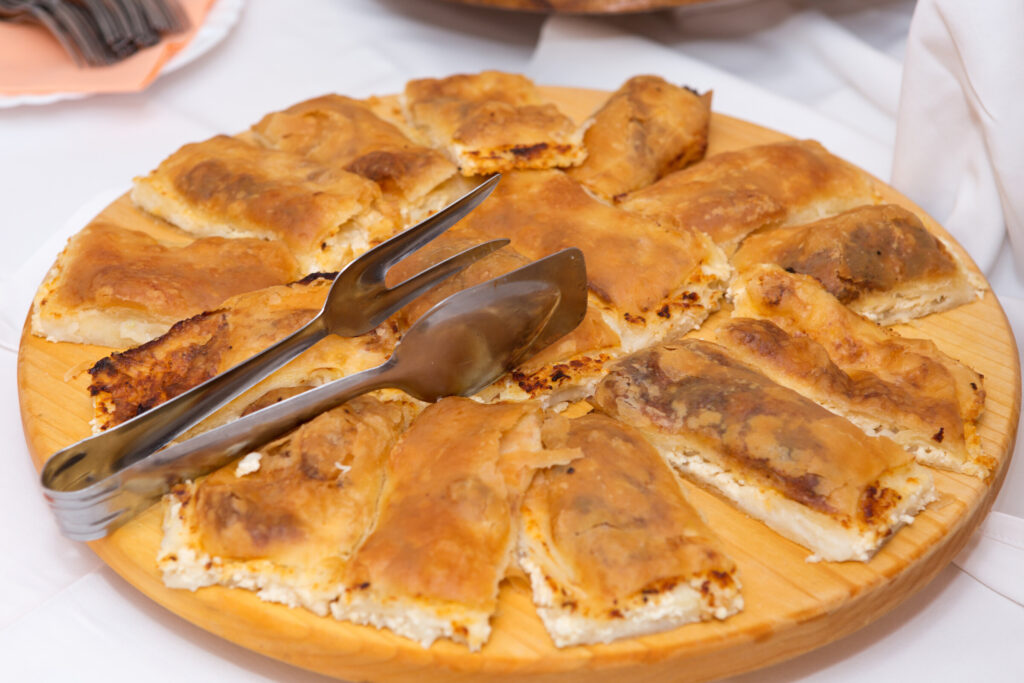 Of course, all this doesn't mean Central Croatia is free from typical continental meat dishes. Sour cabbage with pork legs, Stuffed Cabbage Rolls, famous Zagreb Steak, beans cooked or baked with dried pork meat are all must-try meals of the Central Croatia region.
Traditional sweets are similar to those in Eastern Croatia, with some additions such as Samoborske Kremšnite, Prekomurska, and Medimurska Gibanica as well as Madjarica. The richness of ingredients in all three sweets is the best witness of the privileged social status of the local people throughout history. Nowadays the capital of Zagreb with its surroundings attracts more and more visitors, and one of the obvious reasons is the very inviting and hard to resist gastronomical offer of the region.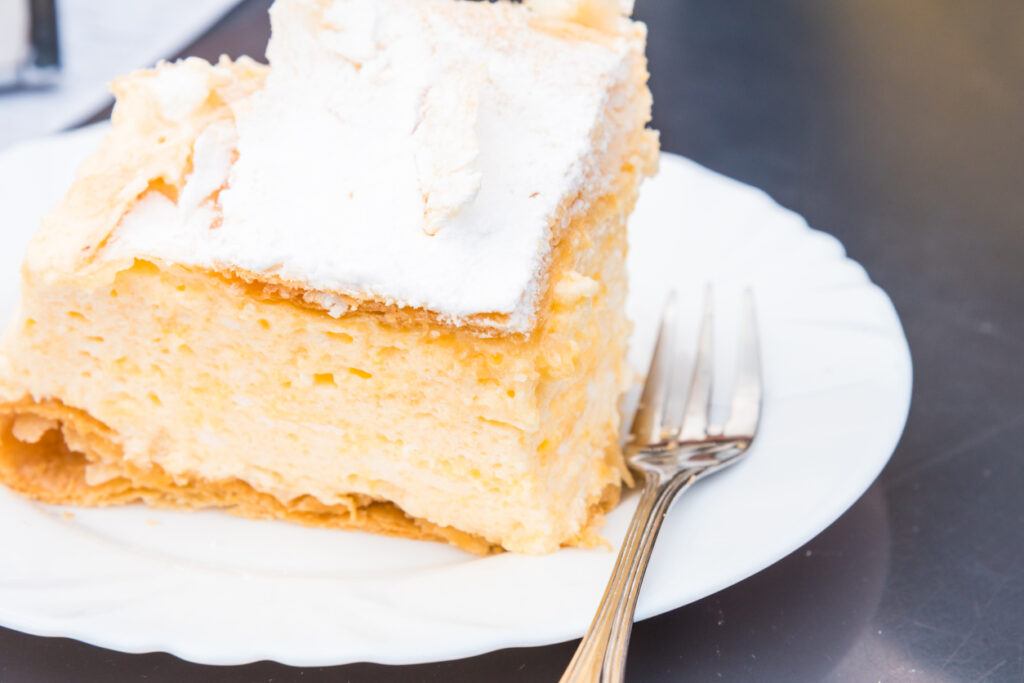 Lika and Gorski Kotar
Similar to other parts of Croatia, the Lika and Gorski Kotar regions have also been under foreign influences throughout history. Although there are clear Austro-Hungarian and Ottoman elements to the traditional gastronomy, the harsh climate conditions and remote mountain areas were the main factors in shaping the food of Lika and Gorski Kotar.
When talking about Lika, the first thing that comes to mind are the Plitvice lakes, however together Lika and Gorski Kotar make one large continental zone rich in nature, clean air, fresh water, and a large scale of organically produced fruits and vegetables.
The unforgiving mountain climate and hard work on the fields required a more substantial diet, one high in calories and fat. Today on a typical Lika and Gorski Kotar table we can find a generous selection of appetizers such as homemade sausages, dried venison, cracklings, smoked ham, and young cheese made either from cow's or goat's milk, known as Škripavac.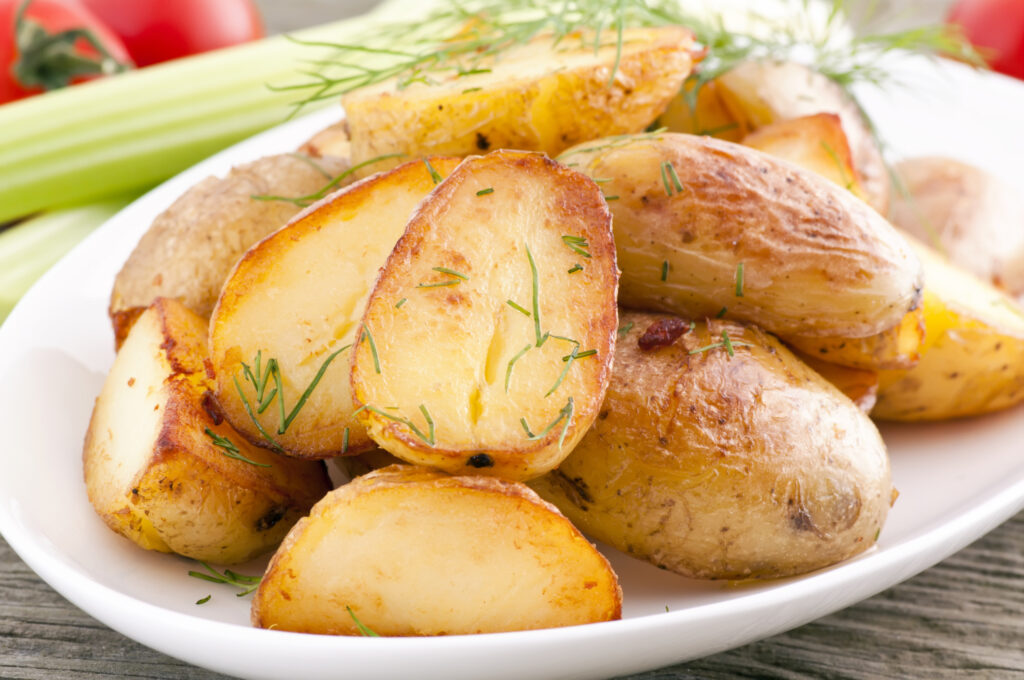 Main dishes vary from meat jelly, all kinds of stews made with a combination of either pork, beef, or mutton cooked together with cabbage or dried beans. Sour cabbage with jerk meat (dried or smoked meat) is particularly popular, especially during the winter months. In terms of fish, the local specialty is trout fried in the pan. And let's not forget potatoes, which the Lika region is known for. They're most frequently cut in half and baked together with their skin.
The selection of desserts is somewhat more modest compared to Continental Croatia, and what you'll get are simple basic flavors for your taste buds to savor. The most common sweets are homemade fritters served with all sorts of tasty jams and marmalades or simply complemented with young cheese. Jams and marmalades are usually made of forest fruits, plums, or apples. Agriculture based on old organic and authentic methods and clean mountain air distinguish this region as the first entirely organic region of Croatia. Even the simplest food such as baked potato tastes so deliciously good in Lika and Gorski kotar.
Coastal Croatia occupies the lengthy coastline from the Istrian peninsula in the north to Dubrovnik-Neretva County at the southern end of the country. At a glance very similar, this large territory often differs in some aspects of culinary heritage.
Light, Mediterranean cuisine based on fish and seafood is common for the entire Coastal Croatia territory. In line with a light diet, people also cherish a somewhat slower life pace. They pay a lot of attention to their nourishment, spending a lot of time making their stews but also at the table. In every household you can always find two main ingredients, olive oil and wine and the rest is easily filled in no matter if taken from the sea or from the garden. But all this doesn't mean locals here don't eat meat, quite the opposite in fact. All types of meat are well represented in all parts of the coastal area, and particularly in its hinterland.
Istria and Kvarner Region
To best describe the Istria region we will paraphrase a widely known song in Croatia. It goes something like this: "only angels know how it feels to be in paradise, but also everyone that was fortunate enough to visit Istria". No wonder Istrians have such a high opinion of their homeland when we know this largest Croatian peninsula is blessed with all it needs: the sea, the sun, amazingly beautiful landscape and fertile fields. No matter if you head to the coast, or towards the rich Istrian woodlands and picturesque hilltop villages of the countryside, you will simply become amazed with the local gastronomy. Istria is home to Croatia's best quality olive oil and wine, a place of seafood, truffles and autochthonous breeds. The region has embraced only the best from their surroundings and as such have successfully formed a recognizable and authentic gastronomy.
The blend of rustical meat and seafood delicacies is complemented with some rare food species grown in Istrian woods. Fritaja with Asparagus is a favourite spring delicacy in Istria as well as Istrian Fuzi with tartufo (pasta with truffles). White truffle, the king of all fungi, is found only in the limited area of Italy and Croatia, and just here in the Istrian peninsula the largest of all white truffles weighing almost three pounds was found and inscribed in the Guinness book of World Records. We invite you to try your luck on a truffle hunt!
On the topic of appetizers, we must add all sorts of fresh cheeses, predominantly made of goats milk. Goat milk cheese is usually served on a platter next to branded Istrian prosciutto with noble mold, and all other sorts of homemade cold cuts including gourmet sausages made of Istrian ox. Yes, you read it correctly! Istrian ox, Boskarin, is an authentic local breed recently rescued from extinction.
Only the best trained Chefs know how to make the first class delicacies from the naturally fibrous ox meat. Along with a number of Ox gourmet sausages including those enriched with truffle flavor, ox fillet and all sorts stews made of ox have become extremely popular lately.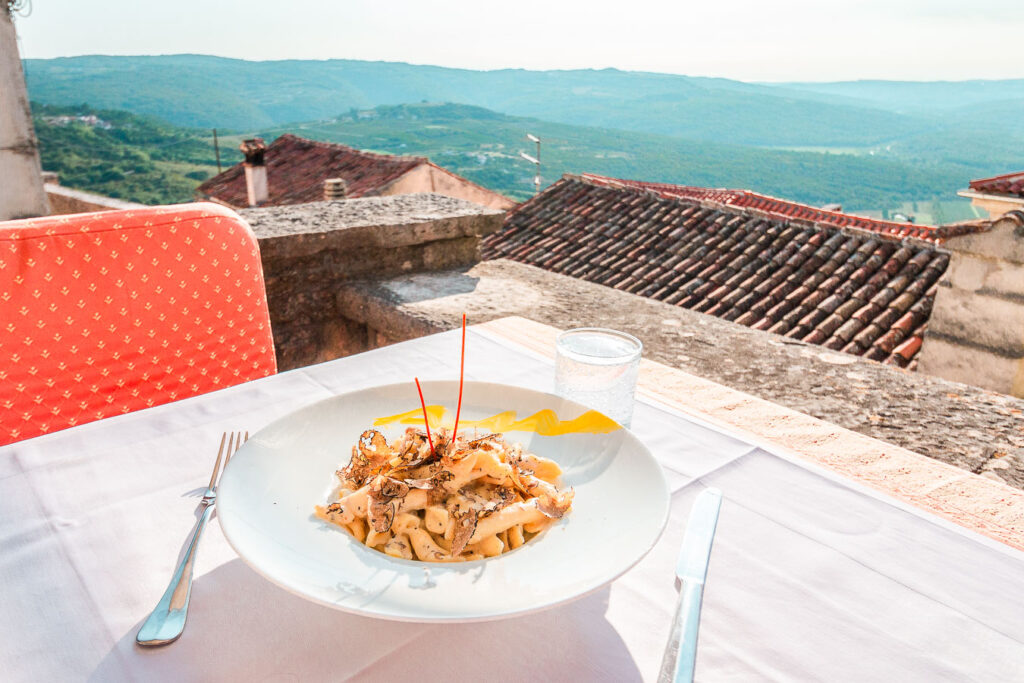 Similar to their Italian neighbors, Istrians are also crazy about pasta. Fuzi and Pljukanci as well as Surlice in Krk island are all served in many combinations either with seafood or with different sorts of meat ragus. Pljukanci served with asparagus and truffles are the most authentic, followed by the second favourite seafood pasta.
The list of authentic dishes continues with all sorts of stews. Among the most popular are Žgvacet, typically made of poultry or lamb and served with homemade gnocchi or polenta, Istarski Brodet slowly cooked in tomato sauce with different kinds of fish and Istarska Maneštra with selection of colorful seasonal vegetables and some bacon. Venison is also very popular in Istria and mainly prepared as a stew or ragu.
The typical Istrian meal is finished only when dessert has been served and the most traditional desserts are "Istarske Fritule" and "Istarske Krostule", as well as "Cukerancici" and "Istarski pandispanj". They are mainly made of similar basic ingredients such as flour, sugar (including vanilla sugar) and eggs. What gives them a beautifully aromatic taste is sometimes hidden in either dried figs, orange or lemon peel or a few drops of homemade liqueur.
The gastronomic story of the Istrian peninsula goes hand in hand with neighbouring Kvarner territory. Although these two cherish similar culinary heritage, we must highlight a few gastronomy rarities of Kvarner territory.
The fame of Kvarner skampi has long surpassed Croatia's borders and you can enjoy them prepared in several dishes such as skampi a la buzara style, scampi risotto or homemade pasta with scampi. Nevertheless, the best way to soak up all the fresh juices from this "king of crabs" is simply by pouring its meat into hot boiling water for two minutes and afterwards sprinkle it with a few drops of lemon juice and virgin olive oil. Raw scampi are also very popular and to enjoy them in such form only a few drops of lemon juice are more than enough.
Together with Istrian prosciutto as well two others (the ones from Dalmatia and Drnis town), the Prosciutto from Krk island has been protected as a Croatian origin food with special certifications of geographic origin and excellence. Krk prosciutto is characterized by the smell of pure dry meat free from condiments. Traditionally it gets only salted and dried during the winter season of north wind called Bura.
Another, maybe not so widely popular food but locally very appreciated is chestnut from Lovran area. Grown on the slopes of Ucka mountain, Lovran chestnut is the main inspiration for many delicacies including homemade bread and traditional sweets. In terms of sweets the most popular cake of the Kvarner area is definitely Rapska torta or cake from Rab island, nowadays served only in renowned restaurants of Croatia.
Still, the best way to try out some of the authentic meals in the Istria and Kvarner regions is by visiting small family restaurants known as "Konoba" or "Ostaria" style.
Dalmatia is the name of a historical-geographical territory stretching somewhere from Zadar County in the north to Dubrovnik County in the South of Croatia. Although Dalmatia is not an official region of Croatia, the importance of this name for the local community is tremendous. First and foremost it reflects the sturdiness, pride, and connection with the Adriatic sea that fundamentally shaped the mentality and occupations of the local people.
Significant Greek and Roman, as well as Venetian influences in local gastronomy are strongly present here, and particularly visible in all sorts of fish and seafood delicacies. Fish stews, grilled fish flavored with olive oil and rosemary, baked fish with vegetables, fish carpaccio, fish salads with homemade dressings made of lemon juice and olive oil, almost all have either Greek or Roman influence. Yet, one small Adriatic Srdela or Sardea (sardine) simply grilled and sprinkled with olive oil prevails on the traditional fish menu. Not so long ago the nutritious value of Srdela was somehow neglected, however locals always appreciated this foster mother of the Adriatic territory. Nowadays, thanks to its recovering reputation, Srdela finally achieved wide recognition, slightly increasing in price year after year.
Together with the initial gastronomic impact from their Italian and Greek neighbors, throughout recent centuries each region developed their own specifics and some dishes nowadays have their Croatian versions. One of the best examples is Brodet, a fish stew cooked in tomato juice and spiced up with red bell pepper. One of the most unusual Croatian style brodets is the one traditionally made in Neretva valley. The main ingredients are freshly caught eels and frogs from Neretva river as well as rather spicy red pepper. In the summer months there is even a local competition in making the best Brodet since this dish represents the significance of Neretva river to the sustenance of the local people.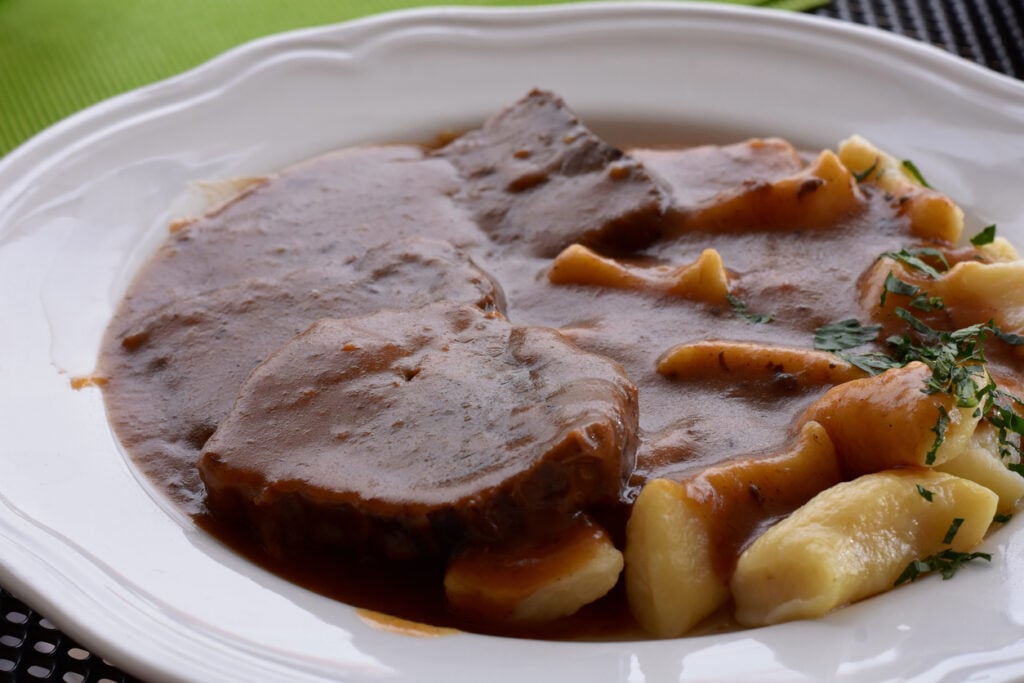 The people of Dalmatia didn't become so tall and strong only thanks to fish and seafood. Meat is just as equally important and among the number of insanely tasty meat dishes Pasticada somehow stands out. Pasticada is the queen of all meat dishes of the area and to prepare one properly takes a lot of time and devotion. The beef tenderloin stuffed with garlic, carrots, and bacon should be marinated in salt and vinegar at least 24 hours before cooking. Several hours of cooking on the next day results in extra tender meat extremely rich in flavours and best served with homemade gnocchi.
The list of most favorite meat dishes continues with all sorts of meat soups cooked with seasonal vegetables or so called "Lešo". Lešo generally refers to longer cooking in hot boiling water. Lešo style is probably the most popular throughout Dalmatia in all seasons. In the winter months nothing can warm you better but hot fresh meat soup and during the hot summers Lešo cooked food flavored only with virgin olive oil is very light and easy to digest.
When it comes to delicacies made of fruit and vegetables, there is abundance of both and seasonal vegetables are mainly cooked "al dente" or simply steamed. Often the only condiments for vegetables are salt, pepper, olive oil, parsley and rosemary.
Traditional Dalmatian desserts are varied and very rich in flavours. Some of the most popular sweets of the region are Dubrovacka Rozata, Paradizot, Fritule and a number of traditional cakes named for the towns they are traditionally made in (Splitska, Stonska, Makarska cakes).
Dalmatia's coastal region, islands and the Peljesac peninsula all produce wines that accompany the region's cuisine perfectly, but that's a topic for another day!
Now it is very easy to understand why there is always some rivalry between the Istrian Region and the large Dalmatia territory. Both perfectly positioned by the Adriatic Sea and surrounded with beautiful landscape, both strongly holding onto Mediterranean leisurely lifestyles and both blessed with abundance of great food taken either from the sea or from the land, these two regions reflect what we think of as a piece of paradise on Earth.
Dalmatinska Zagora
Finally we arrive at the Dalmatinska Zagora region and with this we will round up all Croatia's main regions. Although Dalmatinska Zagora is not directly connected to the Adriatic Sea, it has always been gravitating to Croatia's coast and most precisely it is considered as the hinterland of the large mid Dalmatia territory.
The gastronomy of Dalmatinska Zagora is mainly influenced by the mighty Ottoman empire that occupied the majority of the Balkan territory up to the early 20th Century. The most common dish of the region with Ottoman roots is so-called Sarma, minced meat rolled inside sour cabbage leaves, slowly cooked on the stove. Generally speaking the Ottoman influence is visible in all kinds of stews and mashes, in particular those made of millet, barley, and corn. Similar to the Lika and Gorski Kotar region, the food of Dalmatinska Zagora is also heavier compared to the light Mediterranean diet represented on Dalmatia's coastline.
The most typical breakfast in Dalmatinska Zagora is associated with all sorts of dairy products such as soured milk or kaymak (similar to clotted cream) followed by a rich selection of homemade cheeses, most commonly served with polenta. Lunch is hard to imagine without solid dishes made with meat. Although people of the region eat a lot of pork and beef, lamb is considered as a special delicacy, particularly lamb on a spit. Meat is prepared in various ways, most frequently cooked as a stew, but also baked and grilled. And let's not forget Dalmatian prosciutto, which almost has cult status here. What Kulen and Kulenova Seka are to Slavonija and Baranja, smoked prosciutto is to Dalmatia and Dalmatinska Zagora.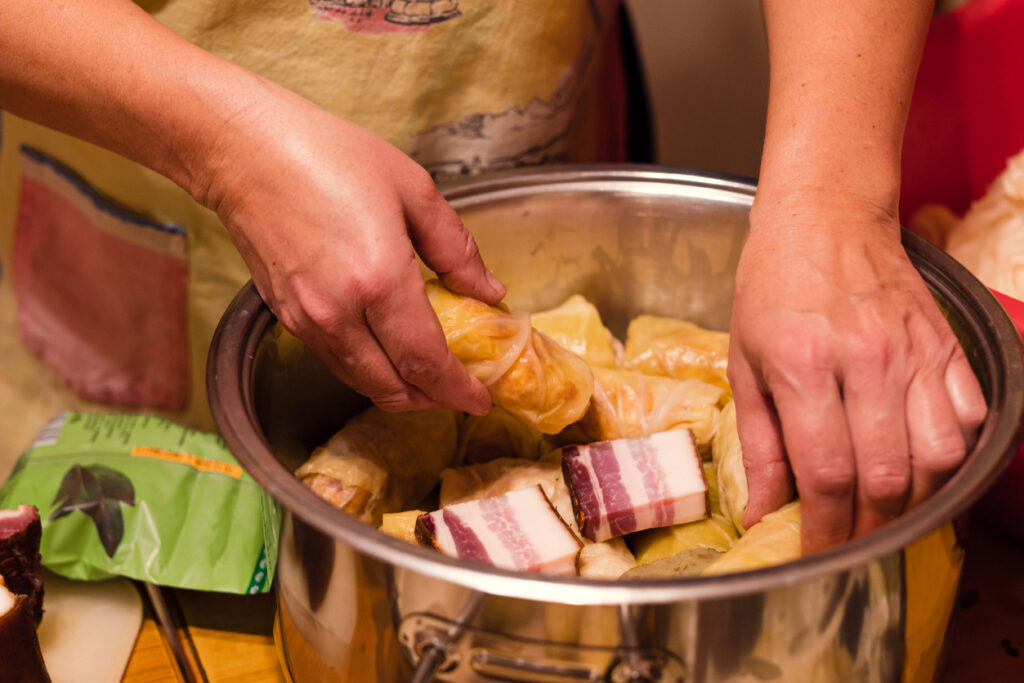 In terms of vegetables, the most represented dishes are stews made of cabbage, dry beans, and potatoes.
Apart from cooking in a stew and inside of the oven, this region is best known for one other cooking technique. At the same time represented in different parts of Croatia, it seems here in Dalmatinska Zagora more than elsewhere the most frequently local housewives cook on a chimney fire. It is hard to explain why, but the food simply smells and tastes much better when prepared under the bell, a method known as peka in Croatian. It is probably the smoke from the wood that gives that rustic feel to every dish coming from the bell. Just to be clear, the best known food delicacies of the region, "veal and lamb under the bell" as well as"Soparnik" are both made on a chimney fire. An interesting fact is that Croatians inherited skills of making "Soparnik" from their ancient ancestors, the Iliric tribes that lost traces two millennia ago.
Traditional sweets are very simple and the most common are the homemade fritters and pies filled with cheese or apple. Dalmatinska Zagora, although with a somewhat sparse landscape and with a bit "wilder countryside mentality" of local people, won't disappoint you when it comes to gastronomy.
Croatia Firmly Holds Onto Its Traditions
In a time and place where we are privileged to choose what we eat, it somehow seems most people lost track of the importance of proper eating habits. A lack of free time eventually resulted in the increased presence of fast food and we are "filled" with products free from original taste. The small country of Croatia is not immune to this tradition to modern lifestyle, yet local people are still not ready to entirely give up on their daily routine. And routine means cooking every day to eat fresh and to stay healthy. Only one generation back mothers stayed home and raised their kids, at the same time making sure to feed the whole family properly. In Croatia we still witness this tradition kept alive. Marenda and Lunch as the two main meals in Croatia are up to present served early in the day despite the fact women are more and more occupied with their careers. The beautiful aromas spreading from the family kitchens around noon hours is proof that Croatia is still a traditional country and as such it has successfully preserved its authentic gastronomic identity up to the present day.

Born and raised in Dubrovnik, Andrea's involvement in tourism began as a child as her family rents apartments for tourists. Her inquisitive nature led her to study journalism in the Croatian capital, Zagreb, though her heart remained in her hometown and she returned there after her studies. One of Andrea's biggest passions is singing and she has been a member of the Dubrovnik Folk Ensemble Lindjo for over 13 years.