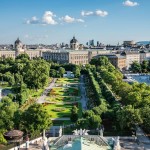 Vienna's historic, old town section is nicely surrounded by the Ringstrasse. Walking around this circular road brings you past some of the city's top sites including the Rathaus (Town Hall), the Parliament Building and the State Opera. Most of the architecture dates to the 1860s-1890s, a robust building period in Vienna's history. Interspersed with parks, the Ringstrasse walk could fill up a day for casual strollers. In 2015 however, visitors to Vienna will want to spend a little extra time on the road. The ring was officially opened on May 1, 1865 by Emperor Franz Joseph and the city has planned a party for its most famous street.
Whether you like history, architecture or cocktails, there's probably something special for you this year on the Ringstrasse. The Vienna Museum will be holding an exhibition on the road's planning phase, up to 1865 while the Austrian National Library will show how the demolition of the city walls and the building of the Ringstrasse jumpstarted Vienna's transformation into an international city. World War II buffs will want to visit the Architecture Center Vienna to see what Adolf Hitler's plan for the 'new' Vienna was going to be. The Lower Belvedere is hosting an exhibition on artists famous from the Ringstrasse era including Hans Makart and Gustav Klimt.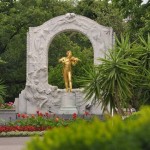 Several events are taking place on the Ringstrasse, including Opera Live on the Square from April-June and September; Genussfestival, an Austrian culinary festival from May 8-10; the Vienna Jazz Festival June 29-July 8 and the Music Film Festival, which combines food and musical films shown on a large open air screen.
For those waiting for the promised cocktail, here it is. The "Sound of the Ring" is a gin-based drink which won a competition to 'capture' the Ringstrasse in a cocktail. Numerous bars along the Ringstrasse will be serving it this year, including The Sign Lounge, where the Sound of the Ring's creator, Kan Zuo is the bartender. February sees its first major appearance as part of a one-night event taking place in 12 hotel bars located along the Ringstrasse, called Sparkling Vienna.
Planning a trip to Vienna? We'd love to put together a Vienna travel package just for you. Get in touch to find out more!
Photos courtesy of Vienna Tourism

Jacy is a travel journalist who likes art, culture, design and architecture. When not in Prague, she's most likely wandering the streets of other European cities, checking out their neighborhoods, their art and their coffee.