Prague is awash with pubs and bars and besides the ubiquitous beer-centric establishments there are also several cocktail and wine bars of note. Here are our picks, in no particular order:
Cocktail bars
Tretter's
New York Cocktail bar
– a self-styled New York bar. A stalwart of the Prague bar scene and oftentime playground of the rich and famous of Czech society. If you recognise them that is. Tretters also runs a cocktail school and these mixologists really know their stuff. The book-form cocktail list is extensive so our recommended approach is to consult with a waitress or bartender.
Bugsy's
Legendary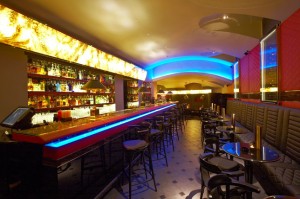 Also popular with the upper echelons of Prague society, Bugsy's is legendary, featuring on many 'World's best bars' lists. The cocktail list is in book form so feel free to ask for guidance based on your flavour preferences – the mixologists at the bar and the waitresses are all very knowledgeable. The mixologists here really look the part too and are a joy to watch. Bugsy's are rightfully proud of their signature cocktails. Must try: Almond Cigar – invented here it is a sweet combination of rum, amaretto and lime cordial. If that isn't to your taste, the Bugsy's Rose might be more your speed. If you don't find something you like, go have a chat with one of the magicians behind the bar and they'll conjure something just for you.
Cloud 9
Cocktails with a view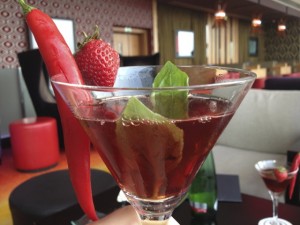 Atop the Prague Hilton (the one near Florenc, not the Old Town one) this surprisingly reasonably priced cocktail bar (don't order a beer though, it's horrendously overpriced!) has some fantastic signature cocktails. DJs on weekend nights. Their take on Happy Hour is certainly interesting: unlimited signature cocktails between 6pm and 9pm for 490Kc (under $25). In our opinion the bar was built on the wrong side of the building (it looks out over the river to the Holešovice part of Prague) but you can enjoy views towards the centre from small outdoor terraces on the city-ward side. The larger terrace out back that looks out over the Karlín neighbourhood hosts grill parties in summer. As with many Prague bars, smoking is allowed, but the high-tech AC makes that a non-issue in all but the most crowded parts of the venue. The Charisma, pictured, is an example of the kind of creativity you'll find here. The Mystic, a long drink with vodka and house-made ginger syrup is another crowd pleaser.
Black Angel
Old Town Square cocktails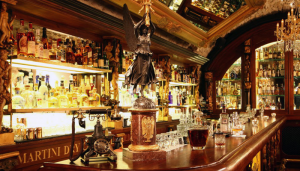 You won't find stunning signature drinks here but the bartenders are more than capable of mixing you something from the long cocktail list, which must be why it was listed in the Sunday Times' top 50 bars worldwide list. Personally I prefer a bit more imagination in a cocktail list. The main draw here is the atmosphere. An old stone cellar space with plenty of cosy nooks and crannies plus chandeliers hanging from the ceiling. No cameras allowed, ostensibly to preserve the privacy of other patrons.
Hemingway's
A stickler for rules but serves mighty fine cocktails
You'll feel like you've fallen through a time warp and its the 1920s all over again in this classy-looking space (the non-smoking upstairs this is, bypass the smoky downstairs). The cocktail list is a lot more fun to read than the Bar Rules, which include not moving the furniture, not speaking too loudly and not talking to people you don't know.
Wine bars
Monarch
A classical wine bar
Monarch's large plate glass windows reveal a high-ceilinged space that looks like it belongs in Paris. The aromas of the French cheeses served here alongside your choice of wines by the glass or bottle further cement that impression. Order a glass of something Czech (or imported wines can be ordered by the bottle) and share a cheese plate with friends.
Pubs
Prague Beer Museum
Not really a museum at all!
Tell your friends you were soaking up the culture at the Prague Beer Museum and it sounds like an educational experience. As well as the standard big brewery beer, Pilsner Urquell, amongst the 30 rotating on-tap beers you'll find some micro-brews from around the Czech Republic and abroad. This is a smoking-allowed establishment with less than optimal AC so bear that in mind. There's a small garden out back too if you prefer fresher air.  The original PBM is on Dlouha street in Prague's Old Town. In late 2013 a second branch was opened, with somewhat better airflow, on Namesti Miru in the Vinohrady neighbourhood of Prague.
Pivovarsky Klub
Non-smoking brew pub
Actually the beer's not brewed here but at their main location in Prague 2, but the Brewery Club is the number one address in Prague for serious beer aficionados. With 6 beers on tap, one always being their house brew and the others a rotating collection of mostly Czech but occasionally German and Belgian beers there's always a draught to please. If you're not happy with the selection though you can pick from any of the several hundred varieties of bottled beers that line the upstairs bar. There's more seating in the cellar space and the food (classic Czech dishes) is pretty good too. Another stand-out feature is the fact that the whole establishment is non-smoking.
Planning a trip to Prague? We'd love to put together a Prague travel package just for you. Get in touch to find out more!

Charlie is head of marketing at JayWay Travel. A long-term Prague resident, his interests are cooking, eating out, cycling, skiing and of course, travel.