Budapest is often referred to as a Festival City and it's not hard to see why, in addition to the huge Sziget music festival in summer, the months either side offer up a wide range of events to appeal to culture vultures and foodies alike.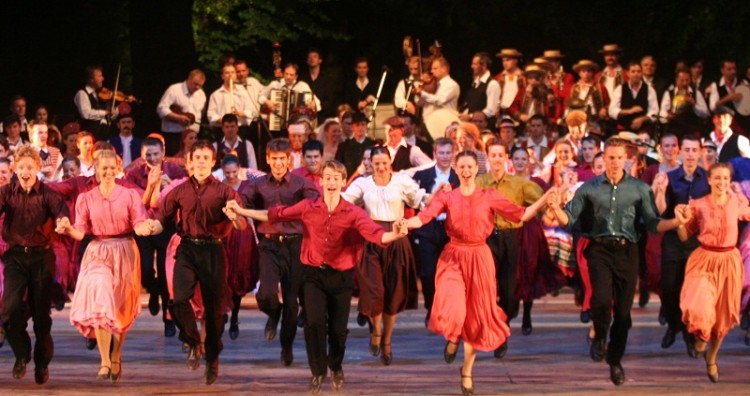 Rosalia – Rosé Wine Festival
9 May 14 – 11 May 14
Budapest's rosé only wine festival, showcasing the country's rosé wines both still and sparkling. An accompanying programme of jazz concerts and traditional Hungarian food paired with the wines all add to the fun.
Budapest Palinka Festival
22 May 14 – 25 May 14
Palinka, for the uninitiated, is a special type of Hungarian brandy and this massive festival will give you the chance to taste over 300 different types. Made from various fruits, this year the fruit of the year is pear so expect plenty of that type. Note the event was originally scheduled for 15-18 May but was rescheduled due to the weather.
Belgian Beer Festival
16 May 14 – 18 May 14
Hungarian beer's not up to much in our opinion (there's a reason they import beer from close neighbours Slovakia and Czech Republic) but all that means is that there's plenty of place for a buit of experimentation and Budapest's Fifth Annual Belgian Beer Festival features over 150 varieties from 31 different breweries.
Budapest Jazz Spring
28 May 14 – 30 May 14
Budapest's grand new Palace of Arts, right on the Danube, features several concerts as part of this 3 day festival and headlining is guitar legend Pat Metheny.
Budapest Essentials
29 May 14 – 1 Jun 14
An ambitious idea to turn the whole city into a festival for 4 days. A single ticket gets you entry to everything that's part of the festival, described as a cult+music+gastro combo.
Budai Gourmet
30 May 14 – 1 Jun 14
When the organisers of the massive Sziget Festival and the people behind Michelin-starred Costes get together you know it's going to be good. Uniting more than 25 of Hungary's top restaurants (not just Budapest's) and the country's best palinka and wine producers, this is a foodie paradise.
Wagner In Budapest Opera Festival
12 Jun 14 – 22 Jun 14
Wagner's Ring cycle, performed at the Palace of Arts
Buda Castle Beer Festival
12 Jun 14 – 15 Jun 14
Four days of beer-lovers paradise at Buda Castle with beers both domestic and international, over 200 of them in fact.
Budapest Summer Festival
13 Jun 14 – 31 Aug 14
Open air Jazz, Opera and Classical music events on Margaret Island taking place throughout summer and a couple at Varosmajor park.
Danube Carnival
14 Jun 14 – 22 Jun 14
The carnival will incorporate many European and Asian performers as well as exotic guest ensembles from overseas. Every year 12-15 international ensembles with nearly 300 artists are performing at the Danube Carnival which spans Budapest and beyond. The sites: Vörösmarty Square, Pesti Vigadó, Duna Palace, Heritage House, Mátyásföld – Erzsébetliget Theatre, Óbuda – Békásmegyer, Budafok – Wine City, Üröm.
Hungarian Folk Festival
17 Aug 14 – 20 Aug 14
The biggest Hungarian Folk Festival, which is also the home of a mini Cheese Festival (!), is held in the Buda Castle every August. The event is called the Festival of Folk Arts / Crafts in Hungarian.
Jewish Summer Festival
31 Aug 14 – 7 Sep 14
First organized in 1998, the Jewish Summer Festival aims to introduce as many people as possible to Jewish culture across teh mediums of music, dance, fine art, literature and films.
September Fest
3 Sep 2014 – 5 Sep 2014
Described as a cavalcade of gastronomic delights, great concerts and excellent events there should be something to appeal to everyone at this three day event in Nepliget Park. Traditional Hungarian stews will be on offer in 30 varieties.
Budapest International Wine Festival
10 Sep 2014 – 14 Sep 2014
The 23rd Budapest Wine Festival is the largest of its kind in Central & Eastern Europe and as well as the domestic and imported wines available to sample you will be entertained by nearly 50 musical acts and folk music and dancing.
Palinka and Sausage Festival
3 Oct 14 – 6 Oct 14
Could there be anything more Hungarian than this? Palinka is a kind of brandy made in Hungary from fruits of various kinds and the spicy sausages are synonymous with the country too. Enjoy both of these, with more than 20 different palinka producers wares to sample, on Castle Hill.

A native of New York, Jay has lived, studied and worked in Europe, traveling extensively throughout the region. His broad experiences range from budget to first class allowing him to understand and appreciate travel needs of clients.