If you're planning a Central European vacation during advent over the holidays, you're in luck because you'll get to experience some of the Continent's most festive and atmospheric holiday markets. Salzburg, Vienna, Dresden and Munich host very popular markets each year, with live music and cultural activities alongside delicious traditional food, seasonal sweets and hot drinks. So enjoy the holidays, and explore Central Europe's best Christmas markets. We've also written separate articles about the Christmas markets in Prague and Budapest, two cities that combine perfectly with any of those listed below. And no European Christmas markets round-up would be complete without mentioning Zagreb, which could also be combined with other Central European capitals, with flight or train connections, or even explore Croatia without the summer crowds with a Christmas markets tour of Zagreb, Split and Dubrovnik. The markets below generally run from late November to late December, although some run into early January, or don't start until early December, so check the linked websites to see the latest dates.
Jump to a section of this article
Christmas Markets in Europe 2021
Many cities cancelled or severely limited their Christmas markets in 2020, but most are planning on holding them in 2021.
Austria
In Vienna, the first markets to open will be those on Spittelberg, Am Hof, Stephansplatz, and at the Opera House, all starting on November 12th. As every year, many finish on December 23rd or 26th, with just a few continuing to New Year's Eve and one or two into the first week of January. Clearly by January 2nd all Austrians have had enough gluhwein! Visitors to Salzburg can look forward to the city's atmospheric markets on Mirabellplatz and in the old town from November 18th. The market in the Hohensalzburg opens a week later on the 26th and closes on the 19th. The others run until the 24th and 26th respectively.
Croatia
Croatia's multi-award-winning Advent markets start up on Dec 1st and run till Jan 6th. Dubrovnik's Winter Festival gives you even longer to enjoy Christmas Croatian style with a whole three months, from November 1st to January 31st
Czech Republic
Prague's various Christmas markets (in the center on Old Town Square, Namesti Republiky, Wenceslas Square) and the smaller neighborhood markets start from the 27th November, and run until the January 6th 2022.
Germany
The World Capital of Christmas Markets is undoubtedly Germany. The most popular destination for yuletide feasting with Germans is undoubtedly Dresden's and the Striezelmarkt is the largest of all. Revellers from Saxony and beyond will be enjoying wurst washed down with gluhwein from November 22nd until December 24th. Other markets in the city will be open for the same period. In the big cities of Berlin and Munich you'll find several markets from November 22nd, until at least December 23rd, with some continuing onto January 2nd. 2022. Munich's signature Christkindlmarkt is set to run November 22nd to December 24th. Watch out for the Krampus if you're headed to Munchen! Nuremberg is a close runner-up for Germans' favorite advent market and the markets there run from November 26th to December 24th.
Hungary
Budapest's Christmas Markets are expected to start early as usual, on November 19th, and run till December 31st.
Poland
Most Polish cities get into the Christmas swing of things with traditional Christmas markets taking over town squares. This being Poland, you can expect your mulled wine to be accompanied by Oscypek, a smoked hard cheese that's softened up on the grill, and of course a few pierogies. In Warsaw's Old Town, Międzymurze Piotra Biegańskiego, a long pedestrianized street will host a market from November 25th till January 6, 2022. Krakow's market, on the main square (Rynek) will run from November 26 until January 2, 2022. Poznan Bethlehem, on Plac Wolności (Liberty Square), starts early, on November 22nd and runs a whole month, until December 22nd. The market on the main square starts on December 4th, and runs until Christmas. Not to be outdone, Wroclaw's Christmas market gets going earliest of all, on November 19th, and runs until New Years Eve.
Austria
Austria's cities go all out for Christmas, with dazzling lights, massive Christmas trees, and stalls selling everything you'll need to fuel some yuletide spirit on the spot and to take home too.
Christmas Markets in Salzburg
In a city as beautiful and atmospheric as Salzburg, every day feels like a holiday. But it really comes alive for Christmas. These are the best places to get in touch with the festive spirit.
Salzburg Christmas Market
The Salzburg Christmas Market is a sight to behold. In the stunning Cathedral Square, you'll find traditional food and crafts as well as performances from some of Salzburg's most beloved choirs and children's groups. Brass concerts of Advent music are performed on Residence Square each Saturday at 6:30 pm. On Saturdays between 3:30 pm and 6:30 pm they have "Christkind" processions of angels. Salzburg is gorgeous all year round, but at Christmas it takes on a special charm. Keep your eyes peeled for Krampusses and Perchten, the evil spirits who accompany St. Nicholas, frightening and rewarding children. See the website for more information.
Christmas Market at Mirabell Palace
The market in front of Mirabell Palace rivals the main market in Salzburg for pomp and circumstance. You'll find tasty holiday treats and mulled wine along with plenty of hand-made ornaments, all just a few minutes' walk from the train station. There's a very nice atmosphere that will sweep you up in Christmas cheer. See the website for more information.
Advent Market at Hohensalzburg Fortress
Open from Fridays to Sundays, the Hohensalzburg Fortress' Advent Market is certainly one of the city's most atmospheric, as you'll have all of Salzburg stretched out before you. Take a scenic funicular ride up to enjoy the booths filled with arts and crafts as well as local delicacies. There are activities for children and a rich concert program as well. See the website for more information.
Christmas in Vienna
Vienna is a beautiful place to enjoy Christmas. The city's many markets are all atmospheric and surrounded by magisterial architecture. Here are our favorite markets in Vienna.
Christmas Market on Rathausplatz
One of the city's biggest markets, and the one you'll often see pictured in most Vienna Christmas Markets instagram pics – the beautifully illuminated city hall makes for a dramatic backdrop. this is a place where you'll find something for everyone, from ice skating to hot wine. See the website for more information.
Holiday Village on Maria-Theresien-Platz
Right in front of one of Vienna's lovely classical buildings, this market is the perfect combination of architectural beauty and holiday fun. There's a whole program of live performances to enjoy, and plenty of warm little huts to stop in for a snack. Unlike many other markets, this one is open until New Year's Eve. See the website for more information.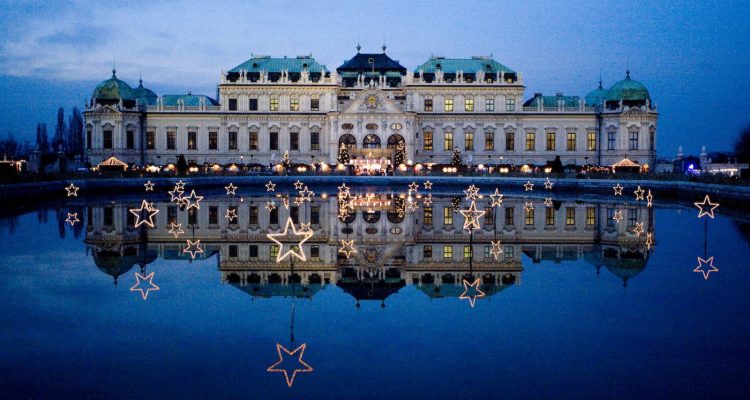 Christmas Village at Belvedere Palace
The Belvedere Palace is one of Vienna's finest, so it's hard not to enjoy yourself here, especially when there's a dusting of snow on the ground. See the website for more information.
Christmas Village in the Altes AKH
A charming Christmas village on a university campus, this market is immersive and fun. See the website for more information.
Old Viennese Christmas Market
Held each year on Freyung, this is one of Vienna's oldest and most traditional Christmas markets. You can purchase excellent crafts and decorations here, and hear festive music each day from 4 pm. Nearby there is the Am Hof Advent Market, where you'll find even more fine Christmas crafts.
Holiday Market at Schonbrunn Palace
If you only go to one Christmas market in Vienna, it should be this one at the stunning Schonbrunn Palace. With palatial hallways and a gorgeous garden, this is the perfect setting for an unforgettably festive atmosphere. It's open daily through New Year's Day and beyond, to the 6th of January. See the website for more information.
Art & Crafts on Karlsplatz
As the name suggests, this is a great place to buy arts and crafts and souvenirs with a holiday sparkle. There's also terrific food and drinks. The market opens each day at noon. See the website for more information.
Christmas Market on Spittelberg
Spittelberg is Vienna's second-largest pedestrian zone, a great place to stroll and shop at any time of year. Throughout the holidays the market begins at 3 pm on weekdays and noon on weekends. See the website for more information.
Winter Market on Riesenradplatz
This Winter Market includes a ferris wheel and other carnival rides, along with live musical performances on the weekends. See the website for more information.
Christmas Market on Stephansplatz
It's hard to beat this market for the scenery, since it takes place around St. Stephan's Cathedral, one of Vienna's most famous buildings.
Germany
Germany practically invented Christmas Markets, so much so that in many countries they call their Christmas markets 'German-style'. Why not go to the original source and drink deep?
Christmas Markets in Dresden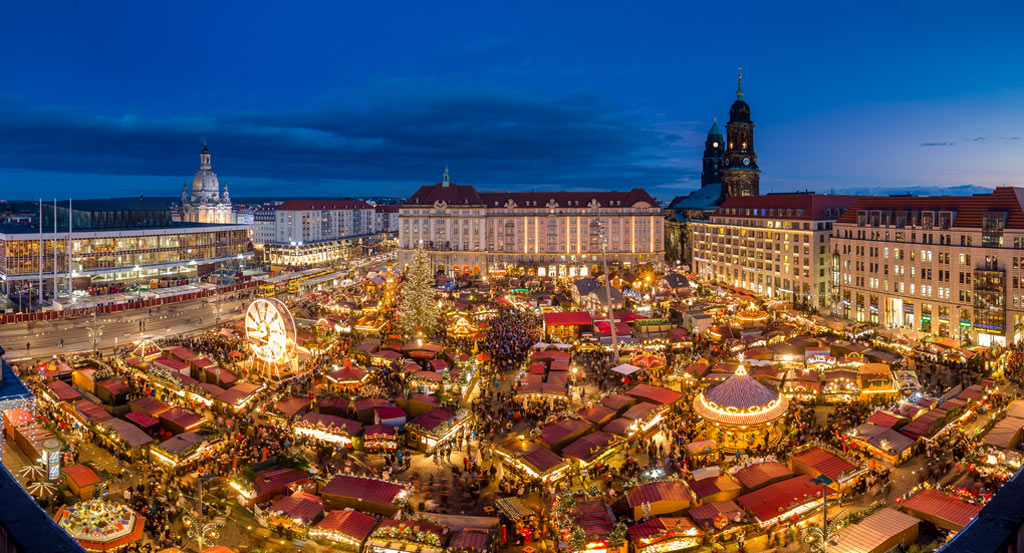 Striezelmarkt
Dresden is famous for its Christmas markets, and for good reason. It has almost a dozen of them in various squares throughout the city, and the one known as Striezelmarkt might just be the oldest Christmas market in Germany, having started in the 15th century. Considering Germany's role in the development of Christmas mythology, that's really something special. These markets are gorgeous and charming, perfect for yuletide revellers old and young. Don't miss the Christmas arch, where you'll see candles and ornate figurines that represent the decorations on the area's erstwhile mine entrances on the traditional last day of work before the holiday. The courtyard of the Kempinski Taschenbergpalais is a great place for kids to learn to ice skate on a small rink. Don't miss trying Dresden's signature Christstollen, a fruitcake loaded with marzipan and dusted with powdered sugar. Dresden makes for a great 1-2 night stop between Prague and Berlin and with so many markets to explore, you'll definitely need the time.
Christmas Markets in Berlin
Germany's capital doesn't have the same reputation for massive Christmas markets that the cities of Bavaria and Saxony can boast of, but there's plenty festive cheer to be had. Many of the city's large squares play host to seasonal markets, from the most central, like Alexanderplatz, or more local affairs in Spandau and Charlottenburg. Overall, that lack of a reputation means you're going to have a more authentic experience.
Christmas Market at Alexanderplatz
It doesn't get more central than Alexanderplatz. Described as something between a market, a fairground, and a party, it's safe to say you'll hae a good time here. And you won't have to go far if you're staying in Prenzlauer Berg or Mitte.
Christmas Market at Berlin Town Hall
A market right in front of the seat of power in Berlin, this is a piece of Berlin history, with narrow lanes of market stalls, street performers and organ grinders. Kids young and old will be thrilled to find an old-time carousel and a circular ice skating rink.
Christmas Market at Charlottenburg Palace
If you're looking for an atmospheric backdrop for your "Hey, I'm in Europe" Christmas Market pics and selfies, then head to Charlottenburg Palace. Come hungry, as you'll be tempted by gingerbread and freshly baked bread from a wood-fired oven. The emphasis here is on traditional Christmas, whether that's the food or the nostalgic fairground attractions to be found near the Orangery.
Check out some Christmas Market Tour Ideas

Stephan Delbos is an internationally published writer and editor. Born in the US, he has lived, worked and traveled in Europe for a decade. He's fond of oysters and arid martinis.