Still weighing up where to go in Europe this year? Here are a few destinations that are popular with our guests for summer 2012.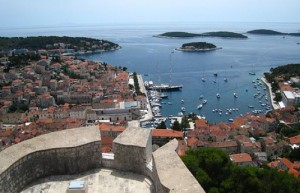 1. Hvar, Croatia – relax with the jetset
Europe's sunniest island is popular with the stars of Hollywood and the sporting world – Hvar's guest book reads like the guest list for the Oscars: Clooney, Paltrow, Malkovich, Nicholson, Beckham, Agassi.
It's not hard to see what draws them here. Hvar is steeped in history with an impressive fortress and the Franciscan monastery and has some great beaches with crystal blue waters. Hvar is an ideally located departure point from which to visit the nearby Pakleni archipelago – rent a small-engined boat and circumnavigate the islands on your own or take a water taxi. Our guests usually visit Hvar as part of a tour of Croatia that includes other popular destinations like Dubrovnik, Plitvice Lakes and Trogir.
2. Berlin, Germany – the city with something for everyone
Berlin's relatively northerly location means summers there are quite mild (a few degrees cooler than Prague for example) making it an ideal time to check out one of Europe's hippest capitals. Plenty for the history buff to see as well as a thriving local arts scene and a packed line-up of big name concerts and the summer events season kicks off at the end of May with the Carnival of Cultures, a 4 day multicultural celebration.
Just because Berlin's not on the coast doesn't mean you can't soak up the sun – there are man made beaches on the banks of the Spree with open air bars and even beach volleyball courts. If beach bars aren't your thing there's always one of the city's excellent beer gardens such as Prater, the city's oldest beer garden on Kastanienalle in trendy Prenzlaurberg.
3. Cesky Krumlov, Czech Republic – fairy-tale setting
This fairy-tale town in south Bohemia, not far from Austria, will make you feel like you're on a medieval-era movie set. The center of Cesky Krumlov with the Vltava river running through it is a labyrinth of cobblestone alleyways with cosy accommodations and delightful shops. No matter where you are all the town's highlights are no more than five minute walk away. Get a bird's eye view of the place from the ornate castle tower or for a different perspective you can take a raft or canoe on the river (watch out for the weirs!).
4. Budapest, Hungary – for a real 'hot in the city' experience
Budapest can be pretty hot in the summer but it's also a great time to see the city with plenty of cafés along the Danube and outdoor thermal spring-fed pools, like the Széchenyi baths pictured here (photo courtesy of Flickr user Vlastula). There's plenty of nightlife too with open-air clubs where you can dance till dawn.
Take a break from the city with a day trip or overnight stay at Lake Balaton, the top summertime retreat for Hungarians.
5. Salzburg, Austria – Alpine summer break
New to our destination line-up this year Salzburg is already proving to be a very popular addition with out guests. With its well preserved UNESCO World Heritage listed old town and an alpine backdrop Salzburg is a great place to immerse yourself in some culture and explore Mozart's birthplace on a Mozart-themed city tour. If you tire of the city you can enjoy some breathtaking local scenery on one of our day trips from Salzburg exploring Sound of Music country or idyllic lake town Hallstatt.
6. Ljubljana, Slovenia
The Slovenian capital is a very popular destination on our multi-city tours and its location means it is a real cultural crossroads between Mediterranean, Balkan, Austrian and Slavic influences. The architecture is Central European but the attitude is more laid back than you would find in the neighbours to the north. There's a deeply ingrained café culture in Ljubljana that means you're never short of a venue for some people watching. After a couple of days seeing the city we suggest getting out into Ljubljana's picturesque countryside with one of our day trips or maybe an overnight stay in the mountain resort of Bled, with its famous lake.
7. Krakow, Poland – one for the fans
If you're into watching sporting events on big screens in UNESCO World Heritage listed town squares then you'll love Krakow this summer. Poland and Ukraine are co-hosting the Euro 2012 Soccer Championship (8 June – 1 July) and whilst Krakow is not one of the host cities (two other JayWay destinations: Wroclaw and Warsaw are though) you can expect a big deal to be made of it. A great place to soak up the atmosphere of a big crowd watching the beautiful game. Aside from the football Krakow's got a lot more going for it too – once the capital of Poland it is still the country's cultural, artistic and scientific center.
Still not sure where you're headed? Get in touch and tell us what kind of vacation you're looking for and we'll build you the perfect custom itinerary.

A native of New York, Jay has lived, studied and worked in Europe, traveling extensively throughout the region. His broad experiences range from budget to first class allowing him to understand and appreciate travel needs of clients.