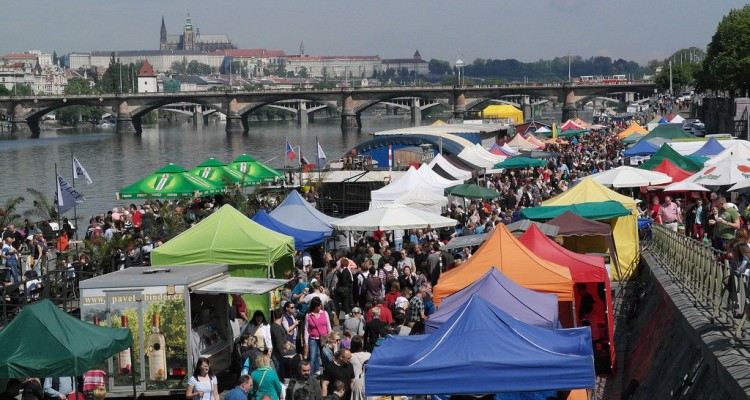 When the weather is nice, you want to spend as much time outside exploring as possible. Combine eating, local culture and fresh air in one trip by checking out the farmers market scene in Prague. Since around 2010, Prague's farmers markets have been growing in size and frequency, tracking the general foodie trend among Praguers. These centrally located markets often have other foodie related activities happening alongside. Saturdays are the best time to visit for the action, ones that are open on weekdays are a bit more relaxed. Prague's markets are open roughly from April – October.
Saturdays
Naplavka, Prague 1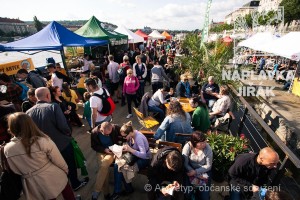 This riverside market is one of our favorites, thanks to the mix of vendors, Vltava riverside location and general bustle of the visitors. Go early, as by 9am you'll already be craning your neck to see what's on sale. Coffee and sweet sellers will keep you motivated, plus you can pick up an early lunch from the tasty bread and goat cheese sellers. Don't miss the opportunity to try the fruit dumplings (knedliky) from the Ricanske stall. The cuisines on offer can vary from week to week but on recent visits we've enjoyed Vietnamese bahn mi sandwiches and Bosnian pleskavice (a kind of flat, wide hamburger). If you get lucky you'll be there on a weekend when The Real Meat Society's grill -truck (a converted Land Rover) is there – get whatever they're selling!
Rasinovo Nabrezi
Metro: Karlovo namesti
Saturdays, 8:00-14:00
Kulatak, Prague 6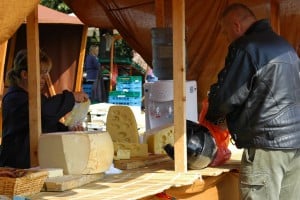 For a more neighborhood feel, and the chance to sample goodies from local restaurants, take the green metro line to the Dejvicka stop and visit the Kulatak market. The sprawling area is filled with a variety of vendors selling flowers, spices, oils, bread, meat, cheese and more. There's often music playing, lots of picnic benches for digging straight in to your purchases and generally just a really relaxed vibe – you feel this is a Saturday morning tradition for the neighborhood.
Vitezne namesti
Metro: Dejvicka
Saturdays, 8:00-14:00
Weekdays
Namesti Republiky, Prague 1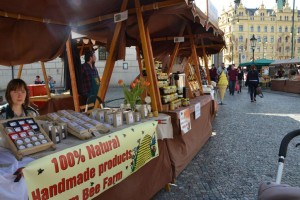 In Prague 1, you can pick up some tasty treats during the week at the hopping market by the Municipal House and Palladium shopping mall. Specialty beers, spices, packaged sweets, and handmade products ranging from soaps to woven items to carved ones mean you can double up a mid-day snack with some souvenir shopping. Beware though, this isn't a traditional 'local' farmer's market but is more touristy, so prices will be higher than at others. One redeeming feature is the plethora of reasonably priced and varied street food stands next to the Kotva department building, across the square. This square also morphs into Christmas and Easter markets as well as hosting various other events during the year, such as Mediterranean markets.
Namesti Republiky
Metro: Namesti Republiky
Mondays-Fridays, 8:00-14:00
Jirak, Prague 3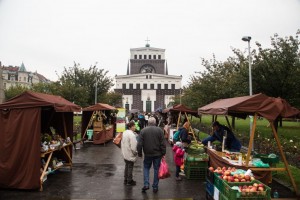 Fresh fruits and vegetables in season, eggs, dairy products, meats…canny shoppers can get most of their daily meal ingredients at this Prague 3 market. Of special note here are the local mushrooms, fresh fish and honey brandy. On-site bakeries and sweet sellers plus artisan pasta stands mean you can pick up a light lunch and sit on a bench in the square. The church (Church of the Most Sacred Heart of Our Lord) shadowing you was built in the early 1930s by Slovene architect Joze Plecnik.
Namesti Jiriho z Podebrad
Metro: Jiriho z Podebrad
Wednesday, Thursday, Friday, 8:00-18:00, Saturday, 8:00-14:00
Planning a trip to Prague? We'd love to put together a Prague travel package just for you. Get in touch to find out more!
Images
Naplavka top photo – Archada via Creative Commons on Flickr
Naplavka – via the Naplavka Farmers Market
Kulatak – Tomas Kohl via Creative commons on Flickr
Namesti Republiky – via Prague 1 Farmers Market
Jirak – via the Jirak Farmers Market

Jacy is a travel journalist who likes art, culture, design and architecture. When not in Prague, she's most likely wandering the streets of other European cities, checking out their neighborhoods, their art and their coffee.