We do everything we can to make your vacation in Dubrovnik go as smoothly as possible, but there's one thing we definitely can't control – the weather.
So what is there to do in Dubrovnik on a rainy day?
Day at the Museum
Dubrovnik is well-stocked with museums such as the Maritime Museum, the Archeological Museum and the Cultural Historical Museum, one of the highlights there being the collection of about 300 paintings by the Old Masters. An unusual privately-run museum that might be of interest is the War Photography museum – the museum intends to "educate the public in the field of war photography, to expose the myth of war and the intoxication of war, to let people see war as it is, raw, venal, frightening, by focusing on how war inflicts injustices on innocents and combatants alike."
Visit Europe's second oldest Synagogue
On Žudioska ulica you'll find Europe's second oldest synagogue, along with a Jewish museum. A visit there is described as a highlight of Dubrovnik by the Jewish Independent. The museum was restored as close to possible to its original design after being damaged in the Croatian War of Independence in the 1990s.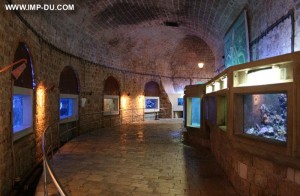 Get eye-to-eye with some fish
The Marine and Coastal Research Institute's Aquarium is located within the walls of St. Ivan's Fortress. The aquarium's 31 tanks are filled with continually pumped fresh sea water and afford the opportunity to get a good look at the Adriatic's flora and fauna all while keeping dry yourself.
Spa day!
Some of Dubrovnik's luxury hotels have spas that are open to day-visitors. Our pick is the Villa Dubrovnik's spa – this newly renovated hotel's spa is a study in understated elegance and offers a wide range of spa treatments. If you prefer your spa experience with a bigger brand, the Hilton Imperial Dubrovnik and try their famous hot stone massage.
If you've got any other ideas for ways to spend a rainy day in Dubrovnik, let us know in the comments.
Planning a trip to Dubrovnik? We'd love to put together a Dubrovnik travel package just for you. Get in touch to find out more!

Ana has managed the Adriatic destinations offered by JayWay Travel since 2007. Her passion for the region's culture and tradition is apparent in her participation as member of a nationally recognized acapella group.