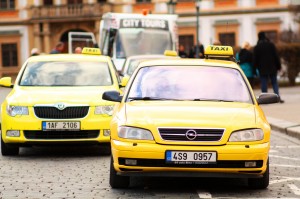 UPDATED Feb 14, 2012
Such is Prague's notoriety for rip-off taxi drivers that Prague's City Council have in recent years been getting tougher on them; the mayor himself going undercover posing as an English-speaking tourist to catch out offenders.
Whilst things have improved with the introduction of the Fair Place scheme (marked taxi ranks), and better enforcement of regulations generally, there are still some crooks about.
1. Call a reputable radio-car firm
If at all possible call a cab, don't hail one on the street. If you're traveling with JayWay you'll have a traveler mobile as part of the service. The phone is pre-loaded with numbers for some trustworthy taxi services. For everyone else, here are some reputable taxi companies:
Profi Taxi +420 844 700 800
Taxi AAA + 420 222 333 222
City Taxi +420 257 257 257
If you're not able to call one of these companies, then pay attention to the rest of these tips! All of these firms should confirm via SMS the arrival time and either car number or colour & model of your taxi.
2. Insider tip – SMS Speed Cars
Speed Cars are a new-ish entrant on the Prague taxi scene (since 2006) and have gone aggressively after the local market (their website is only in Czech and not all their dispatchers speak English) with a 19Kc rate for phone or SMS reserved trips. You could try your luck with the call center on +420 234 234 234 or send an SMS to +420 722 234 234 in the form of: "TAXI (Name), (Address)". A car will be with you usually within 10-20 minutes. http://www.speedcars.cz/ – you will receive a reply confirming the time and vehicle type.
If calling a radio taxi company isn't a possibility, these following tips are essential reading:
3. Take a taxi from a Taxi Fair Place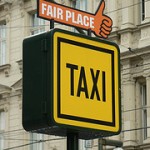 This scheme for designated taxi ranks from which there is a reasonable maximum fare safeguards you from most abuses. A taxi from one of these ranks should cost no more than 28Kc per kilometre, with an initial (boarding) fee of no more than 40Kc.
4. Be aware of Taxi AAA vs AAA Taxi
Often referenced in tourist guides, Taxi AAA is Prague's largest taxi group, they have the taxi concession at the airport, have more cars than anyone else, a sophisticated call center with friendly staff that are all fluent in English. AAA Taxi on the other hand ought to wear highwayman's masks, they're playing right on the boundaries of the regulations in a number of ways. You may often see a AAA Taxi vehicle parked just outside an official "Fair Place" taxi rank. That's because they're not allowed to operate from those ranks for the simple reason that their tariff is nothing like fair. Which leads us on to the next tip…
5. Pay extra special attention in areas with lots of tourists
Around Wenceslas Square, train stations and other places with a high throughput of tourists you'll often come across unscrupulous taxi drivers.
6. Check the rates posted on the door
Whilst the maximum per km fee for regulated taxis is 28Kc, there are some taxis that post a fee of 99Kc on the door, and a boarding fee of 99kc too. That's right, around $5 US / £3.30 per kilometre. The imposter AAA Taxi mentioned above are one of the worst offenders.
7. Check the tariff on the taximeter.
On the left of the display is a number that indicates which fare rate you're being charged. Make sure it corresponds to the one you expect, based on the rate card on display in the taxi and on the outside.
8. Negotiate a price before you get in
If you have a good idea of how far you're going, or you've taken the journey before with a known reputable firm, you should be able to work out a price in your head before approaching the driver. Agreeing a price in advance should mean no surprises on the way. Walk away from a driver who won't do this.
9. Watch for the "fourth pedal"
The so-called fourth pedal is a button that accelerates the rate at which the taxi meter ticks over. Worth keeping an eye out for this if you've had to hail a taxi on the street of dubious provenance, especially if the driver is reluctant to agree on a price in advance and you had no other alternative but that taxi.
10. Arrange an airport shuttle
If you're arriving after a long flight probably the only thing you're thinking of is getting to your hotel or apartment. We can pre-book a friendly fixed price airport shuttle service for you, to or from the airport, for less than the cost of the fixed price Airport Cars service or Taxi AAA.
Bonus tip: Consider if you really need to take a taxi
The center of Prague is quite compact and you can get most places on foot quite easily. If you're going a little further, Prague's public transport is fast, cheap and runs 24 hours. Between trams, buses and the metro there aren't many places you can't get to. Transfer tickets (valid up to 90 minutes) are 32kc, a 24 hour ticket runs just 110Kc.
Image credits: Taxi Fair Place – iandavid, 2 Taxis – witholeary via Creative Commons on Flickr
Planning a trip to Prague? We'd love to put together a Prague travel package just for you. Get in touch to find out more!

Charlie is head of marketing at JayWay Travel. A long-term Prague resident, his interests are cooking, eating out, cycling, skiing and of course, travel.