When you're travelling to Europe you'll want to bring back some gifts for the folks back home or some mementos of your trip. Here's our guide to what to shop for in Prague and the Czech Republic.
Jump to a section of this article
Beer
If you're traveling with a restricted luggage limit then the Czech Republic's most popular export probably shouldn't be your first choice. If you do, take something you can't get at home, like a Bernard or Baron Trenck or one of the curiosity high alcohol content beers like a Primator Double.
Local liquor
Beer isn't the only alcoholic beverage the Czechs produce, it's just the most well-known. For starters pretty much any fruit that grows here gets turned into alcohol (Slivovice – plum brandy being the best known) and then there are the other classics like Becherovka and Czech Absinthe. Read our Czech liquor post for more pointers (and about the legality of taking absinthe back to the US).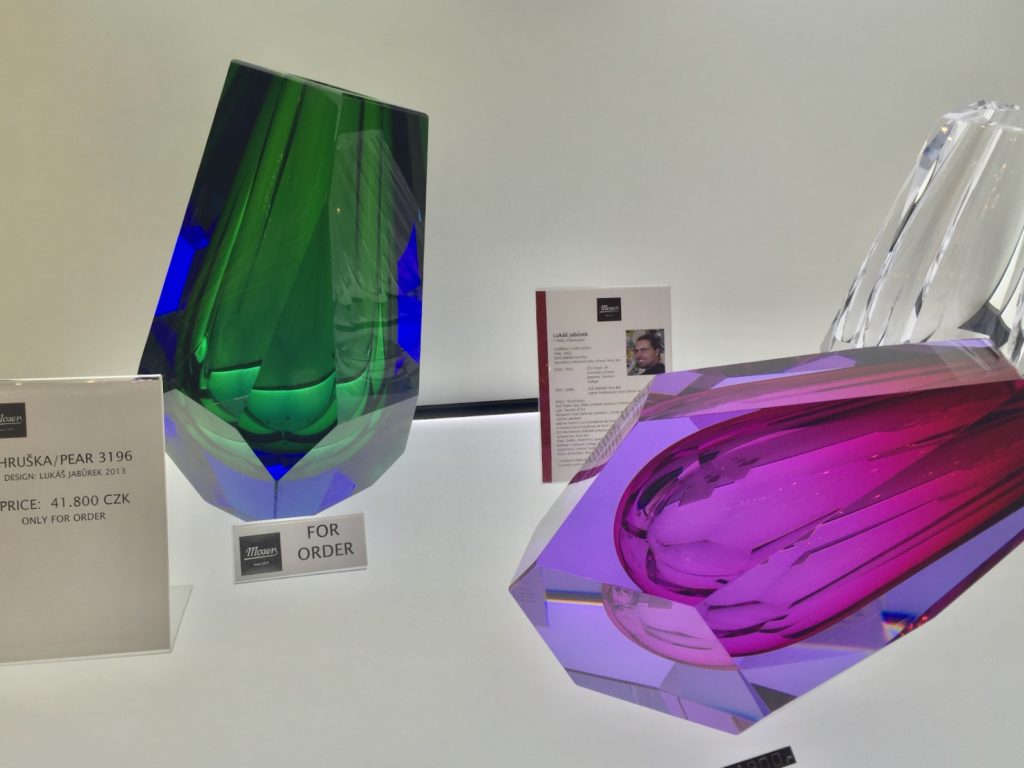 Glass and Crystal
Bohemia Crystal and Czech glassware in general is world-renowned for its quality. Avoid the overly touristy shops and check that what you're planning to buy was actually made in the Czech Republic. Moser is the big name to look for.
Cosmetics
The Botanicus stores in Tyn courtyard just off Old Town Square have a wide selection of organic cosmetics (as well as jams and preserves) that are sourced from their gardens close to Nymburk about an hour west of Prague. Extra tip if you're traveling with kids: the Botanicus craft center and gardens make for a great day trip.
Porcelain
The Czech Republic has a rich tradition of making porcelain with the Thun company one of the biggest producers. You'll find their products for sale throughout the city. Again, check the stamp on the underside for place of manufacture to be sure you're getting the real thing. For a great deal on Thun porcelain they have a factory shop in the Karlin neighborhood.
Wooden toys and puppets
The best kind of souvenirs are the ones made in the country and there are a few shops in the city that are a good source of well-made wooden toys and puppets. The Manufaktura shops are a reliable source of quality Czech made handicrafts and toys.
If you forget to buy anything they have outlets in both terminals at Prague airport, so if your itinerary has you departing from Prague, you can do some last minute shopping there!
Garnets (Jewelry)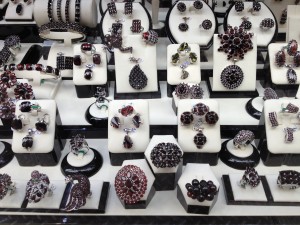 Jewellery featuring Czech 'Granát' or Garnets is a great reminder of your trip to Prague or makes a nice gift. Garnets are small precious stones, fiery or dark red in colour. Avoid the tacky touristy shops and stick to reliable suppliers like Granat of Turnov who have a couple of outlets in Prague, or instead go to the Palladium mall and shop at one of the jewellery stores.
Off-the-wall but on-the-wall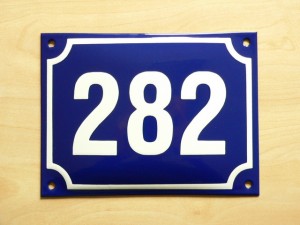 If you live somewhere that doesn't require house numbers to all look the same (like they do in the Czech Republic), why not take back something that will remind you of Prague every day? You can buy enamel house numbers in hardware stores dotted around town. Available in red or blue (in case you're wondering the blue are the 'orientational' and usually sequential. The red ones are for the building's number in the area's building registry (and usually have 3 or 4 digits). Sadly getting a street sign usually has a wait time as it needs to be ordered and made for you.
Keep the receipts!
Making a warranty claim might not be so easy but there's a good reason to keep receipts. If you're visiting the Czech Republic (and Europe in general, though different qualifying amounts will apply) from outside the EU and spending more than 2001Kc on a single transaction, it's worth taking advantage of Tax Free Shopping. Most stores in the city will display a sign and help you out with the initial paperwork. Read more about the process on the Global Blue website.
Planning a trip to Prague? We'd love to put together a Prague travel package just for you. Get in touch to find out more!

Charlie is head of marketing at JayWay Travel. A long-term Prague resident, his interests are cooking, eating out, cycling, skiing and of course, travel.