A tale of two seafood centric restaurants in Dubrovnik
You might remember the Fine Young Cannibals second studio album, The Raw & The Cooked. It went to number 1 in the US, Canada, Australia and UK album charts in 1989. That was over 20 years ago. Which is about how long it took, since the fall of Communism, for the first sushi place to open in Dubrovnik's Old Town.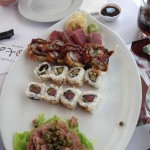 But was it worth the wait? Based on a visit there by several members of the JayWay team on a recent trip to Dubrovnik, we can state unequivocally: yes it is. We had a selection of sushi and sashimi options from the menu, served on a large sharing plate. The Adriatic tuna tartare was fantastic and the seared tuna sashimi was fought over by everyone. The rolls were all well put together and were this not a quick lunch stop we'd definitely have ordered more of everything. Prices are in line with what you'd expect to pay in a big city and given both the quality and the lack of competition, very fair for what you get.
Buffet Kamenice
From a newcomer to the Dubrovnik food scene to an old stalwart. Seafood places are ten a penny in Dubrovnik Old Town but not all are created equal. On the JayWay Travel recommended list since Jay's summer living in the Old Town, this no-nonsense establishment on the market square serves a simple menu of locally sourced seafood for fair prices.
For a place called 'Oyster Buffet' and known for their oysters too, you'd expect us to have gone for the eponymous delicacy but instead we took mussels, fried calamari, octopus salad and a risotto. Everything was just right. In a town where almost everywhere has identical menus there are good and bad places. Kamenice is tough to beat and the price is right too.
Planning a trip to Dubrovnik? We'd love to put together a Dubrovnik travel package just for you. Get in touch to find out more!

A native of New York, Jay has lived, studied and worked in Europe, traveling extensively throughout the region. His broad experiences range from budget to first class allowing him to understand and appreciate travel needs of clients.