Donna Murphy and her husband Dale spent 10 days in Croatia (with day trips to Mostar in Bosnia & Herzegovina and to Montenegro) with JayWay Travel in September 2011, for which we arranged the accommodation and transfers. Here's their trip report, the very first entry in the new Guest Trip Reports section of our blog. Over to Donna: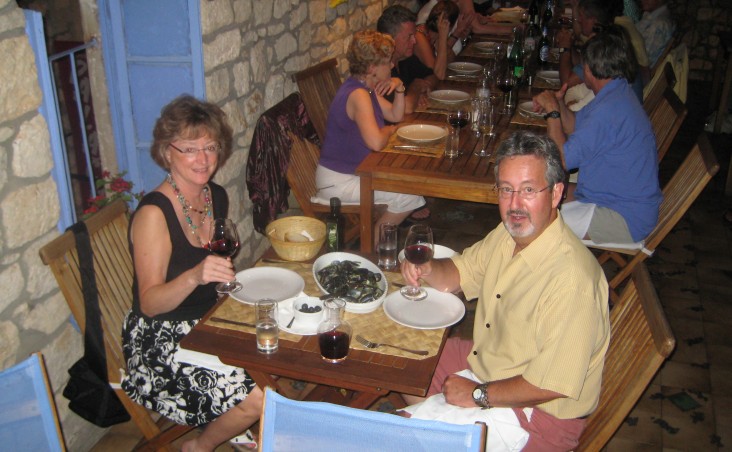 Croatia, September 3-13, 2011
Less than 2 decades ago Croatia and Slovenia were two of Europe's youngest nations which previously belonged to the union called Yugoslavia. Many Americans shy away from visiting because of their memories of wartime but today it is very peaceful and stable. The coast was barely touched by the war, except Dubrovnik, which has been restored. The early history included Hungarians, Venetians, Ottomans, Habsburgs and Yugoslavs. Today Croatia has a Mediterranean flair and more in common with Venice and Rome than Vienna or Budapest. They declared their independence from Yugoslavia in 1991. In 2003 they applied for membership in the European Union and will become a member of the EU in 2 years.
Split
September 4,2011
We arrived at Split airport around 11:00 am after traveling all night. Our driver took us to a street near our room entitled Vuko Rooms which is the name of the owner. The reason we were dropped off at a street away from our room is because no cars are allowed within the old town city-limits. We met the owner and were escorted to our room. We chose to stay in sobes (the Croatian word for private accommodations) which offer travelers a characteristic alternative to hotels and give you an opportunity to speak with the owner and learn more about their way of life. We had a good room but it was at the very top of the building which meant walking up a narrow hallway with many steps. There were well over 50 to get there. We were traveling light (learned later we could have taken less) so we were ok. The room was small but clean and quiet. Later we walked the streets around old town and got lost in the many alley ways.
Split is Croatia's second biggest city after Zagreb but has a more urban feel. Its history goes way back to the Roman Empire. In the 4th century the Roman Emperor Diocletian wanted to retire in his native Dalmatia so he built a huge palace here. Eventually it was abandoned. In the 7th century, locals fleeing Slavic invaders moved in and built a medieval town from the rubble of the palace. Today 2,000 people live or work inside the former palace walls.
The main leisure activity in Split is to stroll the Riva, the seaside pedestrian promenade. After dinner, Split residents collect their families and friends to stroll here. We ate dinner at a very popular restaurant where you grab a bench seat at a picnic table with other people. We had whole pan-fried fish, olives, grilled vegetables and stuffed peppers with meat. It was delicious.
True to what we heard, all the residents that evening were strolling the Riva. It was incredible how many people were out and about. We got our gelato and joined them.
Hvar
September 5,2011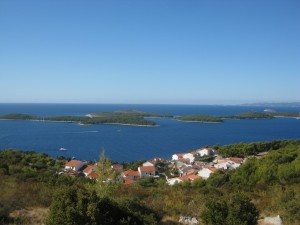 We woke up to a cloudy sky. We learned how to manage breakfast. You buy what you want at a pastry shop, it is put in a bag, then you go outside to a table and order your coffee. The coffee was wonderful with foamy milk swirling on the top. Afterwards we gathered our luggage and headed to the ferry to Hvar. It started to rain on our trek there. Fortunately we had packed rain gear, which we only needed this once. We boarded the ferry (a catamaran) with a lot of rain drenched people and headed to Hvar Island, one of the most popular island destinations on the Dalmatian coast.
In the Middle Ages, Hvar achieved renown and power as an important port and part of the Venetian marine empire. Today, it is considered the "Croatian Riviera". Hvar is attracting the jet-set crowd so I was desperately looking for Prince Harry or George (you know who I mean). We were met at the dock (alas, not by George or Brad) and escorted to our sobe, Villa Petricic which were high on the edge of the cliff overlooking the Adriatic Sea and the town of Hvar. The view was to die for and one I hope to remember always.
Once we settled in we went to town to get lunch. It was very hot and the walk to town took about 15 minutes. If you are not in shape it could be intense. We got our bearings and went back to our room, changed into our swim suits and found a beach to soak our hot bodies. The water is the perfect temperature and the clearest I have ever seen. We headed to our room for cocktails overlooking the water. That night we ate at The Luca and had mussels, red snapper with potatoes and onions served in one pot, a local popular dish. We walked to our room, had wine overlooking the sea and did not think about the U.S. and our troubles.
September 6, 2011
We wanted to rent a boat so we walked to town, had breakfast and found a 50 hp boat to rent. Fortunately we owned a boat once and Dale taught in the auxiliary Coast Guard so I felt comfortable. Most people only get 10 hp boats so we were very lucky. Off we set to explore the Pakleni islands, which is a chain of 21 islands. The Adriatic is huge. Dale recalled that he read where the astronauts said it was the bluest of all the seas they could see from space. Sailing is also very popular. We found a nice cove and went swimming.
We found a small dock and walked to a small restaurant up the hill. If we got bumped off there, no one would have found us! We ordered a chicken dish which was cooked over a wood burning stove. After a few beers we headed out to enjoy another round of swimming. I did not expect the water to draw me to it like it did.
We spent the day on the water which was a highlight of our trip. That night we ate at Lavonia and had pasta di mar and a grilled fish called Breamie.
Korcula
September 7, 2011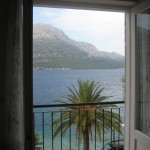 We rented a car and decided to tour Hvar island which took a few hours. We brought our bathing suits and of course had to stop for a swim. That afternoon we took a ferry to the island of Korcula which is simpler and humbler than Hvar. It is located on a fjord-like mountain backdrop. It was founded by the ancient Greeks, then became part of the Roman Empire and later, in 1264, Marco Polo was born here. It also has an old town poking into the sea.
We were met at the dock and walked to our sobe, owned by Rezi & Andro Depolo, a distant relative of Marco. Our room overlooked the water and had a wonderful balcony. The area reminded me of southern Italy.
We had a late dinner at Restaurant Kanavelic on the edge of the city walls. We sat on our balcony afterwards and watched the owners serve dinner outside to their friends for Andro's birthday. It again reminded me of Italy.
September 8, 2011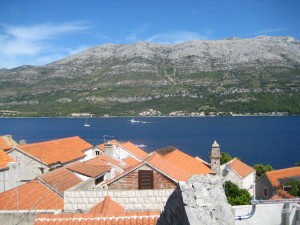 Today we explored Korcula. Its claim to fame is the birthplace of Marco Polo so we climbed the stairs of his house and reached the top which provides great views of Korcula's Old Town rooftops and the sea. It is always interesting to see that people still live in many of these old buildings. I would have loved to see the inside of one.
That afternoon we walked across the street and went swimming. What a life! That evening we ate at Konoba Adio Mare, which is located next to Marco Polo's house. We dined on the upstairs garden patio and had mussels, octopus salad, white fish grilled with vegetables. We had heard so much about the octopus salad so I decided to give it a try. We ended up ordering it for most every meal thereafter but it was hard to beat this one. The octopus is grilled and served with onions, capers and tomatoes.
Afterwards we went to the Moreska Dance, which is a medieval folk dance. The plot reminds Korculans to remember their hard-fought past: A bad king takes the good king's bride, the dancing forces of good and evil battle and there is a happy ending. We sat behind the orchestra and I could not take my eyes off the conductor. He was fun to watch. We went back to our room to sit on the balcony and enjoyed the night air and the serenity of the sea across the street.
Dubrovnik
September 9, 2011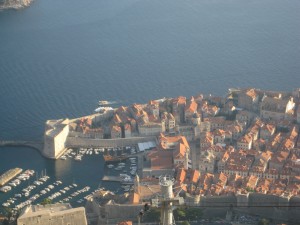 500 years ago Dubrovnik was a major maritime power with the third-biggest navy in the Mediterranean. It is referred to as The Pearl of the Adriatic. Busy merchants, the salt trade and shipbuilding made Dubrovnik rich: It was destroyed by an earthquake in 1667. Yes, the thought entered my mind! As Croatia violently separated from Yugoslavia in 1991 Dubrovnik became the only coastal city to be pulled into the fighting. The city was devastated but has been repaired. The only physical reminders of the war are lots of new bright-orange roof tiles.
We crossed by boat from Korcula to the mainland and took a shuttle bus which lasted around 2 hours. The scenery was spectacular. The shuttle dropped us at our apartment which was located hanging over old town and the sea. It was the largest of the places we stayed. We had lunch and headed to the beach which we accessed by walking down narrow steps along a wall from the street. It is amazing how much the people here love the beaches and the water. If I lived here, I would be the same.
Afterwards we cleaned up and went to the Mount Srd cable car which was right down the street. Mount Srd is the highest point above Dubrovnik. A giant white cross surrounded by battle wreckage along with a historical museum is a chilling reminder of the recent war. Napoleon built a fortress atop the hill in 1810.
We walked to old town and tried to find the Buza Bar, which is a hole in the city wall overlooking the sea and a great place to watch the sunset. After many, many steps we found it but decided not to stay. We walked the streets inside the wall and ate at the Kamenice, which is family owned and run and considered a local institution. We had mussels, octopus salad and scampi. We stopped at the market, bought some wine and headed to our apartment which was 115 steps above old town.
Day trip to Mostar
September 10,2011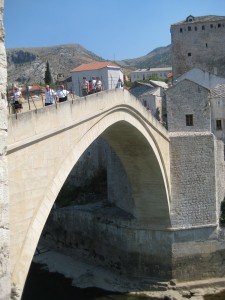 The early 1990's were not kind to Bosnia. There is a unique mix of cultures and faiths. It has fewer than four million people but has 3 faiths, 3 languages and 2 alphabets. The two biggest attractions are Mostar and the Catholic pilgrimage site of Medugorje. Mostar, still scarred by war, has restored its famous 16th century Old Bridge. Mostar is now safe for tourists but it can be unsettling because of the in your face war damage.
During the Tito years, there was a calm mingling of Catholic Croats, Orthodox Serbs and Muslin Bosniaks; all living in harmony. But with the war in the early 1990's, Mostar was gripped in a three-way war among those same people and the famous Old Bridge crumbled into the Neretva River.
In 1993 the Croats began shelling the bridge from the mountaintop. Several direct hits caused the Old Bridge to lurch and tumble into the river. After the war, the city leaders decided to rebuild the Old Bridge and tried using chunks of the original bridge but the stone had been compromised by soaking in the water for so long. Staying true to be authentic, the restorers quarried new stone from the original quarry and each stone was hand-carved. It took longer to rebuild the bridge in the 21st century than it did to build it in the 16th century and cost over $13 million.
We walked down Coppersmiths Street. We bought our first souvenir here from a man whose family has been coppersmithing for 45 years. The piece I bought is made from tombstone made in the 14th century. It depicts life of the people at thattime. There are 3 tiles, one depicting dancers, one grapes, and one of a shield and sword. We spent a few hours here and left in time to make it back so we could GO SWIMMING!
We cleaned up and had dinner at Komardo, which was situated on the edge of the sea overlooking the old town harbor. We had octopus salad, caprese salad and red snapper. Afterwards we enjoyed a glass of wine on our patio. The moon was full. It was amazing.
Day trip to Montenegro
September 11, 2011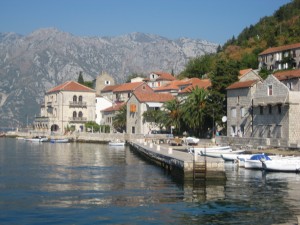 Montenegro is considered to be the next Croatia and is a very young nation. It is trying to cultivate an image as a high roller but is struggling to upgrade an old infrastructure. It took about an hour to get there. We started our drive around the Bay of Kotor. Its unique bottleneck shape makes the Bay the single best natural harbor between Greece and Venice. The town of Kotor is butted against a steep cliff, surrounded by a calm sea and sheltered by its position deep in the fjord. It has been protected by the Verige Strait which is a tight bottleneck at the mouth of the bay only 1/4 mile wide so could be easily protected by whoever controlled it. It is 130 feet deep.
There has been a settlement in Kotor since the time of Christ. It came under the control of Illyrians, Romans, Serbs, Venetians, Napoleonic soldiers, Austrians, Tito's Yugoslavia and now finally Montenegrins. Kotor has avoided destruction by warfare over the years but was damaged in the 1667 earthquake that hit Dubrovnik as well as a devastating 1979 earthquake. Yes, the thought entered my mind, again.
We walked around Old Town and then headed for the Lepetani-Kamenari ferry shortcut which cuts across the narrow part of the fjord to return back.
On our drive back, we stopped at a sleepy resort town called Cavtat, 12 miles south of Dubrovnik. It has some beautiful beaches so we decided to go for a swim. We found a wonderful beach and enjoyed the water. There were a lot of Germans there who come for their holiday. We arrived back in Dubrovnik, got cleaned up and headed to Old Town for dinner. Tonight we decided to go Italian and found a little alleyway eatery and had spaghetti. There was a children's orchestra from Hungary playing in the square which made for a nice ambience. No octopus salad tonight.
Last day in Dubrovnik
September 12,2011
This was our last day in Dubrovnik so we spent it inside the Old Town walls. One of the best attractions is strolling the scenic mile and a qumier around and on top of the city walls. Around the perimeter are several forts, with walls rounded so cannonballs would glance off them harmlessly. These forts intimidated would-be invaders during the Republic of Dubrovnik's Golden Age and protected local residents during the 1991-92 siege. It took about an hour to walk since we stopped to take pictures. It is amazing to see that locals still live perched atop and around the wall.
Afterwards, we strolled The Stradun, the main marble-stoned promenade. It is the heartbeat of the city. When Dubrovnik was just getting its start in the 7th century this street was a canal. In the 11th century the canal was filled in and the town merged with a Slavic Roman culture.
We took a walking tour to learn more about the 1991-92 war. The underlying history of Yugoslavia is too long to explain here but in June 1991 Croatia declared independence from Yugoslavia. Within weeks, the nations were at war in the Croatian interior; nobody expected that bloodshed would reach Dubrovnik. At 6:00 am October 1, 1991 Dubrovnik residents awoke to explosions on nearby hillsides. The first attacks were focused on Mt Srd. The giant cross was destroyed along with a communication tower.
The newly formed Croatian army dug into the Napoleonic-era fortress at the top of Mt. Srd where 30 soldiers fended off a Yugoslav takeover of this highly strategic position. The Yugoslav army started shelling Old Town and the defenseless townspeople took shelter in their cellars. The Yugoslavs were hoping the residents would flee but they didn't. The defenders managed to hold the fort atop Mt Srd. All supplies had to be carried up to the fort by foot or donkey. After 8 months of bombing, Dubrovnik was liberated by the Croatian army. Dubrovnik it turns out was dragged into the conflict because Yugoslavia wanted to catch the city off-guard so they could gain a stronghold on the southern coast so they could push north to Split. They also wanted to ignite pro-Serb passions in Bosnia and Montenegro as well as wanting to hit Croatia where it hurt… its proudest, most historic and most beautiful city. But it seems their plan backfired.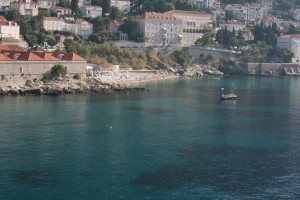 Locals now say, when Yugoslavia attacked Dubrovnik, they lost the war because images of the historic city under siege swayed international public opinion against Yugoslavia. The city for the most part has been repaired but the locals are forever changed. The local people still have disdain for the Serbs
After our tour it was hot, so what do people do when it is hot? They go swimming. We changed and headed to the beach to soak in the most fabulous body of water I have ever seen. It was hard to pull ourselves away. Some may wonder why we spent so much time swimming but it is very hot in the afternoon. It is almost too hot to do anything else. We did not spend time sun bathing; we mostly went to enjoy the water and cool off.
That evening, under the full moon, we ate in another alleyway. We decided to go Italian again since we enjoyed it so much the night before. Afterwards we got our last gelato and headed up the 115 steps for the last time. Alas, we are headed for the airport in the morning.
Planning a trip to Croatia? We'd love to put together a Croatia travel package just for you. Get in touch to find out more!