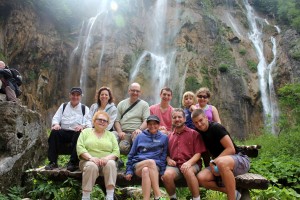 Most of the time on our blog we do the writing but this week we're leaving that to one of our wonderful guests, Samantha Geracht, who wrote this thank you note to Antonia, our local representative in Croatia. Samantha and her 8 other family members visited Croatia in July 2013 with 8 of her family members, of varying ages, staying in Trogir, Hvar and Dubrovnik. We think this sums up a JayWay vacation experience far better than we ever could:
Antonia

On behalf of our entire family I wanted to thank you for a spectacular vacation.

Every single trip, guide, transfer etc… was beyond our wildest expectation.

Peter (our guide for Plitvice Lakes) went so above and beyond that he carried my four year
old niece when she tired at Plitivice — even when she fell asleep in his arms! Hvar was gorgeous and our day trip on the boat was fantastic. When my son was nervous about jumping off the rocks, our lovely guide Nikola went up higher and jumped to show him it was safe. The guide in Mostar gave a wonderful history, and what he said would take about 45 minutes became an hour and a half, and he was lovely about giving us the extra time.

All of our drivers and transfers were so wonderful and easy. We all laughed when a Jayway "agent" pulled up alongside our taxi to Split on his moped to hand us the Ferry tickets and show us where to go store the luggage and take the ferry and then disappeared. It felt like a spy novel.

And of course it was lovely to meet you in Dubrovnik in our gorgeous apartments and all of your recommendations were perfect. We loved dinner at Taj Mahal! Your agency is so organized and while we always travel on our own, all of the details that take us a long time to organize were so easy since you took care of everything. We also appreciate your constant on call concierge service. This is certainly the way to travel. Thank you for a wonderful vacation.

Best Wishes,
Samantha
Planning a trip to Europe? We'd love to put together a Europe travel package just for you. Get in touch to find out more!

Charlie is head of marketing at JayWay Travel. A long-term Prague resident, his interests are cooking, eating out, cycling, skiing and of course, travel.