Croatians love desserts! No matter how much we ate before, there is always space for dessert! Dessert recipes are written in notebooks and passed down through generations. While some desserts come and go out of fashion, others are simply timeless. There are many great options, but these are the best traditional Croatian desserts to try on your next Croatia vacation!
Jump to a section of this article
Kremšnita
For many Croatians, kremšnita, custard cream cake, is the "queen" of cakes. The name comes from the German word cremeschnitte and you can find this delicacy in many central European countries, most famously at Lake Bled in Slovenia. The exact origin is unknown, but all of these countries were once a part of the Austro-Hungarian Empire. Hence, the cake is available throughout the region, with some variations. The taste of kremšnita takes me back to my childhood when every birthday, anniversary, or holiday was marked by everyone's favorite dessert.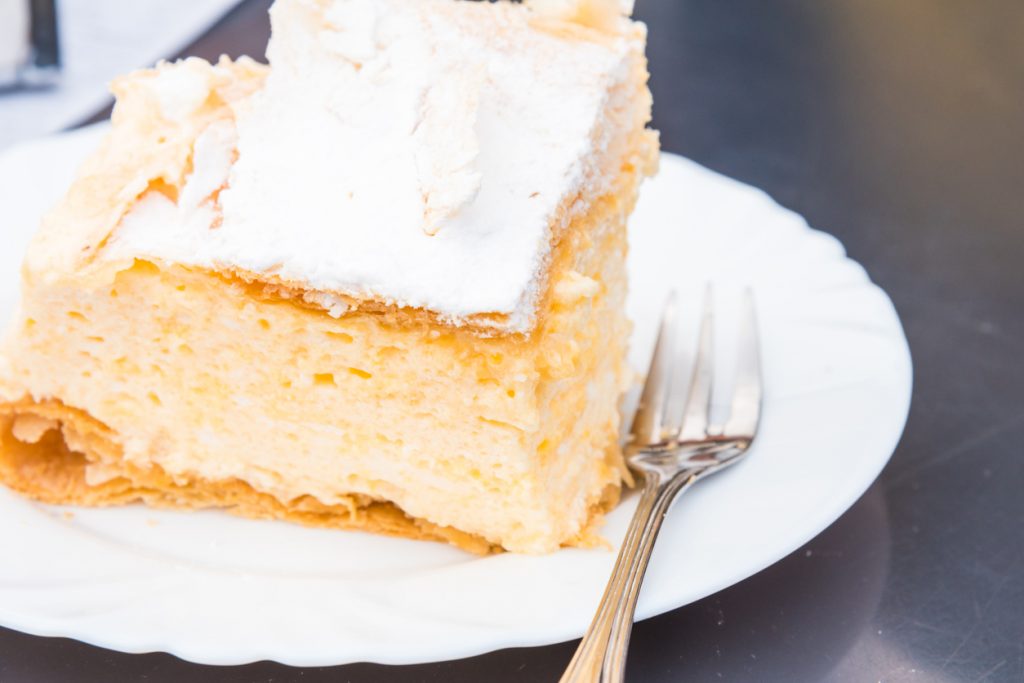 The classic Croatian kremšnita is a cake made of fine yellow egg custard and sometimes a bit of whipped cream, in between layers of golden flaky pastry crust. The cake is one of the symbols of Samobor, a small town some eighteen miles from the capital. The citizens of this picturesque town take great pride in their version of the cake, samoborska kremšnita. A pastry chef, Đuro Lukačić, created the recipe in the 1920s after he had returned to his hometown to work in his brother's pastry shop. He had spent many years working in prestigious pastry shops in Vienna, Budapest, and Zagreb, and he combined several recipes he liked to create his famous version. Samoborska kremšnita is simple: two layers of puff pastry, the top sprinkled with icing sugar, with mainly egg custard filling and a thin layer of whipped cream. A thing that is unique to Samobor is the fact that they serve the cake warm! Back in the day, the cake was so popular that people waited in line to buy a piece. Since the demand was so high, there was no time for the cake to cool! You can enjoy the original cake in U Prolazu pastry shop in the center of Samobor.
Zagreb has its own variety of the cake, zagrebačka kremšnita, which has chocolate icing instead of the top crust. You won't find this type in a warm version, but it's equally yummy. The author of the idea is Stjepan Vincek, the owner of Vincek, the most popular pastry shop in Zagreb.
Breskvice
Breskvice are small colorful bites that look like peaches, have a sweet peach flavor, and are named accordingly. Besides in Croatia, you can find them in other ex-Yugoslavian countries. They are served at weddings, birthday parties, or anniversaries, usually on a plate full of small cakes and cookies. Holidays certainly don't feel the same without them! They are easy to spot due to their bright pink color, which stands out from the plate. However, if you do spot one, you have to be fast as they tend to disappear in an instant!
The outside is made of a cookie dough mixture, and the texture reminds you of soft cookies. You need to hollow out the cookies to make space for the filling, which connects the two halves of each little peach. Nothing is wasted, so you make the filling by adding chocolate, peach jam, toasted hazelnuts, and a hint of rum to the crumbs you removed from the pit. You dip the finished peaches in colored milk and roll them in sugar. The result is a perfect little bite that melts in your mouth!
Breskvice are a nightmare to make because there is so much work to do and it seems to take forever! To make matters worse, all your delicate work is devoured in a matter of minutes! Luckily, you can sometimes find them in supermarkets, and we are forever grateful to all those diligent hands who put a lot of effort into making them.
Mađarica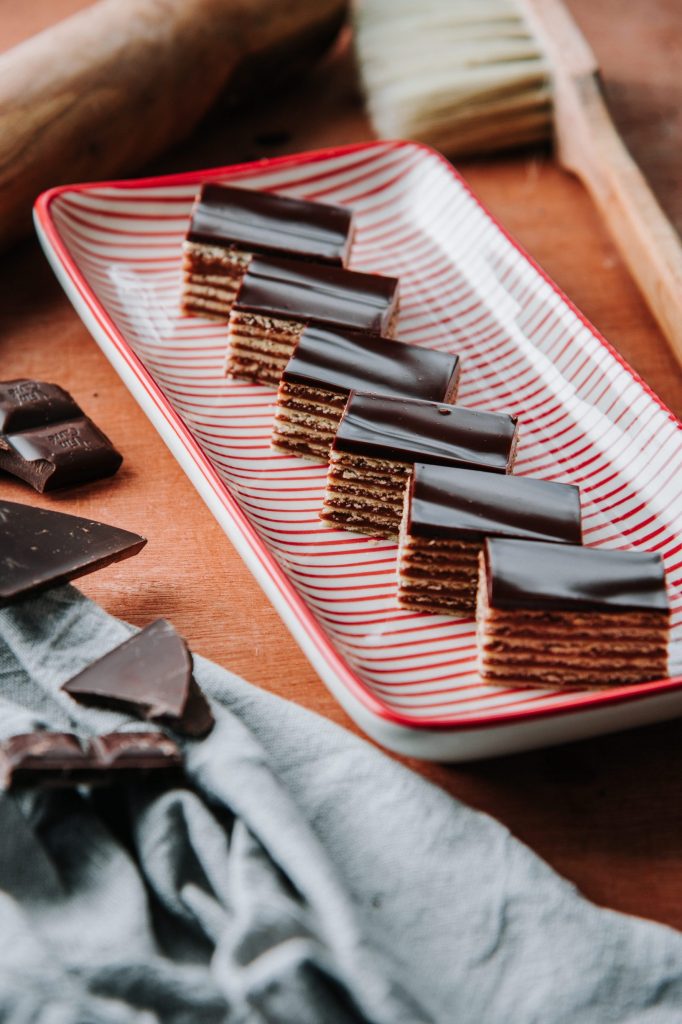 Mađarica, a layered chocolate cake, is another super tasty treat you will find on a plate with breskvice and many other cakes and cookies. It's a timeless classic that will make you lick your fingers and reach for more. We don't know anyone who can stop at eating just one! The name is the Croatian word for a Hungarian lady. We can only guess that it was named so because it looks like popular Hungarian cakes zserbó, esterházy, and dobos. However, they taste very different, and asking for a Hungarian lady in Hungary won't get you far.
This delightfully rich dessert is assembled out of five layers of thin cake, creamy chocolate, and dark chocolate glaze on top. Making one takes time and skill since it requires very thin cake layers that can easily break. I remember my mom losing her calm every time a layer would break and stating she would not make mađarica ever again. The fact that, in the end, you need to cut it into small identical rectangles isn't encouraging either.
Luckily, you can sample mađarica at traditional pastry shops around Croatia or buy a whole box in some supermarkets. However, my mom's mađarica still tastes much better, despite a broken layer or two.
Fritule
Fritule (or prikle) are small deep-fried cakes with powdered sugar, melted chocolate, or caramel on top, very similar to Venetian fritole. They are traditional sweet snacks originally from Dalmatia that are nowadays popular all over Croatia and prepared mostly around Christmas. There's no Christmas Eve without the scent of fritule and we dare say that they are a symbol of Christmas in Croatia.
To make the basic dough for fritule, you need flour, eggs, milk, butter, and sugar. To make them juicer, you can add raisins or grated apples. Experienced fritule makers claim that the secret to making the best fritters is the vigorous mixing of the ingredients until there are bubbles in the dough. It's best to add some sort of brandy (rum, cognac, maraschino liqueur, or rose brandy) to the dough, to make it airy and give it a nice aroma. You deep-fry the dough by the spoonful, a few pieces at a time, to make sure they don't stick together or burn. The result should be lightly crisp and golden brown ball-shaped bites, soft and fluffy on the inside. You drain them with a slotted spoon and put them on a plate lined with absorbent paper to remove excess oil. You coat them generously with powdered sugar, or chocolate, or caramel glaze.
You can find fritule at many food stalls around Zagreb during Advent, when Zagreb is transformed into a winter wonderland. Occasionally, you can find them in traditional taverns in Istria and Dalmatia.
Paprenjaci
Paprenjaci or pepper biscuits are crispy and aromatic cookies that are a staple of Croatian cookie jars. The cookies date back to Renaissance times when papar was the name for a group of spices that included nutmeg, cinnamon, and cloves. Originating from the Island of Hvar, specifically Stari Grad, paprenjaci were prepared to celebrate special occasions such as weddings, gifts for newborns, and as a Christmas treat.
Paprenjaci have a complex flavor profile for seemingly simple cookies. They are made with flour, eggs, honey, olive oil, prošek (sweet dessert wine), saffron, cinnamon, nutmeg, baking soda, and cloves. For reference, imagine gingerbread cookies, cut with wooden molds sporting festive designs, and just the right amount of spices. Traditional paprenjaci were hand-cut and painted resembling horseshoes, roosters, fruits, religious iconography, or ornate and delicate designs with white frosting.
You are likely to run into one of the many varieties of this traditional treat during a stay in Croatia. Paprenjaci can be easily found in delis, souvenir shops, and in every duty-free shop in Croatia. This simple biscuit has slowly worked its way into the collective national consciousness to become a valuable traditional treat and a hugely sought after souvenir. It is acknowledged as an intangible part of the Croatian cultural heritage.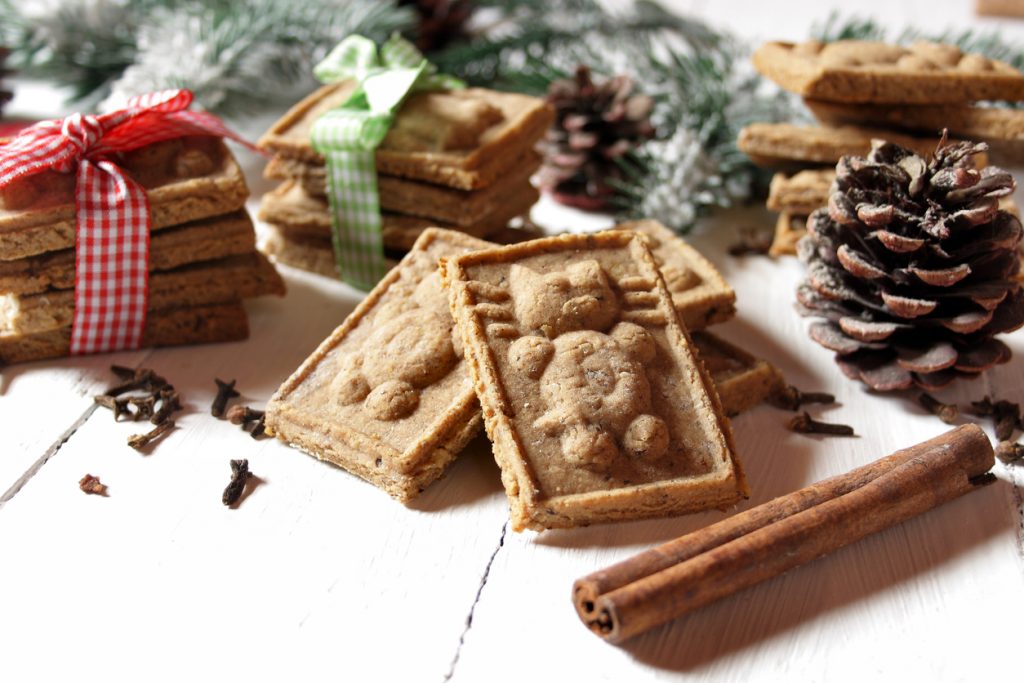 Makovnjača and Orehnjača
Makovnjača and orehnjača/orahnjača are flavorsome yeast dough pastries filled with a sweet, either poppy seed (makovnjača) or walnut (orehnjača) filling. The long tradition of making poppy seed or walnut rolls is strongly implanted in all parts of Croatia. The specific scent and flavors of these homemade delicacies are cherished childhood memories of many Croatians. Our grandmothers and great grandmothers' recipes are well preserved and kept as the most important family secrets. Although there are desserts similar to Croatian poppy seed or walnut rolls in some parts of Central and North Europe, Croatians proudly say that this is their own national dessert.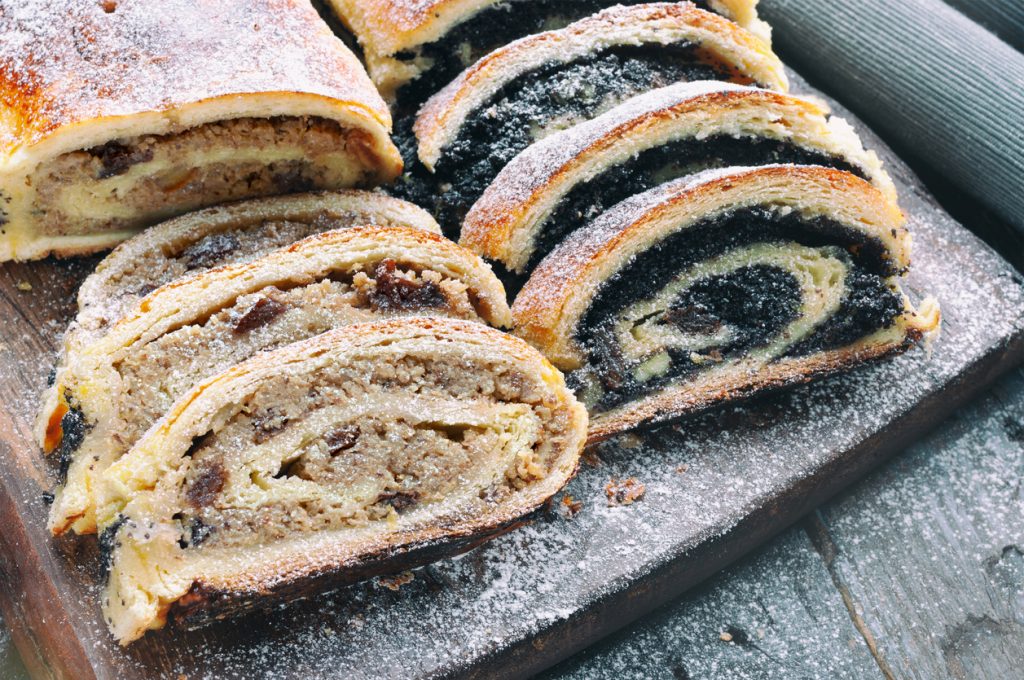 The story of makovnjača and orehnjača is born by the oven, in early childhood. Starting young is important as it takes time to master the skills of making a soft dough. But a child is not permitted to knead the dough. They patiently sit next to their grandmother, observing grandma's gentle moves. It takes time and many mistakes before the next generation is ready to carry on the family tradition. The baked dough must be soft and airy on the inside and crispy on the outside. The perfect dough texture can only be obtained with a precise measure of all ingredients and long, patient mixing and kneading. Once mixing and kneading are done, the dough should be given a rise before filling and a second rise before baking. Hand to hand with soft dough, the fresh, aromatic, and moist filling is an equally important component of the homemade rolls. Freshly ground walnuts or poppy seeds are mixed with boiling milk, sugar, lemon zest, cinnamon, a few drops of rum, and optionally, raisins.
Once baked, the rolls are cut into slices and served with powdered sugar on top. Of course, nothing beats homemade makovnjača or orehnjača, but you can often find them in traditional Croatian restaurants or buy a whole loaf at some supermarkets.
Kroštule
Kroštule are crispy sweet pastries, prepared mostly in Dalmatia and Istria, but popular throughout Croatia. Although many claim they are traditional to this area, the actual place of origin of this simple dessert is Venice. Venetian crostoli spread to many countries during the glory days of the Venetian Republic. Different versions can be found in Italy, France, Hungary, Poland, and Greece. Croatians make kroštule mostly on religious holidays – Ash Wednesday, Good Friday, and on Christmas Eve, but also during carnival.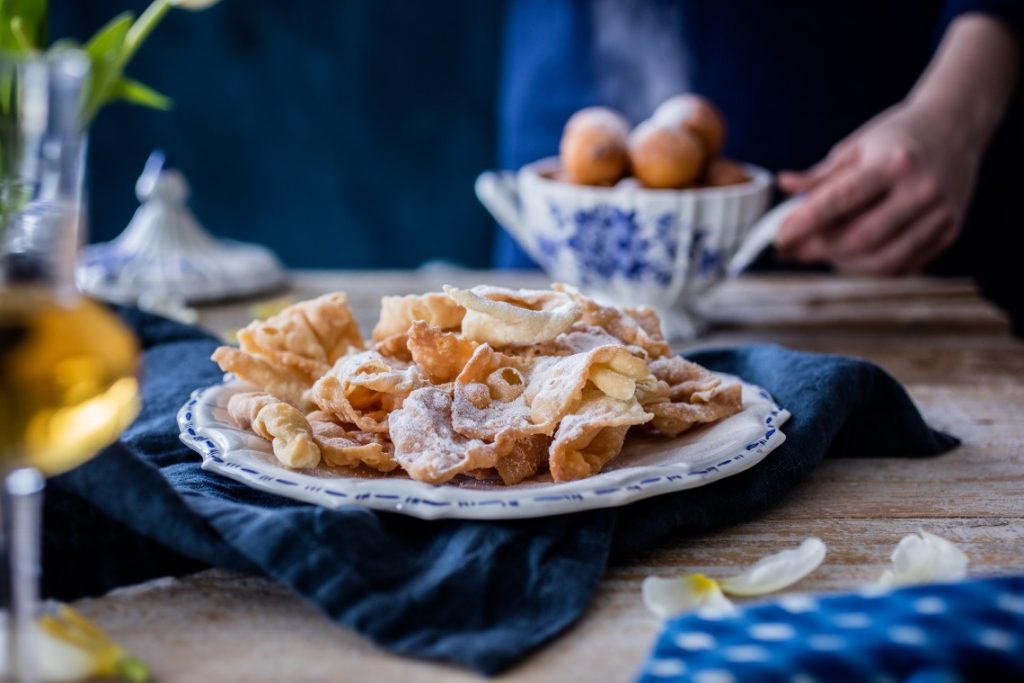 This crunchy dessert is easy to prepare. The basic ingredients are very simple: flour, eggs, sugar, butter, rum, and salt. Dalmatians add their own staple to the basic dough – lemon liqueur (limoncello) and Istrians add white wine. You roll the dough thinly, shape it into twisted ribbons, and deep fry. You drain the little pastries and dust them with icing sugar.
Kroštule can be served after a meal or with a cup of coffee or tea. It's best to eat them within a day, while they still crumble in your mouth. Since they are easy to make, most traditional taverns in Istria and Dalmatia have them on the menu.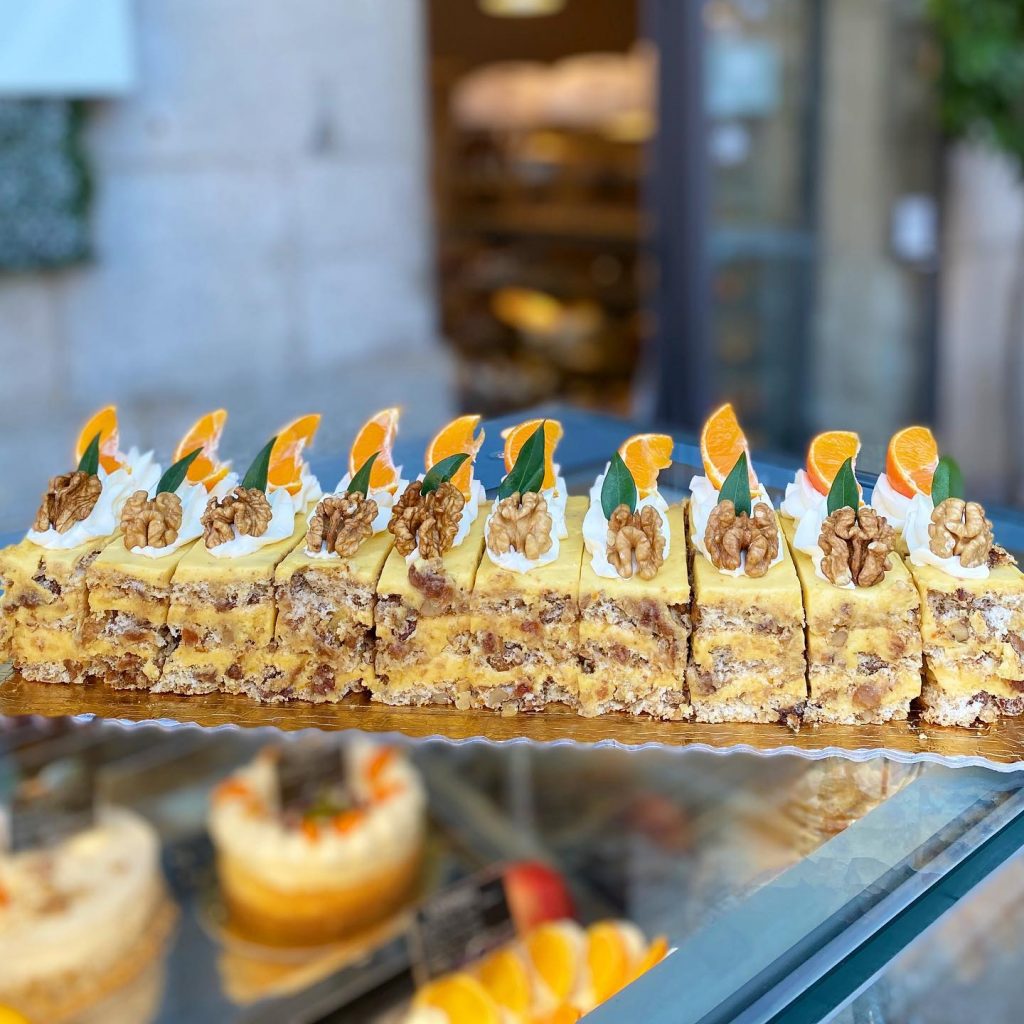 Splitska Torta
This traditional cake, native to the city of Split, is a true Dalmatian favorite. Its roots go back to the times when people prepared dishes out of what was easily available, either grown in the backyard or easy to find in the area. The cake is an indispensable part of almost every significant festive occasion in Dalmatia.
The cake consists of layers of meringue and luscious yellow cream. You prepare meringue from egg whites, almonds, dried figs, raisins, sugar, flour, and a pinch of salt. Nowadays, you can find variations to the meringue, where almonds are replaced by walnuts, dried figs by raisins or some other dried fruit. For the yellow cream, you use egg yolks, powdered sugar, butter, vanilla sugar or vanilla extract, and optionally lemon or orange zest as well as a few drops of rum. You spread a third of the cream on each layer of meringue and stack one on top of the other. Before serving, it is not unusual to decorate the top of the cake with grated chocolate.
Of course, nothing beats a homemade cake, but you can find splitska torta in many patisseries in and around Split. Luka Ice Cream & Cakes, in the center of Split, serves splitska torta that has the perfect airy texture and heavenly taste!
Princes Krafne
Princes krafne, or princess doughnuts in English, are lavish, creamy, and delicious cakes that are very popular in Croatia. Although the precise origin of princess doughnuts is not fully resolved, it is widely accepted that they were first made in France. Eventually, they spread around Europe and the rest of the world. Nowadays, princes krafne are a common dessert on Croatian tables during family celebrations and important holidays.
Although the list of ingredients isn't very long, making the perfect dough takes some time and gives princes krafne a bad reputation. The key is to measure precisely all the ingredients: flour, water, butter, sugar, eggs, and salt. Opening the oven before the pastry is fully baked is strictly forbidden as it will make your krafne flat and unappealing. Each pastry needs to be cut in half and filled with yellow custard. If you manage to make the pastries, the custard should be the easy part. There are different recipes for the custard, but using fresh egg yolks and not vanilla pudding will earn you respect in the local community. Apart from egg yolks, you will also need milk, sugar, vanilla sugar, butter, and cornstarch.
Princes krafne should be served cold, which is always a challenge to wait for. Fortunately, many patisseries in Croatia have them readily available.
Gibanica
Gibanica is the name for a type of a flaky layered pie, usually made with cheese. There are two different versions of gibanica that are most commonly prepared in Croatian households – međimurska and prekmurska gibanica. They differ in some ingredients, arrangement and thickness of the filling, type of topping, and the taste. Both versions are sweet and very caloric. Similar specialties are made throughout Southeast Europe, in Slovenia, Serbia, and Macedonia under the same name and in Bulgaria, where it is known as banica.
Međimurska gibanica is originally from the Međimurje region in the north of Croatia, near the Hungarian border. In general, it's softer and juicier than other similar types of cakes. It's prepared from thin phyllo dough and has a total of four layers of stuffing. The stuffing ingredients are fresh cow's cheese, grated apples, ground walnuts and ground poppy seeds with toppings like raisins and cinnamon.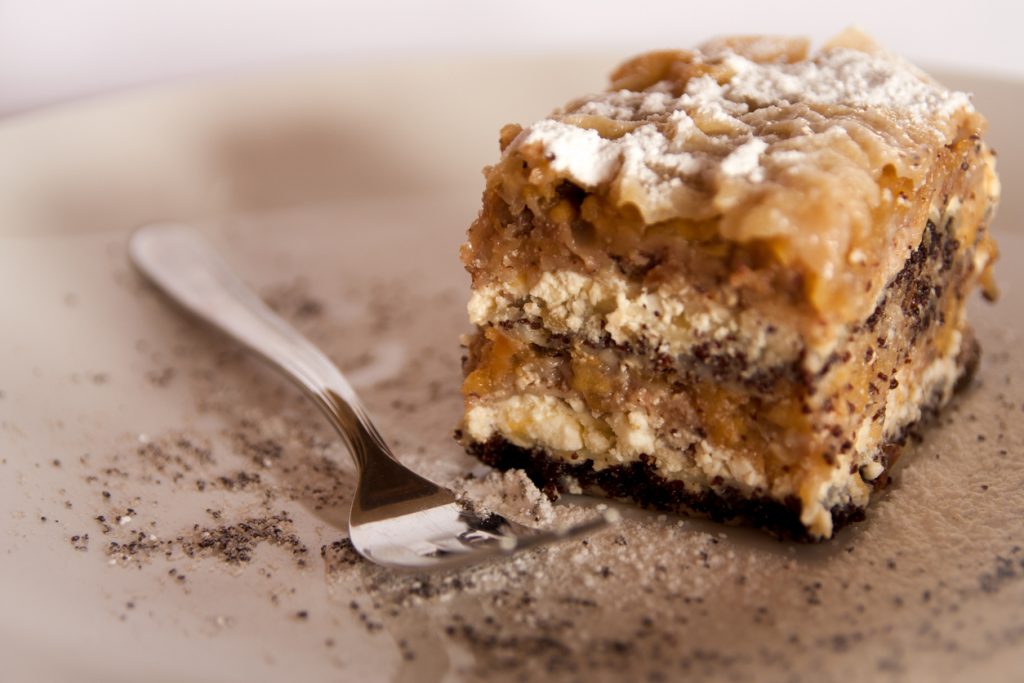 Prekmurska gibanica is originally from Slovenia, but popular in Croatia as well. It is named after the Slovenian region of Prekmurje, which lies in the northeast of Slovenia, towards Hungary. The phyllo dough for prekmurska gibanica is similar to the one for međimurska gibanica. There must be eight layers of four fillings, repeated in the same order: poppy seeds, cottage cheese, walnuts and apples. For both međimurska and prekmurska gibanica, the last crust of the dough is topped with sour or sweet cream mixed with the egg yolk. Gibanica is then baked in the oven for about 40 minutes to an hour.
Both međimurska and prekmurska gibanica are cut into cubes or squares and usually served hot, but very tasty when cold as well. You can find them in traditional restaurants north of Zagreb.
Dessert wines to accompany sweets
Dessert wines, as their name might imply, are sweet wines to be enjoyed as an after dinner treat. Due to their more intricate production processes, they are considered to be some of the most prestigious and also some of the most expensive wines in the world. Higher quantities of grapes coupled with a smaller batch make the wine much sweeter, and thus the expensive price tag. In Croatia, these wines are very prized and are drunk during special occasions, usually during the Christmas period, after Christmas lunch when all the family is gathered together.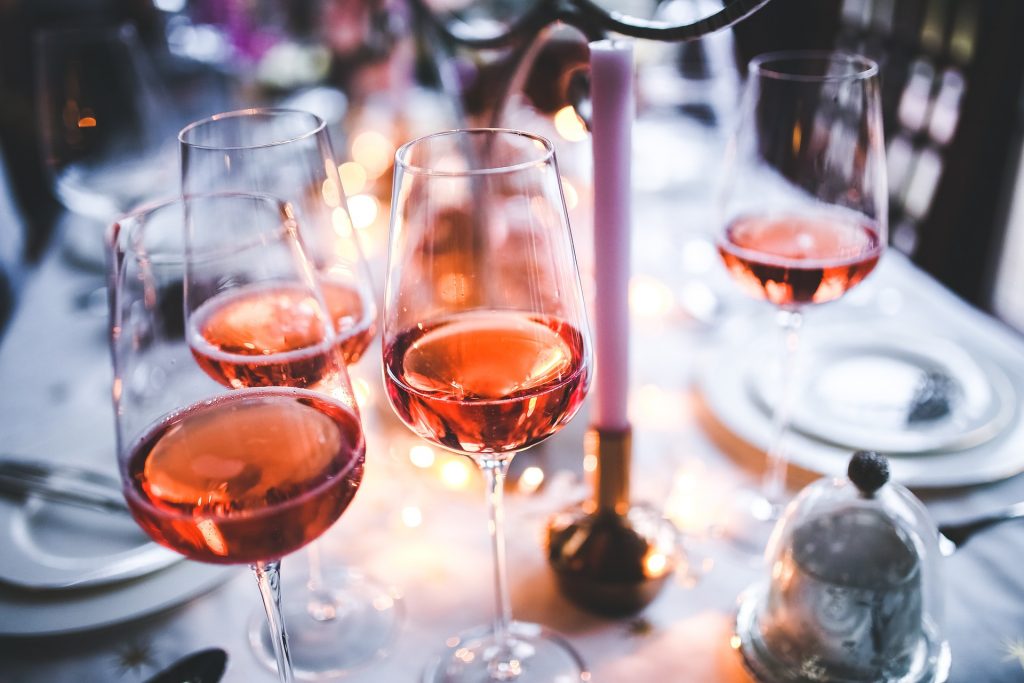 Without a doubt, the most famous Croatian dessert wine is Prošek (not to be confused with Italian "prosecco", which is sparkling wine), traditionally made in middle and south Dalmatia. Most families who grow grapes make their own wine as well as small amounts of exclusive Prošek dessert wine, which requires about seven times more grape input than an ordinary wine. Prošek is usually only consumed for very special occasions and with very special people. Traditionally, Prošek was brought to new mothers as it was considered to have healing and strengthening effects on the body. Prošek can also be found in traditional Croatian sweets as well as in some other classic dishes, like pašticada. These days, Prošek is less used to prepare food due to the fact fewer people produce it, and therefore the price for quality Prošek wine is pretty high. Although the times have changed, this sweet golden liquid has always had a special place in every Dalmatian household.
Muškat Momjanski is another dessert wine which comes from a native grape variety that grows on the hills of Momjan, near the town of Buje on the Istrian peninsula. This sweet, dry wine, which is gold or straw yellow in color, pairs well with desserts and it usually has aromas of dry figs, honey and raisins. It is served chilled at about 54°F. Aphrodisiac properties are often linked to this wine.
Lastly, the wine variety Zelenac, which can be found growing throughout inland Croatia in vineyards near the town of Kutjevo, produces some exquisite dessert wines. While some dessert wines can be sickly sweet, this variety has notes of freshness and sharpness that offset the high sugar content. This wine is best served with fruity or buttery desserts, like an apple strudel or a dry cookie.
We hope all these delicious treats have inspired you to visit Croatia and indulge in a journey of sugar-fuelled discovery.

Josipa comes to us with a strong background in the tourism business in Dubrovnik. With us, she returned to one of her favorite roles, direct contact with guests, after several years in sales roles with one of Dubrovnik's larger high-end hotels. Although Josipa was not born in Dubrovnik, she finished her studies and started her family life here and she feels Dubrovnik to be her hometown. She knows the best places in the city and the surrounding countryside, which she loves visiting with her family. If you're starting your trip in Dubrovnik, Josipa will greet you upon arrival and will be your local contact, via the cellphone we provide, throughout your trip.