Situated on the crossroads between Central Europe and the Mediterranean, the small country of Croatia was a melting pot of cultures for many centuries and, in this article, we're exploring the various foreign influences on Croatian food.
Illyrian tribes, Greeks, Romans, and later Venetians left a significant impact on the gastronomy of coastal Croatia. On the other hand, the Ottomans, Austrians, and Hungarians mainly influenced continental Croatia. It seems that Croatians soaked up the best from all of them and now offer a wide range of the most amazing dishes with unique flavors. Let us help you discover what Croatia has to offer while recognizing all the fascinating foreign influences on Croatian food.
Foreign Influences on Croatian Food
East Croatia
In eastern Croatia, a less touristy area, you will find the most mouthwatering savory dishes. For many centuries, this area was under Ottoman, Hungarian, or Austrian rule. Sometimes rooted for more than a few generations, each empire not only brought a desire to conquer the territory but also spread its own culture and heritage. And so it was. Locals continuously adopted foreign influences on Croatian food. They embraced something once strange and made it their own, creating a specific culture and gastronomy.
Sarma – Stuffed Cabbage Rolls: A Dish Originating in Turkey
The Ottoman Empire started its expansion in Europe in the 14th century. Soon, many countries fell under its rule, including large parts of Croatia. We see the Ottoman influence in sarma: minced meat and rice wrapped in sour cabbage leaves. The word comes from the Turkish word sarmak, which translates to wrapped. You can find very similar dishes in many countries that were once part of the Empire and, of course, in Turkish cuisine itself.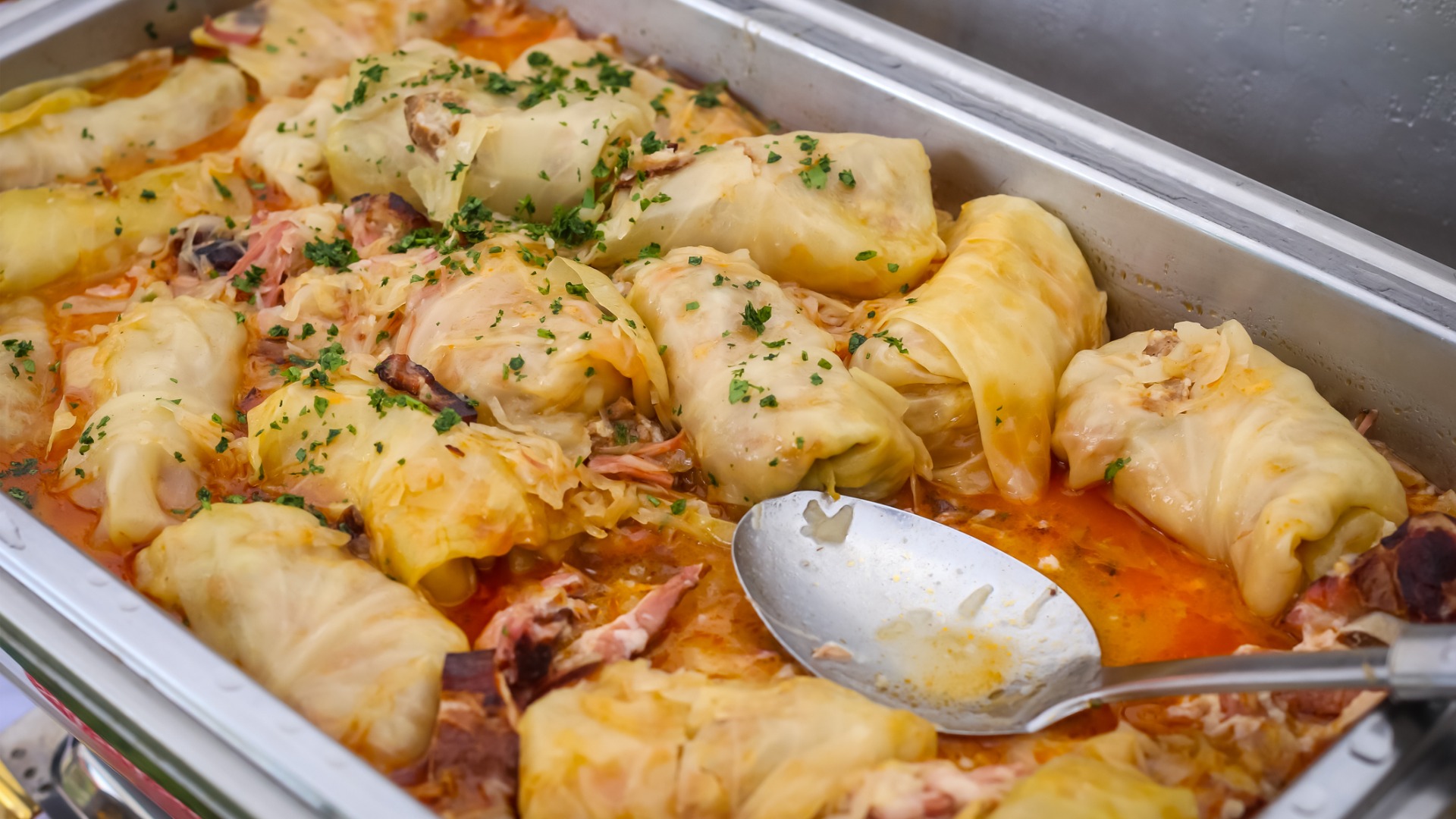 Paprika-Based Dishes & Strudels: The Influence of Hungary & Austria on The Food of Eastern Croatia
Thanks to neighboring Hungary, one single ingredient connects many Croatian dishes: red ground paprika. Nowadays, it is the main condiment in the east. Locals make various dry-cured meat products seasoned with ground paprika. Thanks to the long tradition of pig farming, hearty meat dishes have been prepared here for decades.
The best of all is kulen, a premium spicy pork sausage. Local people also take great pride in their čobanac, a spicy beef, pork, and venison stew, slowly cooked in a large metal pot on an open fire and served as a main course. Those living close to rivers or lakes make fiš paprikaš, a rich and spicy fish stew in tomato sauce, similar to čobanac. But to be completely honest, both fiš paprikaš and čobanac have roots in goulash, the famous Hungarian stew.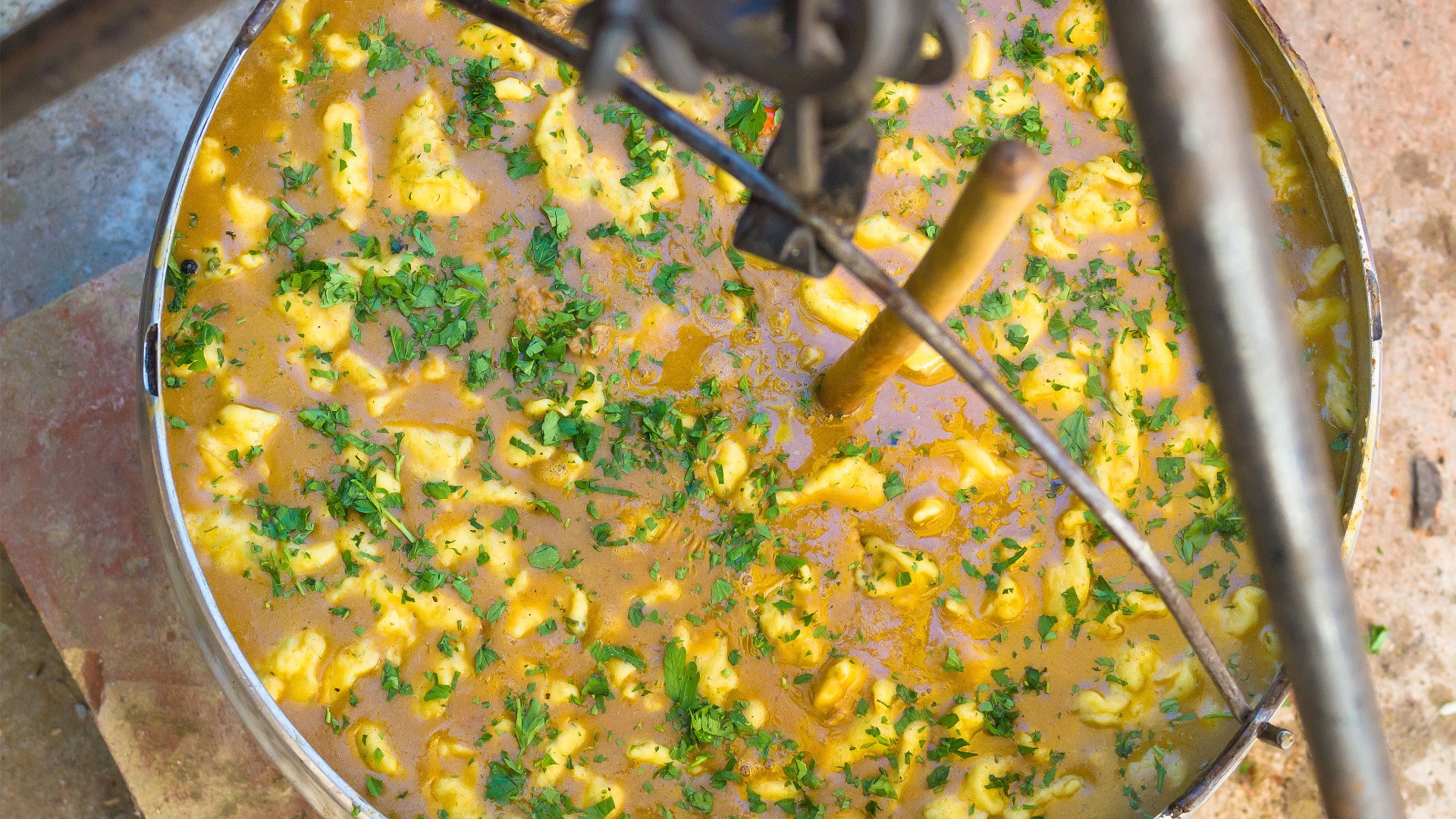 The impact of Austria is visible in various pies and strudels with either fresh cheese, apple, or cherry filling. The recipes for these now old-fashioned desserts have been devotedly passed down from generation to generation. Thanks to the Austrian influence, some traditional recipes include chocolate as well.
Central Croatia
The people of Central Croatia developed a very distinct culinary scene by mastering the skills adopted by Austrians, Hungarians, Italians, and even the French. Naturally, they also gave each dish a specific local touch. Thanks to the rich gastronomy scene, this area is more and more recognized as a small foodie paradise. While the east of Croatia is known for meat, central Croatia is mainly known for poultry, milk, and cheese.
Roasted Turkey & Mlinci: Italy Meets Central Croatia
Roasted turkey, one of the area's typical dishes, was originally brought to Croatia from Italy. It is locally prepared in a very specific way, with mlinci, a sort of mix between pasta and flatbread. To understand what mlinci is, you'll just have to come and try it.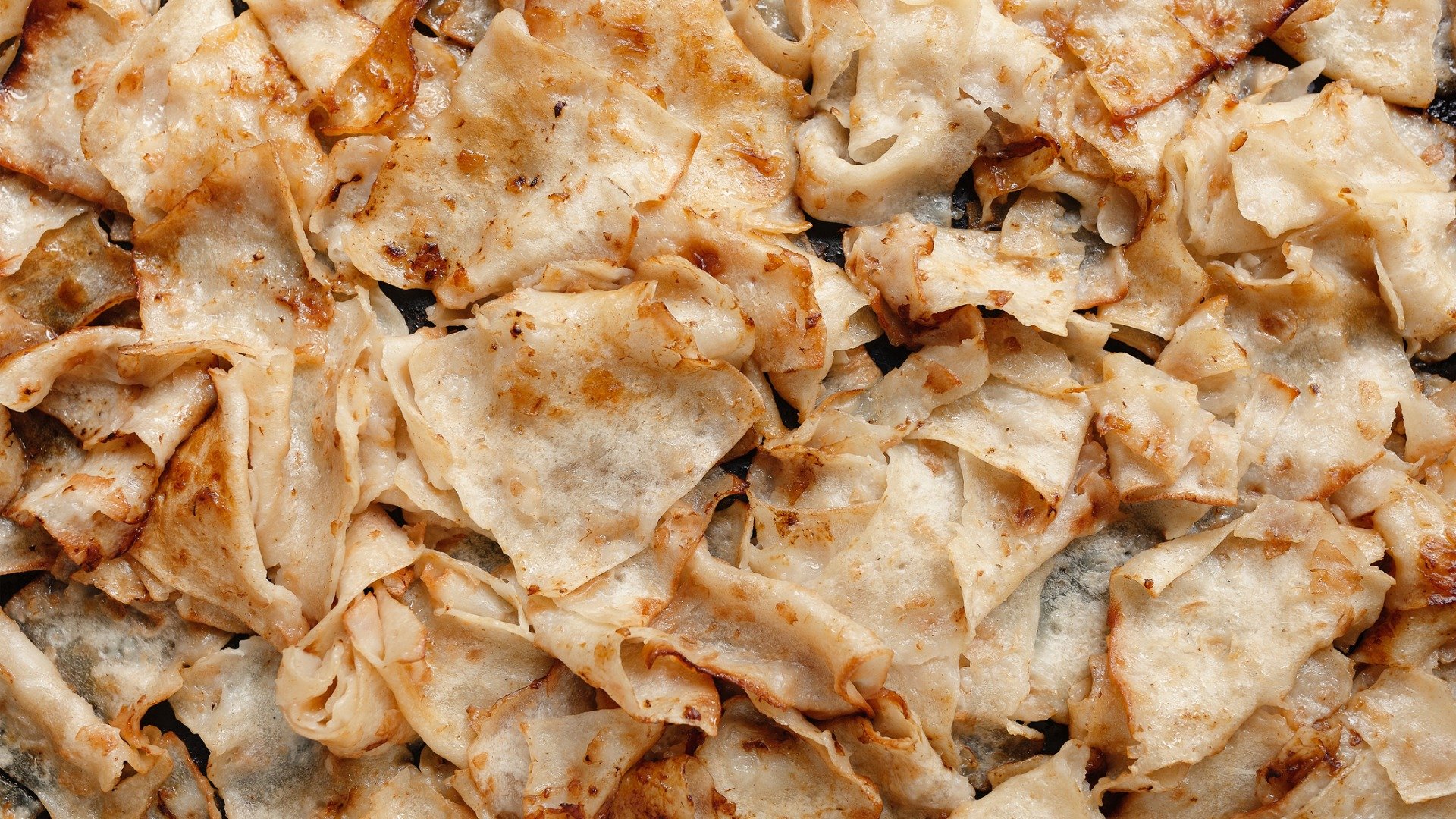 Štrukli: The Croatian Take on Austrian Strudel
Another gastronomy gem from the area is štrukli, a type of pastry filled with cottage cheese. This traditional dish resembles Austrian strudel. However, štrukli is an example of a local twist at its best. It takes a lot of skill to make the special dough for štrukli, while the simple filling, made of just cheese, cream, salt, and eggs, tastes heavenly.
La Štruk in Zagreb is a restaurant that specializes only in making this awesome dish. Make sure to try some štrukli there when you're around. If you're going to Zagreb soon, here's our list of the city's best local restaurants.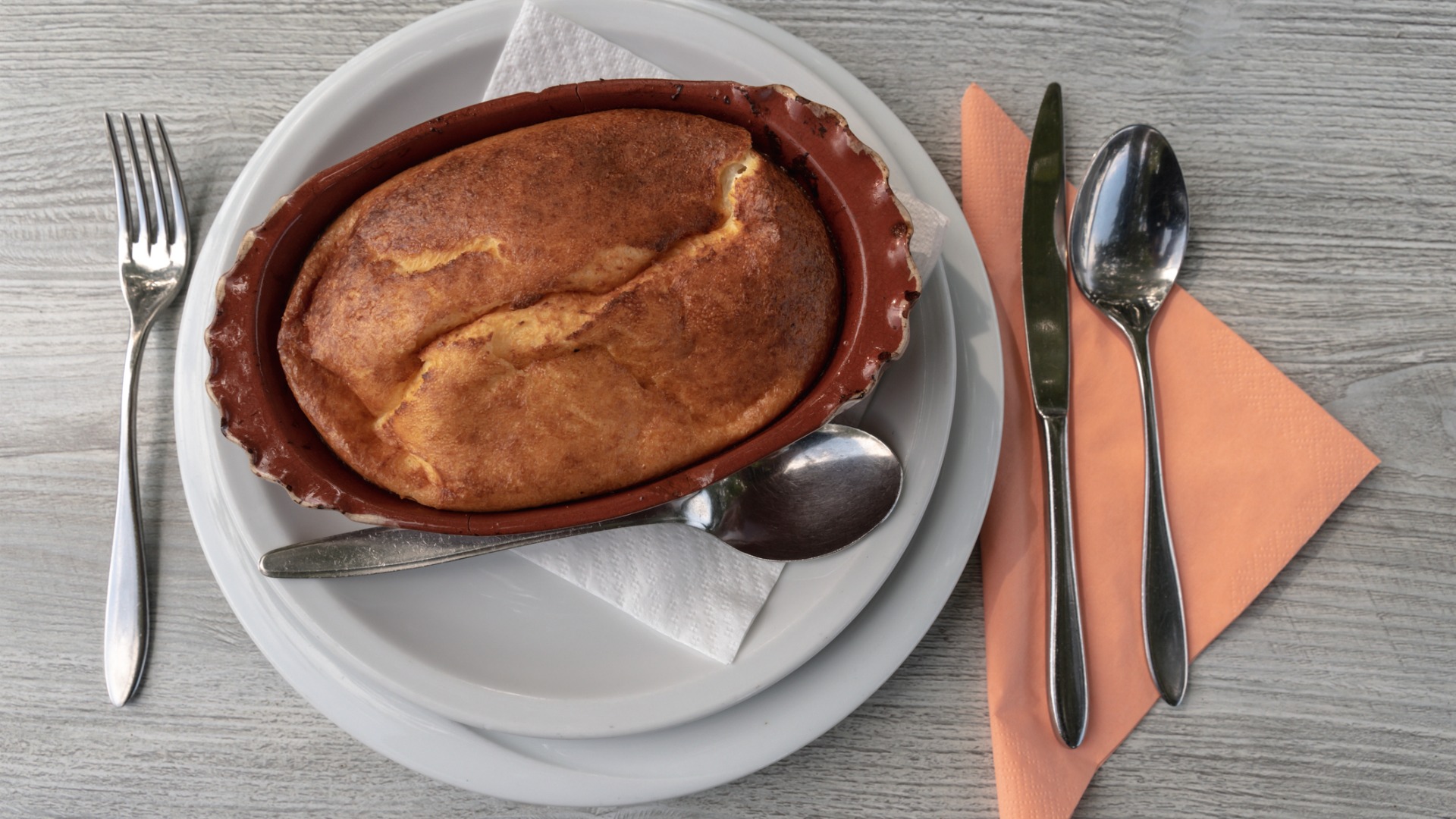 Kremšnita: A Scrumptious Dessert Inspired By The Austro-Hungarian Empire
In the small town of Samobor, close to Zagreb, you can enjoy samoborska kremšnita. Rooted in Vienna and Budapest confectioneries, samoborska kremšnita is a cake made of custard cream filling sandwiched between two thin flaky crusts. Many countries that used to belong to the Austro-Hungarian Empire have some version of this dessert. The residents of Samobor are proud of their version of the cake.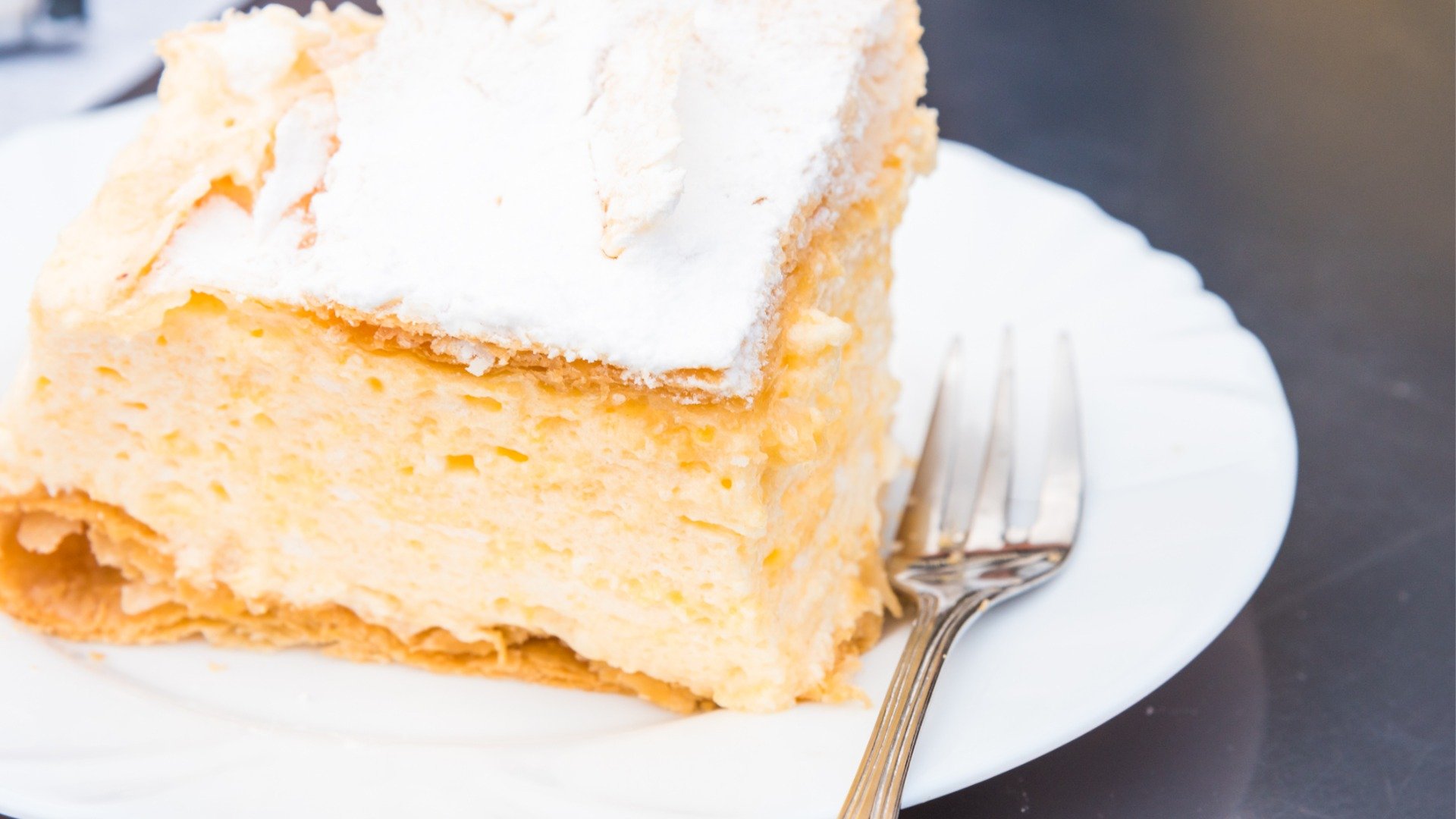 Samoborska Muštarda: A Sauce Brought To Croatia By The French
Samobor is also home to samoborska muštarda, a moderately spicy sauce made of mustard, grapes, and spices. The sauce was originally imported by the French and the residents of Samobor adjusted the recipe to their tastes.
Coastal Croatia
Croatia's long coastline spreads from the Istrian peninsula in the north to Dubrovnik and the Dalmatian Coast in the south. There have been tremendous foreign influences on Croatian food in this part of the country. Greek, Roman, and Venetian influence is evident in local gastronomy, mainly in all sorts of fish and seafood delicacies. Speaking of fresh seafood dishes in Croatia, here's an overview of some of the best among them.
The Fish Dishes of Coastal Croatia & Their Ties With Ancient Greece
The town of Vis, or Issa in Ancient Greek, was the first settlement on the island of Vis. It was founded by the Greeks in the 4th century BC. The Greeks spread their culinary traditions on the island and beyond. Greek dishes were simple, yet nutritious, containing olive oil, herbs, vegetables, grains, and fish.
Viška pogača is the best example of how Greek culinary tradition has been passed down to the present day. It's a simple but filling fish pie, usually served for lunch. Similar fish dishes can, of course, be found in Greece, but also in Sicily, as there were many Greek colonies there, too.
Another popular dish of Greek origin is gregada, a nutritious fish stew popular on the island of Hvar and in Middle Dalmatia. Many believe that Greek settlers brought this humble fishermen's dish to the island of Hvar as early as the 4th century BC. Those were not times to be picky. Therefore, this recipe that dates back to ancient times combined whatever fish fishermen caught in their nets, which needed to be prepared quickly in order not to go to waste.
Pršut – Croatian Prosciutto
While for Greeks the sea was the main source of food, ancient Romans were peasants and lived off the land. They grew fruit and vegetables, cereals and legumes, and of course, olives, figs, grapes, and dates. But most of all, the Romans loved their pork.
The story of cured meat begins with Romans. They were the first to realize that, by salting and drying pork legs, they could make a delicacy. Cured meat was also practical for storing, which was especially important for Roman soldiers. With the expansion of the Empire, cured meat arrived in Istria and Dalmatia. Today, we are proud to say that some of the best prosciuttos in the world are made in Istria and Dalmatia. You can read more about Istrian ham and Croatian pršut (pronounced pr-chute) in general here.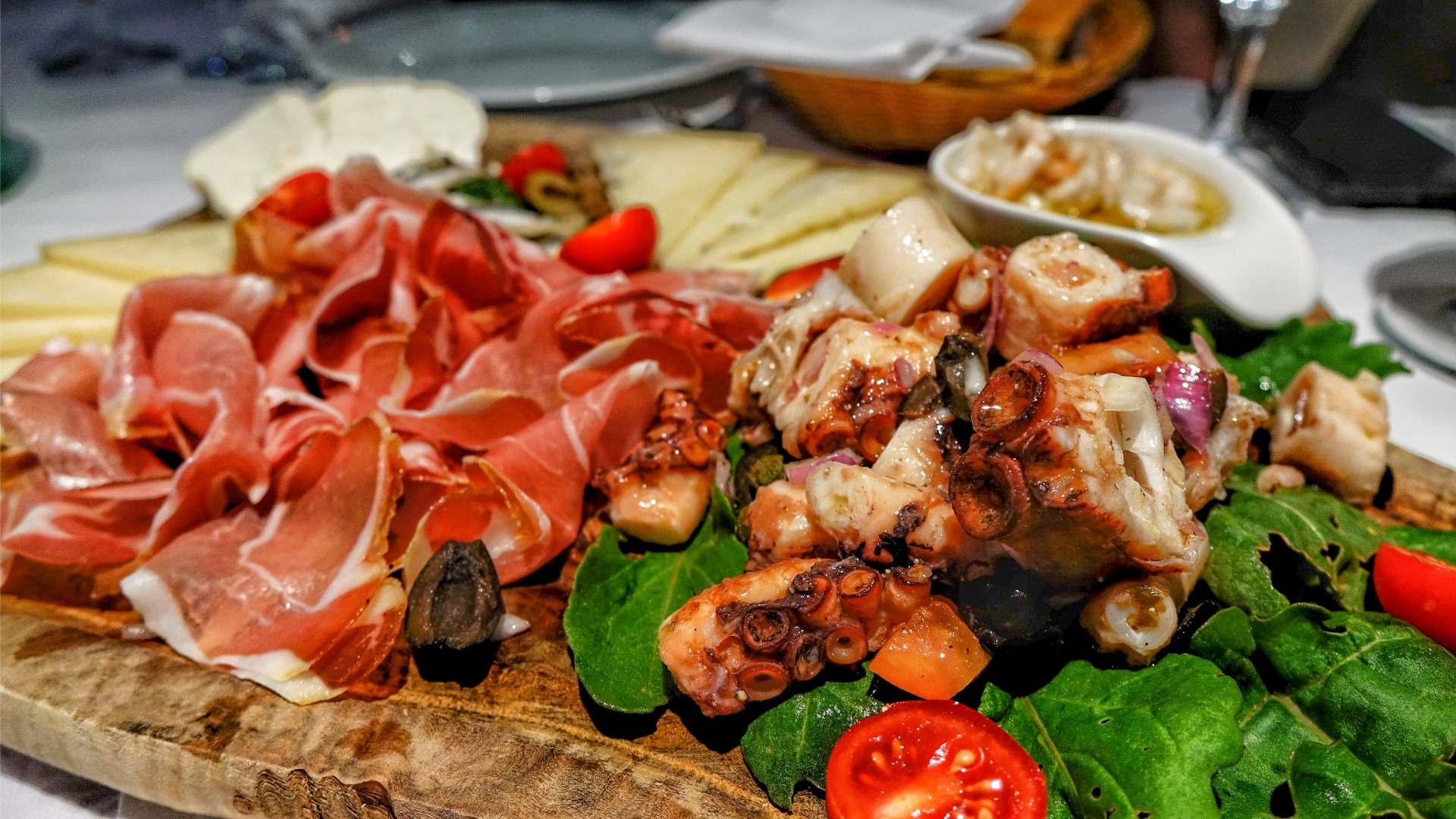 Soparnik: A Savory Pie First Made By Illyrian Tribes
Just a few miles inland from Split, you will encounter Illyrian heritage. Soparnik is a savory pie filled with Swiss chard, onions, and parsley, and finished with garlic and olive oil. Croatians inherited their skills of making soparnik from the Illyrian tribes that used to live in the area. Today soparnik is a real treat and a highly valued dish. It's an intangible cultural heritage of Croatia and an inevitable part of important celebrations.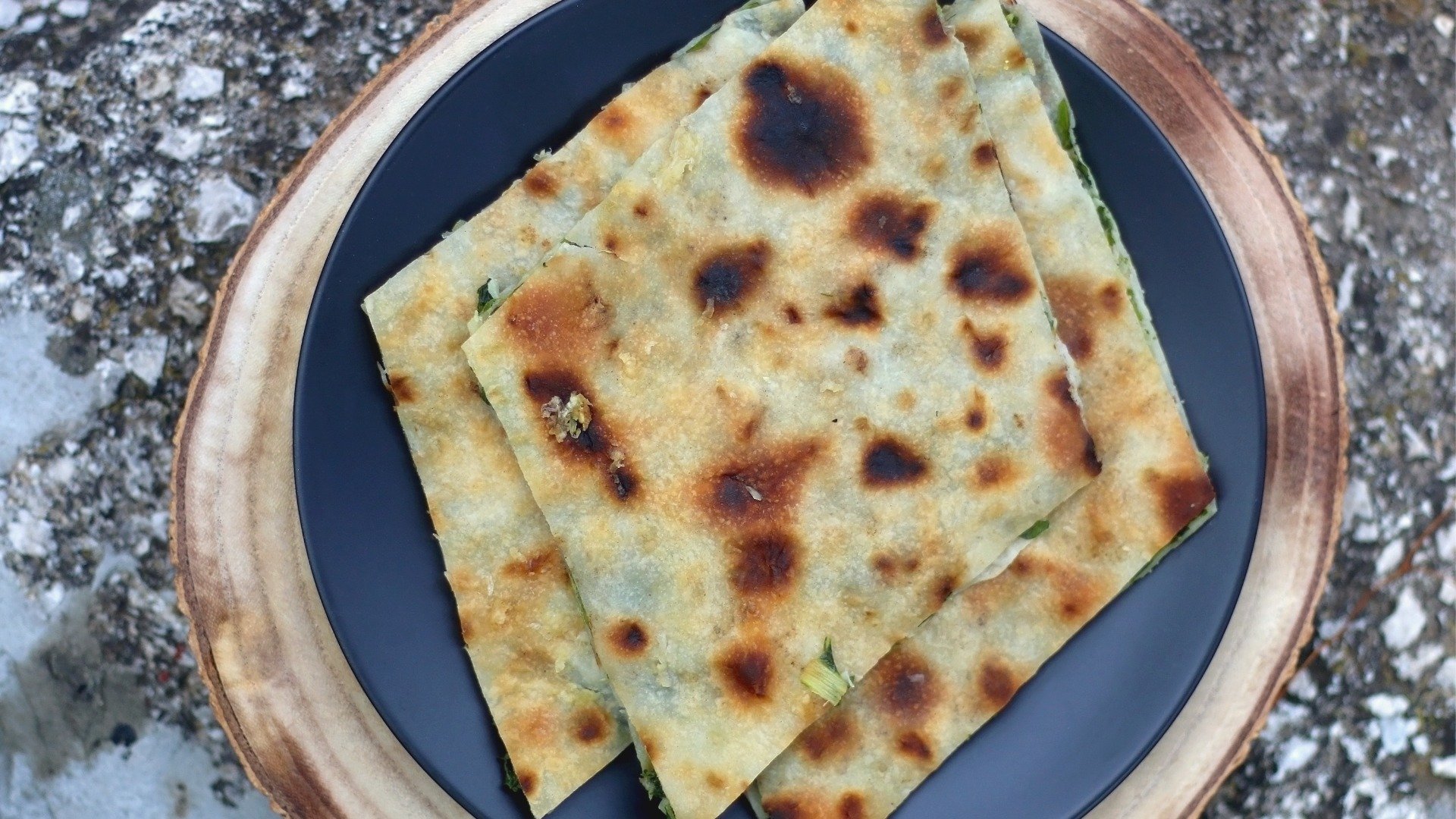 Brodet, Kroštule, Fritule: The Venetian Influence on The Food of Coastal Croatia
The best example of Venetian influence is brodet (brodetto in Italian), a fish and seafood broth. Since some coastal towns of Croatia were under the rule of the Venetian Republic between the 15th and 18th centuries, the customs and local cuisine of Venice spread to the area. The art of making brodet is most certainly something we are thankful for.
Traditional sweets on the coast are all rather simple, mainly coming down to homemade fritters, such as kroštule and fritule. Both simple and delicious and, you're guessing right, imported from Venice.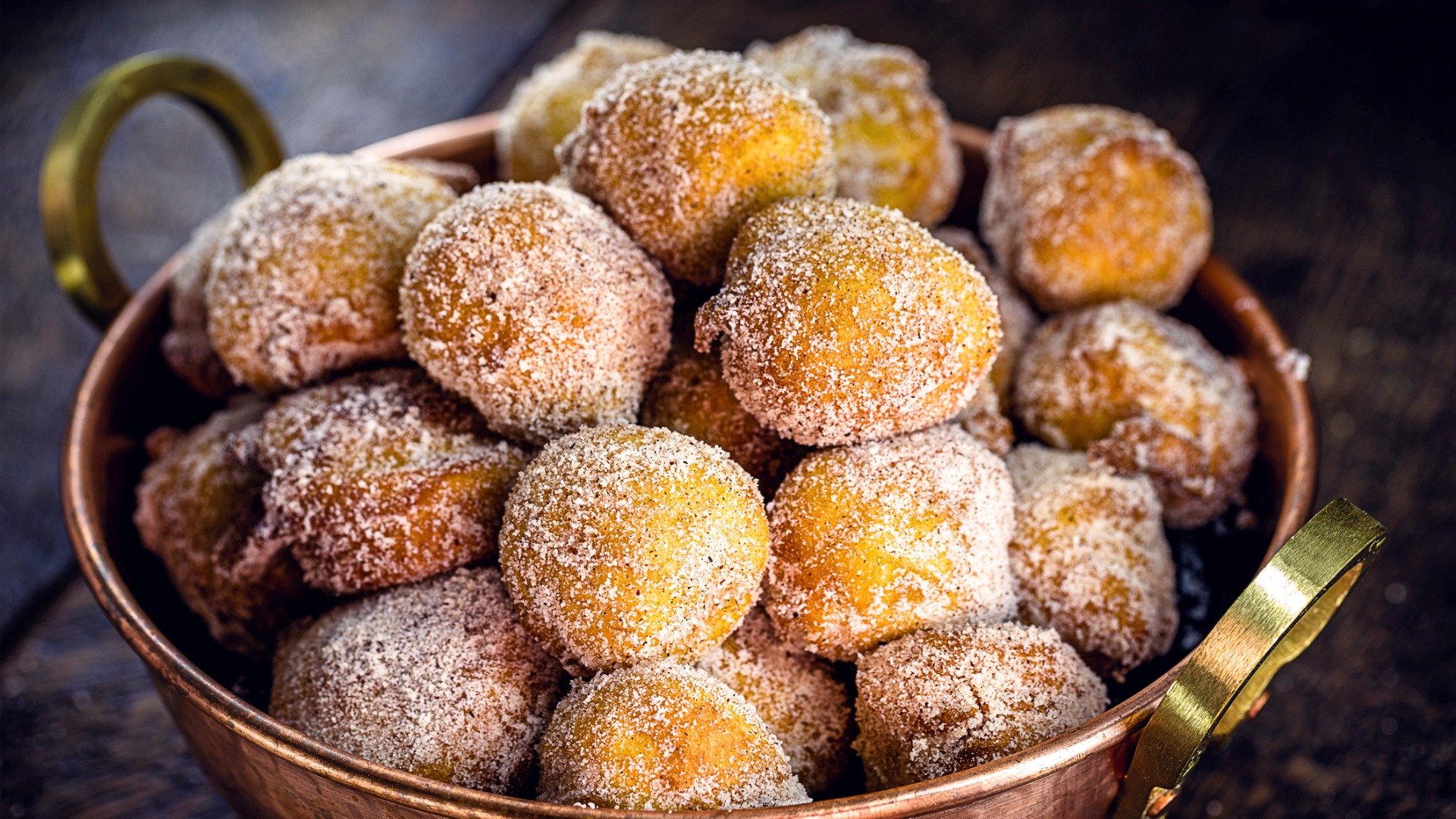 Croatian Pasta
If you think homemade pasta is available only in Italy, you haven't been to Istria. Pasta-making skills have been passed down from generation to generation among locals. They make traditional fuži and pljukanci pasta and are also masters in making all sorts of pasta sauces, most notably from black truffles. However, it's most likely that Istrians learned how to make pasta from their Italian neighbors.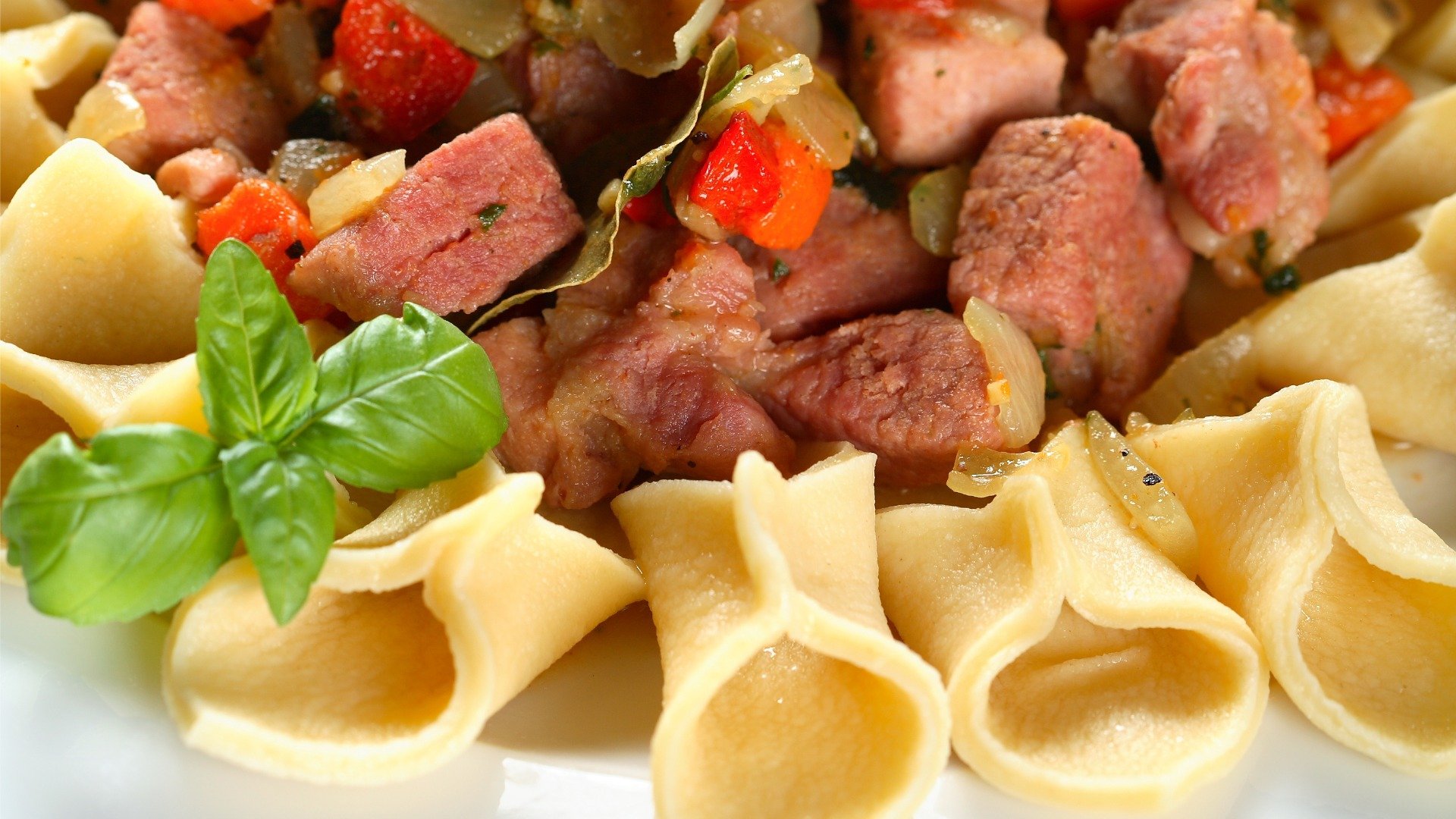 Taste Croatia With Us
Many people have wanted to enjoy the benefits of Croatia's diverse natural environment throughout the centuries and we can't blame them. The tumultuous history of Croatia often shaped its cuisine and we ought to give credit where credit is due when it comes to the evolution of Croatian food culture.
Hence this article about the foreign influences on Croatian food, which must have you craving for some authentic Croatian food by now. If so, why not join us on a culinary trip across Croatia and its unique cuisine that your taste buds will cherish forever?

Born and raised in Dubrovnik, Andrea's involvement in tourism began as a child as her family rents apartments for tourists. Her inquisitive nature led her to study journalism in the Croatian capital, Zagreb, though her heart remained in her hometown and she returned there after her studies. One of Andrea's biggest passions is singing and she has been a member of the Dubrovnik Folk Ensemble Lindjo for over 13 years.